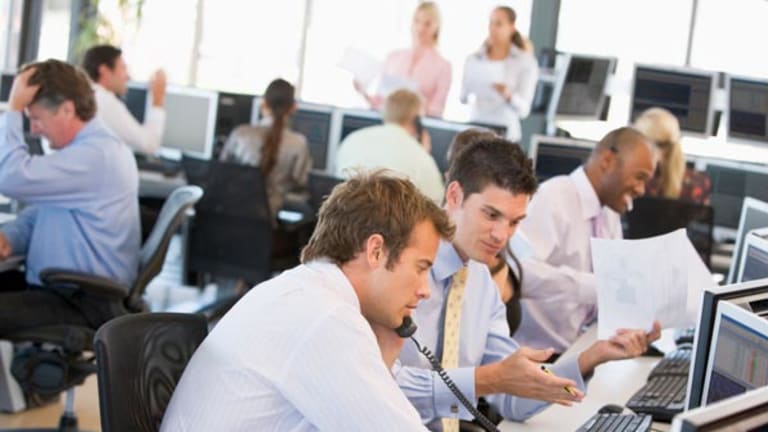 Today's Market: Stocks End Slightly Higher on Back of Semis, Brokerages
<LI>Compaq, Aflac report earnings.</LI> <LI>Amazon's Galli to join VerticalNet as CEO.</LI>
(
Updated from 4:10 p.m. EDT
)
On the Big Board and on the Nasdaq, it says the market ended up today. But with the exception of another broad upswing in semiconductors and brokerages, internals were generally poor, as fickle investors responded to earnings reports by hunting for winners and pecking the eyes out of the losers.
The
Dow Jones Industrial Average finished up 14.85, or 0.14%, to 10,699.97, while the
Nasdaq Composite Index rose 47.99, or 1.2%, to 4029.56, and the
S&P 500 gained 10.18, or 0.7%, to 1474.47. The
Russell 2000 didn't participate in the rally, dropping 1.07, or 0.2%, to 513.18.
They're Losers, Baby
The most noteworthy of the day's dogs were retailer
Circuit City
(CC) - Get Chemours Co. Report
, which announced a restructuring and an earnings warning, and was unceremoniously punished, ending the day down 6 1/2, or 20%, to 26 1/8.
The day's other loser was
Amazon.com
(AMZN) - Get Amazon.com, Inc. Report
, dropping 1 1/8, or 2.9%, to 37 5/8, after the announcement that president and COO Joseph Galli had left to become CEO of
VerticalNet
(VERT)
.
The move comes at a bad time for Amazon, scheduled to report earnings tomorrow after the close. There were rumors circling that the company will miss revenue estimates when it releases second-quarter earnings.
Amazon's losses made it one of the few big-cap technology stars not to post strong gains today.
Sun Microsystems
(SUNW) - Get Sunworks, Inc. Report
rose 8 9/16, or 8.5%, to 109, and
Cisco
(CSCO) - Get Cisco Systems, Inc. Report
rose 2 1/16, or 3.1%, to 68 1/8, both helping to power the Nasdaq 100 to a 75-point gain. That outpaces the 48-point rise in the Comp, illustrating the narrowness of today's move.
'We're still in a bully market,' IJL's Doug Myers said of Wall Street's response to poor earnings. 'That's where you get bullied. Not bullish, bullied. If you don't toe the line, you get punched in the nose.'
The ever-changing philosophy that existed during the last few months, which consisted of alternating between rallying technology and defensives to rallying cyclicals and defensives, has given way to investors' penchant for selling important stocks in a particular sector while simultaneously putting others in the same sector on a pedestal.
Traders said it was emblematic of this curious earnings season, which doesn't carry with it the widespread feeling that economic growth is going to the moon in coming months -- a characteristic of the first quarter earnings reports.
"If you're not making money, a la Circuit City, they are not nice to you," said Doug Myers, vice president of equity trading at
IJL Wachovia
. "We're still in a bully market. That's where you get bullied. Not bullish, bullied. If you don't toe the line, you get punched in the nose."
The drug stocks exemplified this well. Dow component
Merck
(MRK) - Get Merck & Co., Inc. Report
, after some weakness last week, powered higher today, gaining 2% to 70 15/16.
Pharmacia
(PHA)
,
SmithKline Beecham
(SBH) - Get Sally Beauty Holdings, Inc. Report
and
Schering-Plough
(SGP)
all met or beat estimates, but only Pharmacia had a real boost. That stock gained 5%, while Schering lost 4.3%, and SmithKline Beecham was in the middle, up 0.4%.
"It's another perfect example of the flip side of what was happening a week ago," said Eddie Laux, head trader at
ABN Amro
. "They
hated
Merck, while buying Schering and Bristol, and now they're all in love with Merck."
Another prominent drug stock,
Pfizer
(PFE) - Get Pfizer Inc. Report
, met estimates, but was summarily dismissed today, losing 8.1% on revenue disappointments.
A Chip Shot For Chip Stocks
Even chip stocks, which benefited from a positive comment from analysts at
Morgan Stanley Dean Witter
, weren't immune to the selective schizophrenia. On a whole, the
Philadelphia Stock Exchange Semiconductor Index
gained 2.7%, led by gains in Dow component
Intel
(INTC) - Get Intel Corporation Report
, which rose 2.1%.
But after
Texas Instruments
(TXN) - Get Texas Instruments Incorporated Report
last night reported second-quarter earnings of 31 cents a share, beating consensus expectations by 1 cent, the stock lost 1.5% today, after rising in last night's after-hours activity.
Applied Materials
(AMAT) - Get Applied Materials, Inc. Report
rose 5%, but others weren't as fortunate, such as
Teradyne
(TER) - Get Teradyne, Inc. Report
, losing 2.2%.
"People are making selections, revamping portfolios and picking new favorites," Laux said. "There's a big rebound for stocks like AMAT and
Novellus
(NVLS)
but you've still got Teradyne acting terribly."
Dow component
AT&T
ended higher today after this morning's earnings report, gaining 1.9%. The cable giant reported earnings of 57 cents a share, ahead of the 53-cent consensus. Its former child,
Lucent
(LU)
, meanwhile, hasn't been able to find its way out of a paper bag since it delivered a dour second-half forecast in its earnings call last week. The stock lost 1.5% on 27.5 million shares, making it one of the most active stocks on the
New York Stock Exchange today.
DoubleClick
(DCLK)
ended up 4.3%, having surged since 2 p.m. EDT, as the company readied for a 4:30 p.m. EDT conference call. On the call, the company announced that current president and COO Kevin Ryan also0 added the title of CEO to his business cards, replacing Kevin O'Connor, who will remain chairman.
The market was not helped or hindered by
Fed Chairman
Alan Greenspan, as he repeated what used to be called
Humphrey-Hawkins this morning. As he stuck to his twin responsibilities of re-reading his
testimony from last week and answering questions from bewildered members of
Congress
, he didn't roil the markets.
With the exception of the notable gains Thursday, when Greenspan first delivered his reasonably balanced, dovish message, internals (breadth and volume) have been generally poor, and trading has been choppy. Today, losers were ahead on the Nasdaq 21 to 18, while the advance-decline line on the NYSE is about flat.
Paul Rabbitt, president of
Rabbitanalytics.com
, said he expects this kind of choppy trading to pass, and ultimately help the market in coming months.
"To me, this whole malaise resolves to the upside," said Rabbitt. "The market has become very technical in my view -- and I think this non-action is part of a compression that's very exciting. It's like a jack-in-the-box that's about to pop."
Three Web companies started trading on the Nasdaq today, with mixed results.
Evoke Communications
(EVOK) - Get Evoke Pharma, Inc. Report
ended up 1.6%.
Interland
(ILND)
lost 26%.
Blue Martini
(BLUE) - Get bluebird bio, Inc. Report
, though, was the big winner, gaining 174% after pricing its IPO at $20 a share.
In other news,
Mr. Buffett's colon is now just fine.
Berkshire Hathaway
(BRK.B) - Get Berkshire Hathaway Inc. Class B Report
said Chairman
Warren Buffett
returned home from the hospital today after surgery to remove a section of his colon containing benign polyps. He'll work at home for a while and then head back to the office once his strength is up, the company said. Berkshire's B shares -- more affordable than the A shares, which closed at 53800 today -- rose 57, or 3.3%, to 1784.
Market Internals
Breadth was mixed on the NYSE, poor on the Nasdaq, on average volume.
New York Stock Exchange: 1,452 advancers, 1,380 decliners, 966 million shares. 64 new 52-week highs, 49 new lows.
Nasdaq Stock Market: 1,842 advancers, 2,143 decliners, 1.43 billion shares. 52 new highs, 107 new lows.
Back to top
Most Active Stocks
NYSE Most Actives
AT&T: 34.2 million shares. Pfizer: 30.7 million shares. Lucent: 27.5 million shares.
Nasdaq Most Actives
Back to top
Sector Watch
Although the
Philadelphia Stock Exchange Computer Box Maker Index
was higher after yesterday's bludgeoning, some of its components were still falling. Dow component
Hewlett-Packard
(HWP)
lost 3%, while index cohort
IBM
(IBM) - Get International Business Machines Corporation Report
fell 0.7%.
Oil stocks were unable to get off the ground today, despite the strong earnings report from
ExxonMobil
(XOM) - Get Exxon Mobil Corporation Report
. The
American Express Oil & Gas Index
fell 0.1%, as ExxonMobil dropped 2.4%.
American International Group
(AIG) - Get American International Group, Inc. Report
has traded at an all-time high today, lately gaining 3.7%, and the
S&P Insurance Index
was rising strongly, up 3.4%.
Hartford Financial
(HIG) - Get Hartford Financial Services Group, Inc. Report
was up 5.4%.
Momentum plays
Human Genome Sciences
(HGSI)
and
Protein Design Labs
(PDLI) - Get PDL BioPharma, Inc. Report
are taking the biotechnology stocks for a ride today. Those two stocks were down 9.5% and 10.8%, respectively, causing a 3.7% decline in the
Nasdaq Biotechnology Index
today.
Back to top
Bonds/Economy
Treasuries are basically unchanged, after some stronger-than-expected data on consumer confidence and home sales.
The
Consumer Confidence Index
(
definition |
chart |
) rose to 141.7 in July from a revised 139.2 in June. It had been forecast to rise only slightly.
Existing home sales
(
definition |
chart |
) rose 2.8% to a 5.23 million pace in June, the fastest since last August. It had been forecast to drop slightly.
The benchmark 10-year Treasury note lately was up 1/32 at 103 13/32, yielding 6.023%.
Back to top
International
European markets were narrowly mixed at the close of trading today
London's
FTSE
was up 9.40, or 0.1%, to 6390.70. Across the channel, Frankfurt's
Xetra Dax
was 11.83 lower, or 0.1%, to 7316.48, and the Paris
CAC
was off 38.66, or 0.5%, to 6463.91.
The euro was lately trading at $0.9381.
Asian markets were mostly lower overnight, with only Tokyo higher.
In Tokyo, the key
Nikkei 225
index eked out gains as cyclical shares, including pharmaceuticals and auto stocks, rallied late in the day. The Nikkei 225 index rose 26.47, to close at 16,573.59.
With worries over the near-term economic scenario in Japan due to a string of large corporate bankruptcies, the greenback inched higher against the yen in Tokyo trading to 109.05. The dollar was recently trading at 109.04 yen.
Hong Kong's
Hang Seng
index dropped 284.35, or 1.6%, to 17,375.34 largely on declines by
Hutchison Whampoa
. Hutchison slipped HK$4.50, or 3.8%, to 114.50 ($14.69) despite news that the firm had agreed to sell its 22% stake in VoiceStream to Deutsche Telekom for a hefty premium. Other mobile-phone operators declined as well, including
China Mobile
(CHL) - Get China Mobile Ltd. Report
Elsewhere in Asia, Korea's
Kospi
index shed 0.25 to close at 737.64, while Taiwan's
TWSE
index lost 163.81, or 2.0%, to end the day at 7900.39.
Back to top