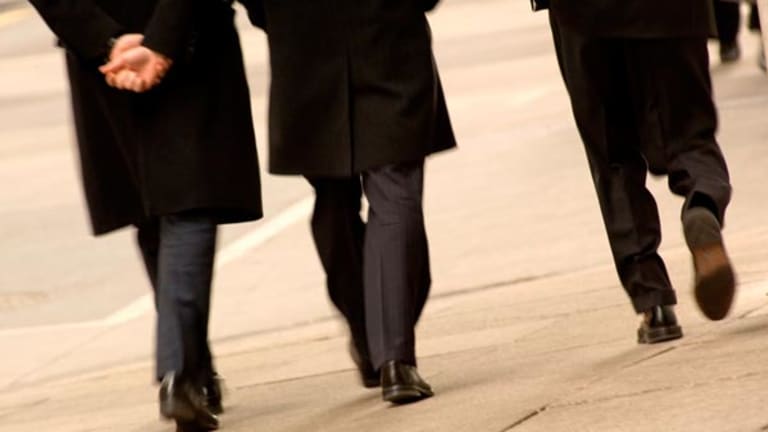 Today's Market: Stocks End Session Lower as All Eyes on Earnings
Yahoo!, reporting tomorrow, will be a major test for a market fearing the worst.
Tech stocks tried to rally. They really did.
But light trading action on this Yom Kippur and
Columbus Day holiday fueled volatility on the
Nasdaq Composite Index as well as the
Dow Jones Industrial Average. In the last hour, the Comp hit the upside, but it couldn't hold on. The index kept on its slide downward and neared lows not seen since May.
John Manahan, head trader at
Brown Brothers Harriman
, said the Nasdaq hit a support level of 3250 and bounced off -- which he considered to be a good sign going forward.
"Our guys here are thinking that it's getting strong on the buy side," Manahan said. "We're starting to feel that bad earnings are out of the way."
Still, Manahan said, "The big thing is we have to start seeing some better earnings."
Tomorrow,
Yahoo!
(YHOO)
,
Motorola
(MOT)
,
Biogen
undefined
and
International Paper
(IP)
are a few of the stocks that are set to kick off
earnings season.
But let's not get ahead of ourselves. We had more earnings warnings today.
Williams-Sonoma
(WSM)
,
Safeco
(SAFC)
and
Electroglas
undefined
were a few of the bad new bearers.
Williams-Sonoma fell almost 30%, to $19, on the news.
TheStreet.com
wrote about the
company's warning in a separate story. Safeco tumbled 4.9% after its warning.
Electroglas, which makes equipment for the development of semiconductor devices, said Friday it expected third-quarter earnings to miss consensus estimates due to material shortages. Electroglas, which was down 3.5%, by itself wouldn't make much of a splash. But high-profile earnings warnings from such companies as
Intel
(INTC)
and
Apple
(AAPL)
has investors on edge.
Consensus estimates show analysts have revised their third-quarter earnings growth projections down to 14.9% from 15.3% last week, according to a morning report from market research firm
I/B/E/S
. Analysts were initially expecting 18.2% growth at the close of the second quarter. Meanwhile, new preannouncement data showed this has been the worst confession season of the year, with 70% of total preannouncements negative.
Still, I/B/E/S remained largely optimistic, saying that the history of positive surprises seen within the
S&P 500, it believes the 14.9% growth figure is conservative. Third-quarter earnings growth, the report said, can still approach 18%-19% if past trends continue. (
TheStreet.com
looked at the earnings-growth outlook in a
Wednesday story.)
The Nasdaq got pushed down by bellwethers like the aforementioned Intel, off 2.1% to $39.06;
Cisco
(CSCO)
, off 4.5% to $53.69; and
Oracle
(ORCL)
, off 1.3% to $66.75.
And
Connetics
(CNCT)
was got smacked down nearly 80%, or $20.19, to $5.31 after it dropped plans to seek approval of its drug Relaxin failed its Phase III trial. Relaxin is used to treat the skin disease scleroderma. The news prompted a downgrade by
Lehman Brothers
, which cut its rating on the company to neutral from outperform, and
UBS Warburg
, which cut it to hold from buy.
On the Dow,
United Technologies
(UTX)
won the title of biggest drag on the Dow. It took away about 11 points.
Hewlett-Packard
undefined
, though, was countering that weakness. Rebounding from last week's slide, it added some 22 points of upside to the index.
IBM
(IBM)
hopped on H-P's coattails, contributing almost 12 points to the index.
Back to top
Market Internals
Breadth was terrible today on light holiday volume.
New York Stock Exchange: 1,208 advancers, 1,562 decliners, 718 million shares. 20 new 52-week highs, 80 new lows.
Nasdaq Stock Market: 1,498 advancers, 2,373 decliners, 1.4 billion shares. 19 new highs, 344 new lows.
Back to top
Most Active Stocks
NYSE Most Actives
Motorola: 15.7 million shares. Nokia (NOK) : 11.6 million shares. Nortel (NT) : 11.5 million shares.
Nasdaq Most Actives
Intel: 55.6 million shares. Cisco: 45.0 million shares. Dell (DELL) : 37.0 million shares.
Back to top
Sector Watch
Internet stocks bounced back after getting flattened last week.
TheStreet.com Internet Sector Index
was up 3.1%.
BroadVision
(BVSN)
gave the sector a rowdy kick. BroadVision jumped 20.2% to $21.94 after a month-long slide in September.
Yahoo!
(YHOO)
,
CMGI
(CMGI)
and
Inktomi
(INKT)
were some other components helping lift the sector.
Renewed strength in oil prices was no good for market sentiment. But it sure was good for oil and gas stocks. The
American Stock Exchange Oil & Gas Index
was up 2.2%, while the
American Stock Exchange Natural Gas Index
was 2% higher. Crude oil prices rose as much as 88 cents to $31.10 as violence escalated in the Middle East and an early spell of cold weather hit the U.S. Oil reserves are already at a 24-year low and a number of refineries this month are reducing their capacity for maintenance.
Brokerage stocks continued to wallow in their misery after getting badly hit Friday by concerns of margin calls and chatter over rumored losses on junk-bond trading. Investors are worried that trading-related losses will hurt the revenues of the big brokerages.
TheStreet.com
wrote about one brokerage's
denial of the rumors as well as a
preview of financials' earnings. The
American Stock Exchange Broker/Dealer Index
was 2.2% lower.
Investors sought shelter from poor earnings in gold. The
Philadelphia Stock Exchange Gold and Silver Index
rose 2.5%.
Back to top
Bonds/Economy
The bond market is closed for Columbus Day. The benchmark 10-year Treasury note last traded on Friday at 99 15/32, yielding 5.821%.
Back to top
International
The U.S. market dragged European markets lower and the major indices ended in the red.
In London, the
FTSE 100
was down 126.40 to 6264.80.
Across the channel, the
CAC 40
in Paris was down 148.35 to 6110.06, while the
Xetra Dax
in Frankfurt was 112.09 lower to 6664.30.
The euro was squeezing out some slim gains, lately up to 0.8681.
TheStreet.com
recently looked at what
ails the euro.
Japan's stock markets were closed for a holiday Monday, but the rest of the
region's equity markets were led lower by weak technology and telecom shares. The yen was recently quoted at 108.72.
Hong Kong's
Hang Seng
closed down 491.18, or 3%, at 15,693.50, as index heavyweight
China Mobile
(CHL)
tanked HK$3.25, or 5.5%, to 55.75 ($7.15). Volumes remained low, however, as Hong Kong was returning from a long weekend after being shut for its own local holiday on Friday.
Back to top