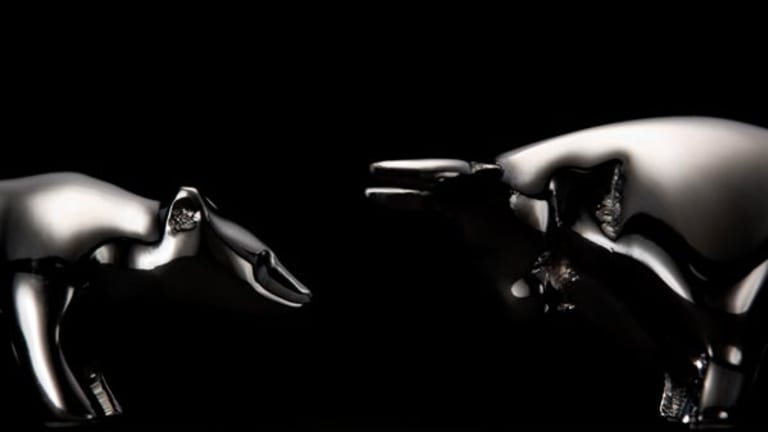 Today's Market: Stocks End Little Changed as All Eyes Look to Election Results
Cisco rose after yesterday's earnings, but the rest of the market snoozed through Election Day.
Wall Street's civic-minded investors and traders must have taken the day off to vote because they weren't here, with low volume creating swings in the
Nasdaq Composite Index and the
Dow Jones Industrial Average.
Both finished the day on the downside.
The
New York Stock Exchange's
volume was about 877 million. The exchange's site describes volume below 900 million as "light." And volume at the
Nasdaq Stock Market
, which is always heavier than that of the Big Board's, was at 1.7 billion. On a busy day, the Nasdaq can easily top 2 billion.
Anyone who did happen to play today, though, was looking at
Cisco
(CSCO) - Get Cisco Systems Inc. Report
, which
reported earnings of 18 cents a share yesterday, beating analyst estimates by a penny. Revenues were strong and earnings estimates for the coming year were revised upward. The stock was in negative territory earlier in the day, but ended the day up 3% to $56.75.
And while Cisco was the most actively traded stock on the Nasdaq, chipmaker
Transmeta
(TMTA)
was the newest and the biggest gainer. Remember the days of heady IPOs? Here's a reminder: The semiconductor maker opened at $44 -- after its 13 million shares were priced at $21 each. The company's flagship product is the Crusoe processor, which uses a software-based technology that consumes less power and promises to prolong the battery life of a device. It finished the day at $47.25, or an increase of 125%.
Woof!
On the flipside,
Pets.com
(IPET)
said it is going to cease operations.
TheStreet.com/NYTimes.com
joint newsroom wrote more about the
online pet store's demise in a separate story.
The
Philadelphia Stock Exchange Semiconductor Index
, or SOX as it is called, was down 4.1%. It was hurt, in part, by Cisco's announcement that its inventories increased by 59%. Those inventories consist of components and other products sold by semiconductor manufacturers, so if Cisco is going to let inventories run down, it won't be purchasing chips.
That's going to hurt sales at these companies.
TheStreet.com
took a look at what Cisco's
inventory numbers mean for chip stocks. News of Cisco's inventory levels work toward confirming market fears that came to light after
Nortel Networks
(NT)
reported high inventory levels when the optical giant reported its
earnings in October.
Also, Cisco hit its competitors with some gloating in its conference call. (CEO John Chambers said: "If we continue to execute effectively on our strategy, these large competitors have clearly given Cisco the opportunity to repeat our breakaway in the enterprise market in the service-provider market.")
As a result,
Lucent
(LU) - Get Lufax Holding Ltd American Depositary Shares two of which representing one Report
fell 1.8% and Nortel was down 3.6%.
The Dow was a victim of widespread uncertainty.
General Motors
(GM) - Get General Motors Company Report
was down 6.5% after the automaker's 2001 earnings estimates were cut by
Goldman Sachs
. Goldman, which also cut
Ford's
(F) - Get Ford Motor Company Report
targets, said it was making the cuts because of the slowing demand for light trucks. GM was the Dow's biggest drag with about 24 negative points.
J.P. Morgan
(JPM) - Get JP Morgan Chase & Co. Report
, taking away close to 20 points from the blue-chip sector, was down $3.25 to $163.06 after making gains yesterday ahead of the announcement that its marriage plans with
Chase Manhattan
(CMB)
had received anti-trust approval from the
Department of Justice
.
IBM
(IBM) - Get International Business Machines Corporation Report
was the Dow's biggest help, contributing almost 13 points to the index, after the company said it had developed chip-making technology that can be used to build smaller optical chips for high-speed communications networks. The stock edged up $2.
Still, the Dow's losses were weak compared to yesterday's triple-digit gains.
Bernard McSherry, stock market strategist and president of
McSherry & Co.
, said "we were in a wait-and-see period. Yesterday, the market was saying Bush was going to win and today we had a slight decline. We're in a holding pattern. And I think, everyone's going to go home and turn on their TVs and just wait."
As for tomorrow morning: "If Bush wins, look for strength in oil, drug and health stocks, and if Gore wins, the converse is true," McSherry said.
Market Internals
Breadth was positive on the NYSE and negative on the Nasdaq on light volume.
New York Stock Exchange: 1,463 advancers, 1,326 decliners, 878 million shares. 53 new 52-week highs, 35 new lows.
Nasdaq Stock Market: 1,841 advancers, 1,993 decliners, 1.673 billion shares. 66 new highs, 83 new lows.
Back to top
Most Active Stocks
NYSE Most Actives
AT&T (T) - Get AT&T Inc. Report: 23 million shares. Nortel: 17.2 million shares. Lucent: 16.9 million shares.
Nasdaq Most Actives
Back to top
Sector Watch
TheStreet.com Internet Sector
index gained 2.1%. Component
CMGI
(CMGI)
rose $2.81, or 13.5%, to $23.69 on speculation that it will close some of its unprofitable operating divisions.
Yahoo!
(YHOO)
,
RealNetworks
(RNWK) - Get RealNetworks Inc. Report
and
eBay
were also helping boost the sector.
In more positive news, the
Philadelphia Stock Exchange Computer Box Maker Sector
was up 2.9%.
Gateway
(GTW)
rose 7.1%. Yesterday, the company said it would use the Nasdaq's newest star, Transmeta's Crusoe chip, in an Internet-access device.
Back to top
Bonds/Economy
Bonds are slightly lower as the market watches developments in the presidential election. Bush is seen as a bit more negative for bonds while a Gore victory would probably have little effect. Once again, volume is light.
The benchmark 10-year
Treasury note is at 99 4/32, up 2/32, to yield 5.868%.
The 30-year
Treasury bond is at 104 30/32, up 1/32, to yield 5.895%.
Back to top
International
European markets were mixed at the close, also impacted by the U.S. elections, with London and Paris markets up and Frankfurt lower.
The
FTSE 100
was up 35.90 to 6466.90. On the Continent, the
CAC-40
in Paris was up 33.83 higher to 6386.07 and the
Xetra Dax
in Frankfurt was off 60.02 to 7076.28.
The euro was shrugging off the
European Central Bank's
third intervention, which was made yesterday, to support the beleaguered currency. The euro was slipping, lately at $0.8597.
Asian
equity markets slipped quietly lower overnight ahead of the U.S. Presidential elections as investors stepped in to take light profits on the previous day's gains.
Tokyo's
Nikkei 225
closed down 31.11 points, or 0.20% to 15,340.33. In currency trading, the dollar was lately trading lower at 107.02 yen.
Hong Kong's
Hang Seng
index, meanwhile, dropped 47.31 points, or 0.30%, to 15,632.84.
Back to top