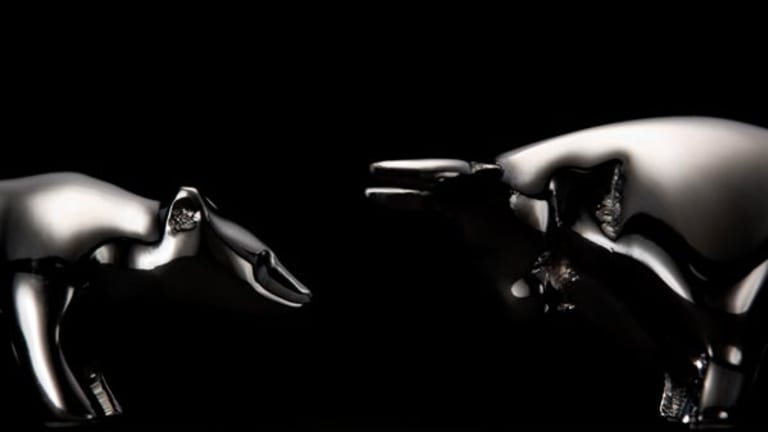 Today's Market: Stocks End Down Slightly as Election Remains Unresolved
Blame it on the election impasse, earnings concerns or the Fed -- any way you look at it, this was a crummy week.
Ugh. Let's get into the holiday spirit early by giving thanks that this week is over.
During the past week, the major indices have seen triple-digit gains countered by major losses. Market watchers blamed not only election uncertainty, but also concerns about slowing growth and how that would affect upcoming earnings. All of these, combined with a slightly disappointing (though largely unsurprising) outcome at Wednesday's
Fed meeting, made for an insane week on the Street.
Dan Ament, associate vice president and investment executive at
Dain Rauscher
, said that while the election has been an excuse for investors to sell, it has lent a real state of uncertainty to the marketplace. An outcome will definitely alleviate those concerns: While volume next week would typically be anemic ahead of the holiday, he said to expect potential fireworks if the election impasse is resolved.
Regardless of the election outcome and concerns about slowing growth Ament maintained we're in a stock-picker's market because there have been some truly good earnings reports.
Unfortunately,
BellSouth
(BLS)
wasn't among those with good earnings news this quarter. Last night the company said that its 2001 earnings would be hurt by expansion of its Internet business and its Latin American wireless operations. Today, the stock fell 14.5%, or $7.16, to $42.16.
Telecom equipment company
Nortel Networks
(NT)
also got flattened. Yesterday, the stock fell on rumors that one or more of its customers have switched to a competitor. Earlier today, it touched a fresh 52-week low, after a
Banc of America Securities
analyst reportedly told clients that the company was losing business from
Qwest
(Q)
to rival
Ciena
(CIEN) - Get Ciena Corporation Report
.
Memorably, Nortel let the air out of the optical networking balloon back in October as concerns about an industrywide slowdown surfaced. The company's stock has lost 63% of its value in just four months. Nortel recouped some of its losses to close on the day down just 1.1%. Ciena, meantime, was up 6%. (
TheStreet.com
wrote a separate story on
Nortel's woes.)
Want more bad news from the telecom industry? Well, communications chipmakers got the wind knocked out of them yesterday after
Applied Materials
(AMAT) - Get Applied Materials Inc. Report
announced barely better-than-expected earnings, but warned that future earnings would fall below estimates. That sparked fear of slowing growth in that sector and hurt related semis, including
Applied Micro Circuits
(AMCC)
.
The
Philadelphia Stock Exchange Semiconductor Index
fell 0.5%.
It wasn't all negative in tech, though.
Sun Microsystems
(SUNW) - Get Sunworks Inc. Report
got a bit of a lift today, after yesterday's midquarter conference call with analysts, in which the company displayed cautious optimism. The Unix server company confirmed that it would meet earnings targets. It was up 2.1%.
Ament said it's a good sign that the Nasdaq finished the day above 3000, but "right now, we're sitting at or near support on the Nasdaq." Some analysts are saying that if the Comp can't hold 3030 or 3060, than expect it to hit 2500, which is its next level of support. The index has corrected from its high by 40%.
Even though the Comp is bearish, the broader market isn't yet. Ament said a recent study showed that 60% of the investors surveyed are still bullish.
On the blue-chip front
J.P. Morgan
(JPM) - Get JP Morgan Chase & Co. Report
was the heaviest drag on the Dow, stripping about 24 points from the index. Financials, overall, had a crummy week after
Bank of America
(BAC) - Get Bank of America Corporation Report
posted a negative asset quality announcement in its 10-Q.
One of today's star performers was book retailer
Barnes & Noble
(BKS) - Get Barnes & Noble, Inc. Report
, which closed up 20.8%. It was upgraded to buy from outperform at
Salomon Smith Barney
and to buy from accumulate by
Merrill Lynch
. Solly said the upgrade reflected solid business trends in the company's core book operations.
No matter what the outcome of the presidential race, says Ament, November to April has for 45 years been the best time for the markets, according to statistics.
"It's a wonderful time to be initiating new capital in the market," Ament said. If there is a silver lining in the cloud of volatility, it's that investors have become more realistic: They now realize that stocks don't just go up, he said.
Market Internals
Breadth was just barely positive on the Big Board and negative on the Nasdaq on moderate to active volume.
New York Stock Exchange: 1495 advancers, 1333 decliners, 1.07 billion shares. 77 new 52-week highs, 68 new lows.
Nasdaq Stock Market: 1729 advancers, 2086 decliners, 1.73 billion shares. 32 new highs, 247 new lows.
Back to top
Most Active Stocks
NYSE Most Actives
Nasdaq Most Actives
Back to top
Sector Watch
The
American Stock Exchange Broker/Dealer Index
was down 1.9%. Most of its components were down.
Morgan Stanley Dean Witter
(MWD)
fell 3.2%. The firm, along with First Union and Bank of America, were agents on a $1.7 billion loan to
Sunbeam
(SOC)
in March 1998. Earlier this week, debt-laden Sunbeam reported a third-quarter loss well below estimates.
Stocks expected to benefit from a Bush administration were rallying today. The
American Stock Exchange Pharmaceutical Index
was rising 0.5% and the
American Stock Exchange Tobacco Index
was 1.5% higher.
The
Philadelphia Stock Exchange Computer Box Maker Index
managed to pull out an upside ending. It rose 1.8%, with the most help coming from blue-chip
IBM
(IBM) - Get International Business Machines Corporation Report
. It was 3.8% higher.
Back to top
Bonds/Economy
Treasuries closed down at the end of a day that began with a Florida judge's ruling in favor of Republican candidate George W. Bush. The judge rejected Democratic candidate Al Gore's request that hand recounts be included in the final vote tally, which currently favors Bush.
Treasuries are responding to the prospect of a Bush presidency, which bond market analysts say will do more than a Gore administration to erode federal budget surpluses. Federal budget surpluses have boosted the value of Treasury securities, because they have led to reduced issuance of Treasuries.
The benchmark 10-year
Treasury note closed down 9/32 at 100 10/32, lifting its yield to 5.706%.
The only economic news of the day was a touch weaker than expected.
Housing starts
(
definition |
chart |
source
) rose a scant 0.1% 1.532 million in October from 1.530 million in September. Economists polled by
Reuters
had forecast a 1.556 million rate. However building permit issuance rose more than expected, to 1.537 million from 1.518 million
Back to top
International
European indices closed mixed. France's
CAC 40
ended down 76.81 to 6206.25. Frankfurt's
Xetra Dax
, was also down, falling 65.82 to 6776.29. In London, the
FTSE 100
closed up 26.10 to 6456.50.
Asia's markets also dropped sharply. Hong Kong's
Hang Seng
lost 117.50 to 15180.85, and Tokyo's
Nikkei 225
dropped 42.73 to 14544.30.
Back to top