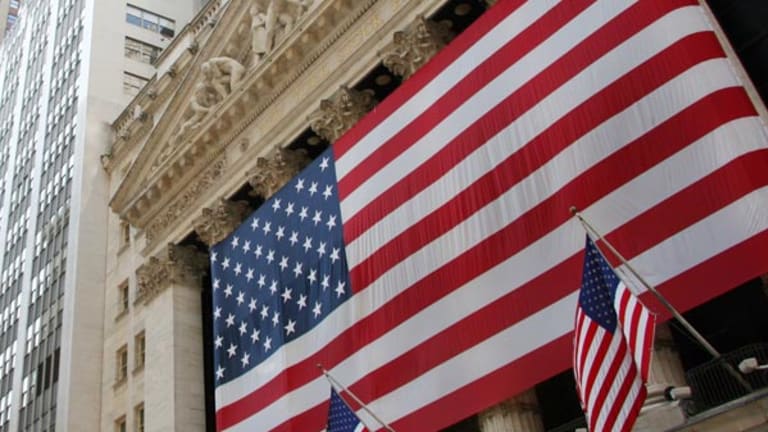 Today's Market: Stocks End Busy Earnings Week on High Note; Dow Gains Over 200
JDS Uniphase's better-than-expected quarterly numbers improved the Street's tone and helped stocks move higher.
Whew!
It was a close one for the
Nasdaq Composite Index, but it still managed to pull out an upside finish. There was no stopping the
Dow Jones Industrial Average, though, which finished on its highs.
Today's rally was fueled by enthusiasm left over from yesterday's rally, darn good numbers from fiber-optics leader
JDS Uniphase
(JDSU)
and
gross domestic product
figures that gave further credence to a slowing economy.
Let's hit JDS first. The fiber-optic equipment maker issued a bullish outlook for coming quarters as part of its third-quarter
earnings report. It gained 3.8% on the news and put a little confidence back into the fiber-optic industry, which needed it after
Nortel
(NT)
showed a
disappointment on the revenue side earlier this week and sparked a selloff among its buddies. Nortel, spent its third straight day as one of the
Big Board's most popular, ended the day with more losses, off 6.2%.
Corning
(GLW)
was also one of the most actively traded on the NYSE. It's been falling in tandem with Nortel, but it managed to rebound today. It rose 8.6% to $76.
But the fun in fiber optics was matched by negativity in biotech on news that
Amgen
(AMGN)
lowered its
sales projections and its earnings forecast. The news brought down the
Nasdaq Biotechnology Index
5.1%.
Also, among the bad news bearers was
American Power Conversion
(APCC)
, which reported lower-than-expected earnings for the third quarter. It dropped 40%, or $8.50, to $12.75.
You can't just blame earnings for the way this October's gone.
You Can't Make This Stuff Up!
Although everyone cites poor earnings, the
ever-weakening euro and problems in the Middle East as reasons for the strange happenings in the market recently, others see gyrations based on cyclical corrections.
Dan Ascani, president and director of research at
Global Market Strategists
, said the market is right on the money as far as where it should be in a 39-month cycle. Every 39th month, he said, the market bottoms to correct itself. He said this theory predicted the lows that were hit during the 1987 crash, Operation Desert Storm in 1990, problems in 1994 and the Asian market crisis in 1997. Ascani said October 2000 is right on schedule for another adjustment in valuation.
"It amazes me how many people ignore this kind of cycle," Ascani said.
But while the theory works for predicting lows, he said other factors including the aforementioned ones as well as additional cycles act on the market. So, you can't just say "OK, it's the 39th month, I'm going to make some money off of this."
Ascani said seasonal cycles are also a consideration. Oil stocks, for example, are nearing their peaks and probably should be left alone until spring, while many tech stocks are on track to make gains in the next couple months and are in the perfect position for buying. Still, he said you have to look at each stock on its own merits and then check out what cycle it follows.
Meanwhile, the
third-quarter GDP number, which was released earlier today and showed the lowest gain since the second quarter of 1999. GDP grew at a rate of 2.7% in the July-to-September quarter compared to
Reuters
consensus estimates of 3.4%. The report seemed to bode well for the end of the
Federal Reserve's interest-rate-hiking cycle, which Wall Street, of course, has been anxiously awaiting. Not everyone believes it signals an end, though.
TheStreet.com
wrote about why it doesn't mean a moratorium to interest rate hikes in a
separate story.
TSC
also recently wrote about the kind of impact an economic slowdown would have on
earnings growth.
The GDP numbers helped financials, including
J.P. Morgan
(JPM)
, which in turn lifted the Dow by adding 75 points to it. The banking giant, which is merging with
Chase Manhattan Bank
(JPM)
, jumped 8.8% today. The stock has been climbing in the past week or so from a selloff that started in early September. Chase increased 6.7% today -- the two stocks tend to move in synch with each other since they announced their marriage plans.
Other blue-chips contributing to the rally were defensive stocks like
General Motors
(GM)
and
Procter & Gamble
(PG)
. They contributed a total of more than 30 points.
Also,
Microsoft
(MSFT)
was being a generous contributor, with 19 points to the Dow's positive. Thursday, Microsoft was the victim of a hack attack.
TheStreet.com
covered the
hacker break-in in a separate story.
Back to top
Market Internals
Breadth was positive on active volume.
New York Stock Exchange: 1,800 advancers, 1,026 decliners, 1.087 billion shares. 53 new 52-week highs, 56 new lows.
Nasdaq Stock Market: 2,061advancers, 1,838 decliners, 1.965 billion shares. 44 new highs, 134 new lows.
Back to top
Most Active Stocks
NYSE Most Actives
Nortel: 43.4 million shares. AT&T (T) : 37.1 million shares. Corning: 19.7 million shares.
Nasdaq Most Actives
Intel (INTC) : 77.6 million shares. JDS Uniphase: 75 million shares. Cisco (CSCO) : 81.8 million shares.
Back to top
Sector Watch
Oil stocks were feeling pressured again. The
American Stock Exchange Oil & Gas Index
was down 1.4%, while the
Philadelphia Stock Exchange Oil Service Index
fell 5%. This morning,
Goldman Sachs
cut oil service stock
Cooper Cameron's
(CAM)
2000 and 2001 earnings estimates. The stock plunged 9.6%.
The
Philadelphia Stock Exchange Semiconductor Index
sunk 2.9%. Component
Applied Materials
(AMAT)
lost 4.4% to $30.25.
The GDP numbers put financials in a happy place. The
American Stock Exchange Broker/Dealer Index
was 2% higher.
Merrill Lynch
(MER)
and
Lehman Brothers
undefined
were two of the sector's strongest components. The
Philadelphia Stock Exchange/KBW Bank Index
lately rose 3%, and the
S&P Insurance Index
jumped 2%.
Back to top
Bonds/Economy
Bonds initially rallied after the GDP numbers were released, but then fell back.
The benchmark 10-year
Treasury note is at 100 5/32, down 9/32, to yield 5.728%.
The 30-year
Treasury bond is 4/32 lower to 107 6/32, yielding 5.742%.
Back to top
International
European markets finished strong following JDS' strong earnings release Thursday.
The
FTSE 100
in London was up 64.20 to 6366.50.
The
CAC 40
in Paris was 60.51 higher to 6268.93, while the
Xetra Dax
in Frankfurt was up 141.32 to 6909.22.
The
battered euro was climbing back after falling to new lows yesterday, lately at 108.62.
The major
Asian equity markets ended lower Friday, as technology shares closed out the week with a whimper.
In Tokyo, the
Nikkei 225
closed down 276.2 points, or 1.9%, at 14,582.2, as tech bellwether
Sony
undefined
suffered heavy losses after posting disappointing earnings.
In Tokyo trading, the dollar traded up 0.13 to 108.37 yen. The greenback was lately at 0.839.
Elsewhere, Taiwan's
TWSE
index fell 136.7, or 2.3%, to 5805.2, as chip-making giant
Taiwan Semiconductor
(TSM)
fell 3.3%. South Korea's
Kospi
index slid 8.3, or 1.6%, to 515.3.
Hong Kong's
Hang Seng
index dipped 93.8, or 0.6%, to 14,902.5, as
Pacific Century CyberWorks
undefined
fell 0.8% to HK$6.00 ($0.76) and
China Mobile
(CHL)
rose HK$0.50, or 1%, to 52.75.
Back to top