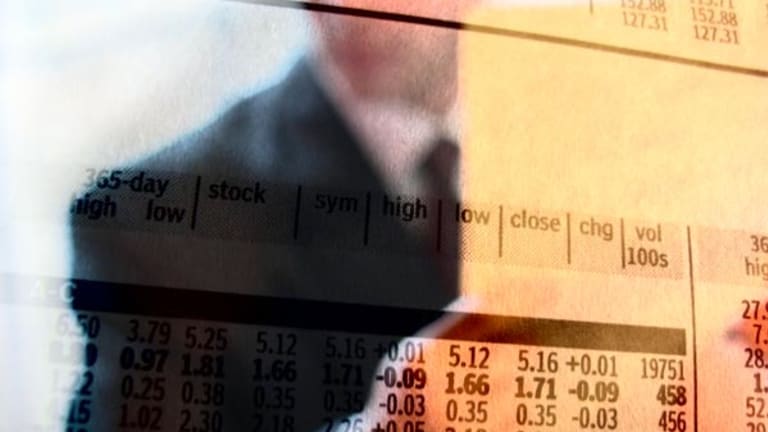 Today's Market: Stocks Edging Higher Despite Cisco, Election Uncertainty
<LI>Cisco dipping ahead of earnings release.</LI> <LI>Broadcom lower after purchase of chipmaker SiByte.</LI> <LI>European Central Bank intervenes to prop up euro -- again.</LI>
(Updated from 9:28 a.m.)
You would think the market would want to play it safe today. Earnings from networking-equipment maker
Cisco
(CSCO) - Get Cisco Systems Inc. Report
come out after today's market closes, a very tight elections race will be decided tomorrow, and, um, Jim Cramer turned up in boxing gloves and a sweatshirt on
CNBC
this morning. In other words, anything could happen between now and Wednesday. (Jim Cramer writes for
TheStreet.com
sister site
RealMoney.com
.)
Investors were edging the major stock market indices higher at the open. The
Dow Jones Industrial Average gained 10 to 10,828. The
Nasdaq Composite Index was moving 19 higher to 3471. And the
S&P 500 was up 2 to 1429.
"We should have a slightly positive open, but not much activity until we see Cisco's earnings and the election unfolds," said Peter Coolidge, managing director of trading at
Brean Murray Foster Securities
.
Cisco's earnings report carries a lot of weight because the company has demonstrated an ability to adapt quickly to a changing business environment, and right now, Wall Street is worried about a
slowdown in capital spending on computer and telecom equipment. Cisco's stock price hasn't been shredded like those of the other former tech leaders. Once called the Four Horseman, this group included Cisco, along with computermaker
Dell
(DELL) - Get Dell Technologies Inc. Class C Report
, software giant
Microsoft
(MSFT) - Get Microsoft Corporation Report
and chipmaker
Intel
(INTC) - Get Intel Corporation Report
.
Investors seemed to feel optimistic about Cisco's earnings last week. The networking legend has beaten earnings estimates for 14 straight quarters, and its stock price rose almost 15% last week ahead of the release. But shares were trading 1.8% lower this morning.
TheStreet.com's
Adam Lashinsky recently wrote about the Cisco
legend.
Meanwhile, with this year's most difficult
earnings season grinding to a close, many investors think all the bad news is out in the open and has been accounted for in stock prices. Tech stocks got a powerful beating in September and October, and investors may finally be feeling a bit more comfortable with valuations. Last week, the
Nasdaq Composite Index slapped on 260 points by the end of the week. Not bad for a week's work.
"There is some bullishness coming out of last week
considering that we were able to do as well as we did. But it was still pretty volatile," Coolidge said.
Once the market gets past Cisco, it will have to contend with elections. One of the closest races in decades, the outcome of tomorrow's vote is still very uncertain.
TheStreet.com
took a look at which stocks would be expected to fare better under Gore and which under a
Bush administration.
The market will also keep an eye on how congressional elections stack up, as that will determine what either president will be able to get done on the legislative front.
While a Bush victory is seen giving stocks a bit more boost, most on Wall Street expect an end-of-year rally regardless of who wins. November and December are historically strong months for stocks.
Elsewhere in the news, communications semiconductor maker
Broadcom
undefined
said this morning it will buy privately held processor chipmaker SiByte for up to $2 billion in stock. Broadcom has been on a buying spree of late.
TheStreet.com/NYTimes.com
joint newsroom wrote a
separate piece on Broadcom's news. Broadcom was off 1.6% in early action.
And the European Commission said Monday it filed a civil lawsuit in a U.S. court against U.S. tobacco titans
Philip Morris
(MO) - Get Altria Group Inc. Report
and
R.J. Reynolds
for alleged involvement in smuggling cigarettes into the European Union.
TheStreet.com
wrote a
separate story on the suit. Phillip Morris is off 3.9% and RJR is off 2.5%.
Back to top
Bonds/Economy
Bond prices were edging lower this morning following Friday's slide. The benchmark 10-year
Treasury note was off 3/32 to 99 10/32, yielding 5.842%.
Bond prices fell Friday, lifting some yields to their highest levels in nearly a month, after the October
employment report showed the economy slowing, but not to a degree that will likely call for the
Fed to cut interest rates.
Back to top
International
European markets had started to ease back by midday Monday amid earnings releases and the
European Central Bank's
third intervention in the euro in two trading days.
The
FTSE 100
was lately up 28.50 points at 6413.90. On the Continent, the
CAC-40
in Paris was up 5.03 points at 6403.95 and the
Xetra Dax
in Frankfurt was up 28.98 points at 7157.25.
The ECB intervened for the third time in two trading days to boost the value of the euro. Like Friday's interventions, the ECB acted without help from the U.S. or Japan. The intervention did support the currency, but wasn't giving it much of a boost. The euro initially rose by about 1 cent to $0.8720, but had recently fallen back to about 0.8669.
Back to top