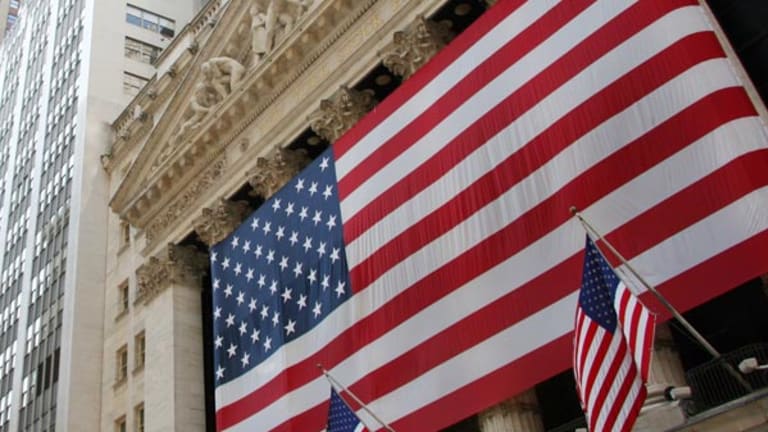 Updated from 8:40 a.m. EST
There was little fire in the market's furnace this morning ahead of the much-awaited
Federal Reserve interest rate decision that will be released this afternoon around 2:15 p.m. Tech futures got a little buzz out of this morning's
gross domestic product report, but investors are mostly hanging back in anticipation of the rate decision.
In early action, the
Dow Jones Industrial Average was up 13 to 10,893, the
Nasdaq Composite was up 13 to 2852 and the
S&P 500 was up 2 to 1376.
The advance estimate of gross domestic product for the fourth quarter, released this morning, shows the economy is slowing even more dramatically than was expected, with the smallest rise since the second quarter of 1995.
GDP grew 1.4%, well below the 1.9% pace expected by economists and the third-quarter's 2.2% increase. The GDP price index -- a key inflation measure -- came in up 2.2%, ahead of forecasts for a 2.0% rise and the third quarter's 1.6% rise. Gross domestic product measures the change in the market value of goods, services and structures produced in the economy, while the price index measures the prices of everything -- including imports -- that Americans buy. The lower GDP number may bode well for a more aggressive Fed, but the higher-than-expected inflation isn't great.
A few select tech stocks were moving in preopen trading this morning, including networking giant
Cisco
(CSCO) - Get Cisco Systems, Inc. Report
and software company
Adobe Systems
(ADBE) - Get Adobe Inc. Report
. Cisco continued to recover from recent losses and Adobe was falling after
announcing that an economic slowdown could cap its revenue outlook for first quarter.
And newly combined
AOL Time Warner
(AOL)
is inching higher in preopen trading after the companies said they earned 28 cents in the fourth quarter, compared to 24 cents in the last quarter of 1999. When merger costs and other expenses are included, the combined company lost 25 cents a share in the last quarter of 2000, compared to a loss of 5 cents in the year-ago period.
TheStreet.com
wrote
a separate story on the earnings report, which is jam packed with numbers for AOL, Time Warner and the merged company. In eary action, the shares were up 0.2% to $54.40
The market is overwhelmingly expecting a half-point cut in interest rates from the Fed, with fed fund futures -- often a good predictor of interest-rate action -- pricing in more than a 100% chance.
But the case for a half-point cut in interest rates is on shakier ground than it was about a week ago. Some say a quarter-point cut is more likely, yet others have begun to hope for a three-quarter-point cut. The hopes for a greater than 50 basis-point cut peaked after yesterday's consumer confidence number came in at a four-year low.
Last week, Fed head
Alan Greenspan pegged consumer confidence as an indicator he is watching closely. Whichever way the Fed goes should swing stocks -- the more it slashes, the more stocks should rally. But some say stocks are set for a selloff if the Fed cuts 50 basis points or less. And those investors who have missed out on the
Nasdaq's year-to-date rally are hoping for a drop in stock prices so that they can buy pick up some cheap buys.
In any case, once the Fed decision is out, investors will likely start
looking forward again -- trying to guess the next interest rate cut, as well as the tenor of first and second quarter earnings. Rate cuts take a while to kick in, and no one knows for sure when the ailing economy and earnings will turn up again. Company after company has warned that its current and upcoming quarters of business are disappointing earlier projections.
Those who argue for a quarter-point cut say that a full-point cut in a one-month span of time is unprecedented. The Fed already cut interest rates by a half point early this month, dropping them to 6%. Indeed, the biggest rate cut in the past 30 years was a 75-basis point drop in 1974.
But the key here seems to be that inflation is pretty much in check this time around, Greenspan doesn't have to worry as much that hiking rates will spin inflation out of control. What the Fed does have to worry about, on the other hand, is getting consumer and corporate capital spending rolling again. Consumer spending fuels the majority of the U.S. economy. And without capital spending on technology, productivity could fall off. High productivity has been the engine of the extended new economy expansion and has allowed inflation to remain low despite strong economic growth.
Other data released today include the
Chicago Purchasing Manager's Index
for January, out at 10:00 a.m.-- which is expected to fall to 43.7 from 44.2. The Chicago PMI is seen as a good gauge of what to expect from the
National Purchasing Manager's Index, which comes out a few days later. This number signals factory-sector expansion when it is above 50 and contraction when below it. Manufacturing has been contracting in recent months.
Back to top
Bonds/Economy
Bond prices were hopping this morning. The benchmark 10-year
Treasury note was lately up 11/32 at 104 7/32, yielding 5.185%.
Back to top
International
European markets were mixed near midday, with losses in London and gains in Paris and Frankfurt.
London's
FTSE
was lately down 46.20, or 0.73%, to 6288.30. Across the channel, Paris'
CAC-40
was rising 13.00, or 0.22%, to 5930.15. Frankfurt's
Xetra Dax
was off 17.46, or 0.26%, to 6756.76.
The euro, which has been slowly gaining against the U.S. dollar amid expectations of a slowing domestic economy, was lately trading at $0.9283.
Asian markets showed mixed weakness overnight.
Tokyo stocks ended slightly higher overnight following a session of profit-taking Monday. The key
Nikkei 225
closed up 16.90, or 0.12%, to 13,943.55.
Hong Kong stocks rebounded overnight, and the key
Hang Seng
erased all of the previous days losses plus a couple of points more. It closed up 209.28, or 1.32%, to 16,102.35.
The greenback was lately falling against the yen, trading at 116.15 yen.
For more on world stock markets, check out
TheStreet.com's
global indices information.
Back to top