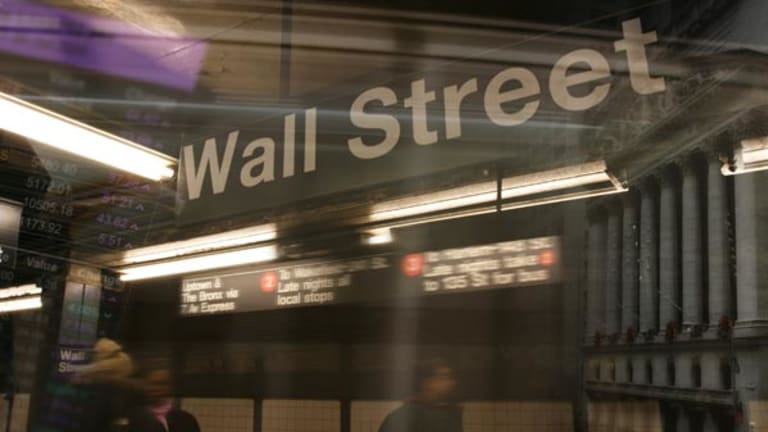 Today's Market: Stocks Drive for Show -- Three-Putt for No Dough
Both the Dow and Nasdaq started out strong and finished with a whimper.
The
Nasdaq Composite Index and
Dow Jones Industrial Average continued their recent trend of starting out strong, but ending the day on the downside.
Last night after the closing bell,
Dell
(DELL)
became the latest company to join the line-up of techs warning about a shortfall in third-quarter revenue. The warning sparked the today's drama.
Dell ended the day down 10.6%, after saying last night that slower sales growth could dent profits in the third and fourth quarters. See
coverage from
TheStreet.com
for more details. Other boxmakers felt the pain, including Dow component
Hewlett-Packard
undefined
which took away about 43 points from the index.
Also, hit hard were
Gateway
undefined
, which slid 5.3%, and
Compaq
undefined
, which fell almost 13%.
In a sign of just how jittery the market is, even a stock with good news got socked.
Micron Technology
(MU)
announced last night that it handily beat its fiscal fourth-quarter estimates, but today
ABN Amro
cut its price target on the stock to $100 from $120, saying semiconductor chip prices are bottoming out at a lower level. Micron dropped 12.7%.
Tech stocks were also hit by bad news from
priceline.com
undefined
, which announced that its priceline WebHouse Club, a privately held licensee that lets consumers name their own price for gasoline and groceries, will close operations over the next 90 days. The news pushed the stock down 38%.
Matt Johnson, head of Nasdaq trading at
Lehman Brothers
, said market participants are "in a reevaluation of the tech sector." Nasdaq components had been at 50 times their value and Johnson said they are now at 25 to 30 times, which is more in line with where they should be, but also reflects a slowdown of growth in earnings.
Johnson said if investors look at the market at a macro level, they can see that people were hoping for the
Fed to announce a neutral bias, but since it didn't, investors and traders remain nervous about tomorrow's employment numbers.
"We could be going through a longer slowdown than we have in past years and that makes the market tough to go up," Johnson said.
It doesn't mean the market won't go up, though. Johnson went on to say that the market will see an upside if "first, we get a friendly employment number. Second thing, we get oil to come back and then third, we get some good earnings. But we have to wait until at least next week. Today, we got a decent number out of Micron, but we need some more."
Others aren't showing that much optimism. Ricky Harrington, chief technical analyst at
Wachovia Securities
in Charlotte, N.C., thinks the market looks bad and will only get worse in the months ahead. "It is going to be a very difficult market in the months ahead," he said. "The average stock has really taken a beating."
"This is the most misleading bear market," he said, noting that strength in some of the Dow components has masked the weakness of the broader market.
"The average investor is getting a misleading picture of what is really happening," Harrington said. "He'll wake up when he gets his mutual fund results this quarter or at the end of the next quarter."
Harrington said he thinks the Fed is doing everything possible to keep the economy on an even keel, but "you don't have this kind of damage being done to the market with some implications for the overall economy."
Meanwhile, tech stocks weren't the only stocks putting pressure on the Dow.
J.P. Morgan
(JPM)
was the second-heaviest drag with almost 30 negative points.
Johnson & Johnson
(JNJ)
,
Procter & Gamble
(PG)
and
United Technologies
(UTX)
were a few of the components that tried to lift the Dow.
Market Internals
Breadth was negative, particularly on the Nasdaq on moderately heavy volume.
New York Stock Exchange: 1,257 advancers, 1,549 decliners, 1.18 billion shares. 52 new 52-week highs, 69 new lows.
Nasdaq Stock Market: 1,594 advancers, 2,330 decliners, 1.83 billion shares. 44 new highs, 207 new lows.
Back to top
Most Active Stocks
NYSE Most Actives
Lucent (LU) : 25.2 million shares. America Online (AOL) : 24.1 million shares. Micron: 23.7 million shares.
Nasdaq Most Actives
Dell: 116.2 million shares. Intel: 51.1 million shares. Worldcom

undefined

: 51.2 million shares.
Back to top
Sector Watch
Boxmaker, semiconductor and gold stocks suffered today, while transports and drugs bounced.
As expected, weakness in Dell spread to related stocks, which sent the
Philadelphia Stock Exchange Computer Box Maker Index
tumbling 5.3%.
Also, concerns about chip prices took attention away from Micron's better-than-expected earnings announcement and pushed the
Philadelphia Stock Exchange Semiconductor Index
down 3.6%.
The
Philadelphia Stock Exchange Gold and Silver Index
dropped 3.3%, with every component except
Coeur D'Alene Mines
(CDE)
, which was up 4.6%.
Meanwhile transports and airline stocks got a lift on a dip in oil prices that happened when U.S. energy firms snapped up the national reserves offered by the government. The
Dow Jones Transportation Index
up 0.3% and the
American Stock Exchange Airline Index
up 2.1%
The
American Stock Exchange Pharmaceutical Index
was up 2.2%.
Back to top
Bonds/Economy
Treasuries were little changed on not much news ahead of tomorrow's release of the September
employment report, the most important economic report to roll around each month.
There are no major economic reports today, although the
Federal Open Market Committee just released the
minutes of its Aug. 22 meeting.
At its most recent meeting on Tuesday, the FOMC
cited the still-high level of labor-force utilization -- aka low unemployment rates -- as its main reason for maintaining an aggressive posture on interest rates.
The latest readings on unemployment may have implications for monetary policy. In August, the regular unemployment rate was 4.1% and the
augmented unemployment rate -- the measure preferred by the Fed -- was 6.9%.
The benchmark 10-year
Treasury note lately was up 9/32 to 99 6/32, yielding 5.856%.
Back to top
International
European stocks pulled back following a
surprise interest rate hike from the European Central Bank this morning, though most indices remained in the green.
Reuters
survey of economists showed that 34 of 48 had expected the ECB to keep interest rates unchanged at its meeting this week. Earlier, equity prices remained stable after the
Bank of England
left Britain's interest rates unchanged at 6%.
A weaker outlook for the U.S. market was also putting pressure on European markets.
In London, the
FTSE 100
was lately up 22.30 to 6357.20.
Across the channel, the
CAC 40
in Paris was up 10.87 to 6307.00, while the
Xetra Dax
in Frankfurt was up 14.73 to 6838.16.
The euro was squeezing out some slim gains, lately up to 0.869.
TheStreet.com
recently looked at what
ails the euro.
Heartened by the Nasdaq's recovery, most of
Asia's major stock markets ended in positive territory Thursday.
Japan was the major exception, as the
Nikkei 225
closed down 49.8, or 0.3%, at 16,099.3. Dell's earnings warning weighed on the shares of
Sony
undefined
and
NEC
(NIPNY)
.
In Tokyo currency trading, the dollar rose against the yen to 109.40 yen from 108.74 yen Wednesday. It was lately trading at 109.08.
Other Asian markets were lifted by buoyant technology shares following the Nasdaq's rebound. Hong Kong's
Hang Seng
index rose 305.8, or 1.9%, to finish at 16,184.7; Taiwan's
TWSE
index rose 31.7, or 0.5%, to end at 6029.7; and South Korea's
Kospi
index closed up 8.4 points, or 1.4%, to 606.8, despite a surprise move by the central bank to hike interest rates by 25 basis points to 5.25%.
Back to top