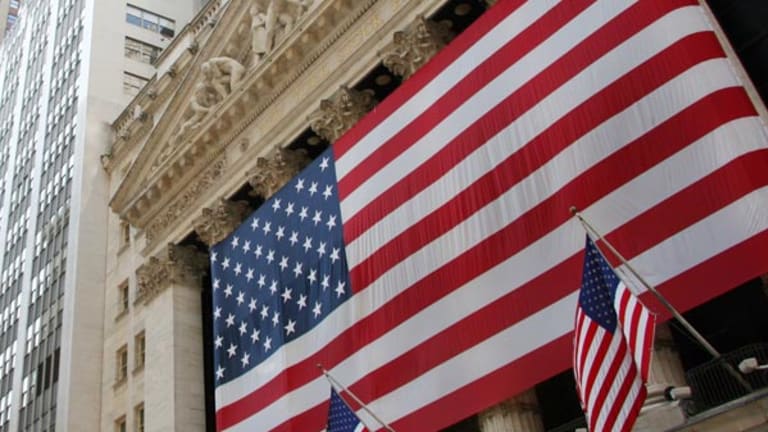 Today's Market: Stocks Bouncing Back After Thursday's Selloff
<LI>Retail sales and wholesale prices rise.</LI> <LI>Doubleclick losing more than 30%.</LI> <LI>Middle East tensions continue.</LI>
(Updated from 9:38 a.m.)
The latest economic data out this morning shows stronger-than-expected economic growth and fans fears of inflation. And rising tensions in the Middle East have oil prices on the rise (though November crude oil futures traded on the
New York Mercantile Exchange
were lately slipping slightly this morning to $35.90 a barrel from $36.06).
All this has put investors in another tentative mood this morning.
The market opened lower, but was lately moving into positive territory. The
Dow Jones Industrial Average was lately up 110 to 10,144. That still keeps it within kissing distance of the 10,000 mark. The
Nasdaq Composite Index was adding 77 to 3151. And the
S&P 500 moved 20 higher to 1349.
The September
Producer Price Index showed that soaring energy prices sharply raised U.S. wholesale prices in September. This is likely to exacerbate inflation worries in a nervous market. The September
retail sales number showed that sales jumped at the sharpest rate in seven months, boosted by sales of cars and trucks and soaring gasoline prices.
Don't forget its
Friday the 13th. Anything could happen.
Fears that Saudi Arabia would issue an oil embargo in retaliation against U.S. support of Israel in the Middle East crisis, what was most likely a terrorist bombing of a U.S. Naval destroyer and a petroleum workers' strike in OPEC nation Venezuela, helped send oil prices skyward yesterday. As fighting and hostility have escalated, oil prices were up 16 percent for the week through yesterday. (
TheStreet.com
wrote
extensively about how unrest in the Middle East impacted markets yesterday.)
The U.S. is highly dependent on the OPEC nations for oil, and rising energy prices are a major concern for investors. Several companies have already blamed higher prices for earnings weakness this quarter, in what was the worst
pre-announcement season of 2000. The higher prices also threaten to cut into consumer spending -- which is thought to be slowing anyway as a result of more than a year of interest rate hikes. And it could lead to a rise in inflation -- which could then prompt the
Federal Reserve to continue raising interest rates.
Some pundits think that what this market really needs, in order to get a turnaround, is a sign from the Fed that it is truly done hiking interest rates. While
Greenspan & Co. held off from raising rates at last month's Fed meeting, they did not soften their words about their outlook for the economy, continuing to issue a "tightening" bias rather than a "neutral" one. This dashed some hopes that the Fed's next move is an interest rate cut.
Today's latest economic numbers may help the market guess the Fed's next move. Both retail sales and the PPI are big market movers. The Producer Price Index is the market's key indicator of wholesale inflation, or inflation at the producer level. The monthly retail sales figures are a chief indication of the strength or weakness in consumer spending.
September's headline PPI showed a 0.9% gain, its largest since rising 1.1% in February, and well above expectations of a 0.5% rise. The core number, which does not include food or energy prices, came in well above expectations at a 0.3% gain, versus expecations of a 0.1% rise. Retail sales, meanwhile, saw the headline up 0.9%, also the largest gain since Feb's 1.4% rise. The core number, which excludes autos, showed a 0.7% rise, while analysts had expected a 0.5% rise.
Meanwhile, most of Wall Street is trying to figure out when the
Nasdaq Composite Index will see a bottom. Most of them are not thinking it will be too soon. The tech-loaded index has not been this low since November of last year. It is off 24% on the year and 39% off of its March 10 high of 3074.6.
Goldman Sachs'
strategist Abby Joseph Cohen was talking this morning about the value she sees in the S&P 500 index. The bullish bull said it's undervalued by about 15% and reiterated her year-end S&P target of 1575. That's pretty darn remarkable because, in order to get there, the S&P would have to rise 18.4% in about two-and-a-half months to reach that target.
Cohen's
comments in years past seemed prudent and comforting; she was notable for reassuring the market in the midst of the Asian meltdown in late 1998. Lately, she seems to be out there stoking the market as often as Kevin Costner releases three-hour box-office duds. The strategist last spoke Oct. 3 to calm investors, but like any other strategist, she isn't bigger than the market.
As earnings season breaks into full swing, news was mixed overnight, though weighted to the positive side. Networking company
Juniper
(JNPR) - Get Juniper Networks, Inc. Report
, last night's most active stock in after-hours trading, posted
stunning earnings results last night -- well above consensus estimates. And investors were loving it. Jumping Juniper! It was lately up 4.9%.
But it was semiconductor company
PMC-Sierra
(PMCS)
and PC-maker
Gateway
(GTW)
that were this morning's favorites in Europe after reporting strong earnings last night after the close.
TheStreet.com
wrote a separate story about
Gateway's earnings. PMC-Sierra was gaining 2.1%. Gateway was rising 9.9%.
Investors were bludgeoning Internet marketing company
DoubleClick
(DCLK)
after it gave a pretty lackluster forecast for future earnings and was pessimistic about a turnaround in the Internet advertising market.
TheStreet.com
wrote a
separate story about Doubleclick last night. Doubleclick was tanking. It was lately off 37.2%.
Back to top
Bonds/Economy
Bond prices turned lower following hotter-than-expected reports on both consumer spending and wholesale prices.
Retail sales increased 0.9% in September, the largest gain since February, and they were up 0.7% excluding autos. Economists polled by
Reuters
had forecast gains of 0.6% overall and 0.5% excluding autos. The data suggest that consumer spending, the primary driver of economic growth, continues to run at a very strong pace.
Meanwhile, the
Producer Price Index also rose 0.9% in September, the largest gain since February. Oil prices, which rose 3.7%, were largely responsible. The core PPI, which excludes food and energy prices, gained 0.3%. But that gain too was larger than expected. On average, economists had forecast the PPI to rise 0.5% overall and 0.1% excluding food and energy. The report fans fears that rising oil prices are leading to a faster rate of inflation overall.
The benchmark 10-year
Treasury note lately was down 6/32 at 100, yielding 5.751%.
Back to top
International
European stocks creeped back towards their lows of the seesion near midday after the release of some hot U.S. economic data dampened hopes of a rebound in the U.S. this morning. Frankfurt stocks were floating just above the flatline.
London's
FTSE 100
was lately down 37.80 to 6094.10.
The
CAC 40
in Paris was 69.09 higher to 5921.61, while the
Xetra Dax
in Frankfurt was up 8.14 to 6473.40.
The euro was falling again after seeing some mild strength in recent days, lately lower to 0.8673.
The major
Asian equity markets ended Friday lower, as investors lost their nerve after Wall Street stumbled Thursday and tensions rose in the Middle East. Most indices managed to close off of their intraday lows, however.
Tokyo's
Nikkei 225
closed down 220.3, or 1.4%, at 15,330.3, which reflected a bounce back after hitting a 19-month low at one point during the session.
In Tokyo trading, the dollar was little changed at 107.63. The greenback was lately trading at 107.66 yen.
Elsewhere, South Korea's stock market dropped more than 5% early on, before trimming those losses near the close. The
Kospi
index ended down 10.1, or 2%, at 524.6. Hong Kong's
Hang Seng
index fell 394.3, or 2.6%, to 14,680.5,
Back to top