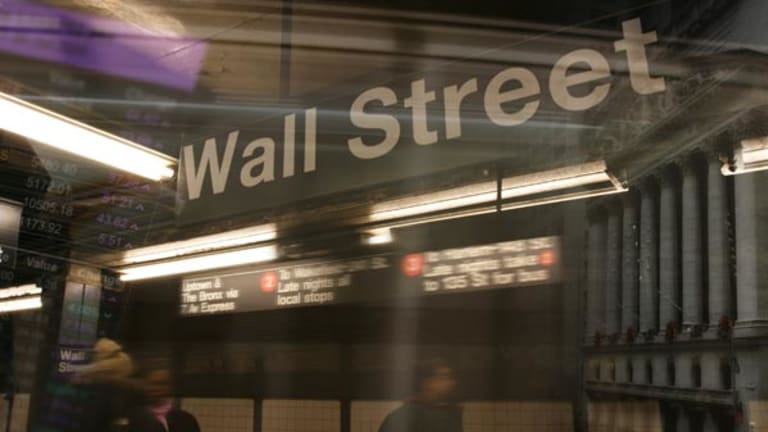 Today's Market: Stocks' Beating Continues; NYSE's Losers Double Winners
The numbers were worse on the Nasdaq at midday, as losers were ahead by a 3-to-1 count.
The stock market is running scared again today. If this isn't panic mode, it's darn close, as losers were more than doubling winners on the
New York Stock Exchange and tripling the winners on the
Nasdaq Stock Market.
Technology stocks are reeling after a
warning from
Sun Microsystems
(SUNW) - Get Sunworks Inc. Report
and yet
another warning from
Motorola
(MOT)
, as more significant tech names hit new 52-week lows. Meanwhile, investors are also dumping positions in financial stocks and capital goods stocks, signaling more pessimism about economic recovery.
"Technical indicators are saying the market is in a precarious, panicked situation," said Peter Boockvar, equity strategist at
Miller Tabak
. "Based on the action today, people are running scared."
As if there weren't enough signs of fright, there's a gold rush today. The
Philadelphia Stock Exchange Gold & Silver Index
is one of the day's strongest, bouncing 4.5% in today's action. That reflects a desire for
extreme
safety in assets (gold is a big metal you can hold in your hand, unlike stocks, where you don't even get the certificate anymore).
That's in contrast to the pummeling the
Dow Jones Industrial Average is taking, losing 157 to 10,369, and the
Nasdaq Composite Index, down 63 to 2182. The S&P 500 is now right near bear market territory, down 26 to 1227, off more than 19% from its all-time closing high.
IBM
(IBM) - Get International Business Machines Corporation Report
is accounting for 53 points of downside on the Dow, as the stock is down 7.6% to $100.63.
Salomon Smith Barney
cut its price target on the stock, but that seems kind of a minor thing to cause this rattling.
It would be easy to say today's action is once again motivated by technology stocks, but the problem is that tech stocks reporting the worst news -- Sun and Motorola, for example -- are doing comparatively better than many other stocks. The real nasty action is in the financial stocks, which are getting killed on expectations of slowed economic growth.
The lousy action in these stocks shows that the market's problems aren't confined to technology anymore. Investors for quite a long darn time, while upset, could explain away the tech action as revaluing overvalued stocks and adjusting for slowed spending.
When economic growth slows, that hurts credit quality and slows borrowing activity, hurting the banks. The
Philadelphia Stock Exchange/BKX Bank Index
was lately down 2.3%. Meanwhile, the
American Stock Exchange Broker/Dealer Index
has shed 4.9%, reflecting falling trading volume that occurs in bear markets.
Companies that produce big noisy things are in poor shape today also.
General Electric
(GE) - Get General Electric Company Report
lost 3.1%, defense name
Northrup Grumman
(NOC) - Get Northrop Grumman Corporation Report
is down 2.5%, and diversified manufacturer
United Technologies
(UTX) - Get n.a. Report
was lately off 2.8%. They're important to keep an eye on, because their performance is an indication of investor belief in a recovery in capital investment.
Retail stocks are another predictor of expected economic activity. The
S&P Retail Index
was lately off 0.8%. Until the last few days, those stocks had held in well, but now they're getting kicked around, reflecting increasing pessimism.
This is not to say tech is doing well, mind you. The kid getting beaten to a pulp in the playground today is
Qualcomm
(QCOM) - Get QUALCOMM Incorporated Report
, which is a disaster, losing 21.1% to $52.88, after founder Irwin Jacobs told the
Financial Times
that introduction of its third-generation mobile phone technology would be coming up to two years later than expected. Ouch.
Among the technology stocks hitting fresh 52-week lows are Dow components
Intel
(INTC) - Get Intel Corporation Report
, down 2.5% and
Hewlett-Packard
undefined
, down 3.4%; cell phone maker
Ericsson
undefined
, off 3.9%, Net bellwether
Yahoo!
(YHOO)
, off 3.7%, as well as enterprise storage company
McData
undefined
, which was getting McMassacred, down 11.6%.
Meanwhile, Sun Microsystems is hanging in there, losing 4.8% to $19.88 after the company said fiscal third quarter earnings would come in, oh, about half what was expected, and earnings growth would be 10% to 13%, rather than the 30% rate expected.
Motorola was also dangling after warning for what seems like the 18th time in the last three days. The company's going to miss first-quarter earnings projections for 12 cents a share and may report a loss, and that ain't good. The stock is down 5.6% to $16.32 today.
Forever optimistic, the fact that these stocks are getting merely picked apart rather than steamrolled has analysts thinking positively. The dread evident on the Street strikes Boockvar as a potential sign that the market is nearing a bottom, although he qualified that to say that it's a short-term bottom, rather than the absolute end to the pain.
Others agreed.
"It seems to me there's more pessimism that I've seen in a long time," said Peter Da Puzzo, president of
Cantor Fitzgerald
. "When you talk to money managers, nobody is coming up with good ideas -- it's a very good sign that we're near a bottom."
But an upturn won't happen until somebody says something positive, he said. ("I'm positive things stink" doesn't count.) Until a number of companies begin to see an upturn in spending or a need for more capacity to respond to increased demand, the malaise will continue.
"If and when people start talking about improvement, say the second half of the year, then you'll see a decent rally," Da Puzzo said.
Back to top
Market Internals
There's only one word to describe breadth, and that's "Yecccch."
Back to top
Most Active Stocks
Back to top
Sector Watch
Things remain weak all across tech and telecom. Specialty chipmakers
Altera
(ALTR) - Get Altair Engineering Inc. Report
and
Xilinx
(XLNX) - Get Xilinx Inc. Report
were down sharply after being
downgraded by
Lehman Brothers
. Altera was falling 5% and Xilinx was off 7.6%. The
Philadelphia Stock Exchange Semiconductor Index
was down 3.6%.
Small- and mid-cap stocks weren't having it easy either. The
S&P Small-Cap 600
was down 2.1%; the
S&P Midcap 400
lost 1.8%, and the
Russell 2000
dropped 2.2% today.
Optical fiber stocks were losing it today after
Morgan Stanley Dean Witter
cut its price target on sector darling
JDS Uniphase
(JDSU)
to $50 from $95. JDS was falling 2% and
Corning
(GLW) - Get Corning Incorporated Report
was down 1% today.
Back to top
Bonds/Economy
Treasury prices are higher as stock market weakness continues to shift investing momentum toward safer government securities.
The short end of the money market is once again being buoyed by talk of an intermeeting move by the
Federal Reserve, especially as the broad equity indexes appear to be in danger of slipping a couple of hundred points more. The yield curve, which tracks the data by time-to-maturity, shows the difference between yields of the two-year note and the 30-year Treasury at about 0.9%. It is the widest spread since November 1998.
White House economic advisor Lawrence Lindsey expressed President
George W. Bush's
administration's determination to realign the economy in a positive direction. Talking to an Italian daily newspaper, he said the "right road is lower interest rates and retroactive tax cuts." He also ascribed the spike in consumer price to higher energy costs, terming it a "technical reason."
The benchmark 10-year
Treasury note lately was up 11/32 to 99 4/32, lowering its yield to 5.113%.
There are no economic releases due out today.
Back to top
International
The crisis in Turkey continued to take its toll on that country's currency, although its stock market recovered somewhat in trading today. The
ISE National-100
, Turkey's leading stock index, ended up 454.54 to 8344.94, nearly 6% rise.
European markets extended losses at the end of their session. London's
FTSE
finished down 59.4 to 5943.7, Paris'
CAC-40
ended off 129.64 to 5322.84 and Frankfurt's
Xetra Dax
, still trading, was lately down 171.81 to 6106.18.
Asian markets were strong today, with Hong Kong's
Hang Seng
gaining 181.92 to 15280.56, and Tokyo's
Nikkei 225
finished strong, gaining 172.64 to 13246.
Back to top