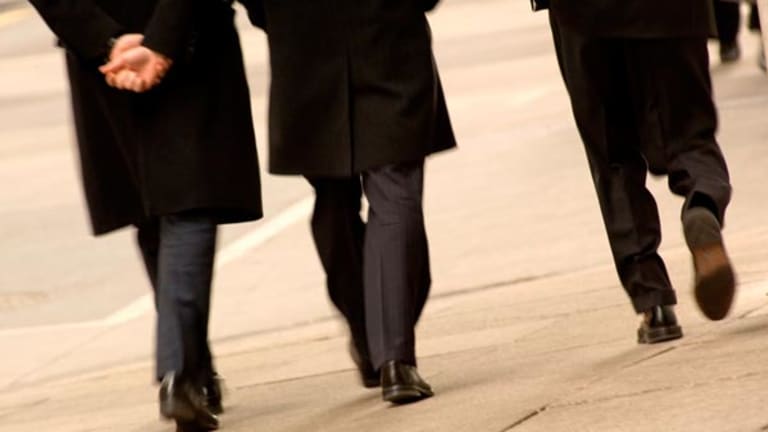 Today's Market: Smoking Nasdaq Ends Higher After Strong Week of Earnings
<LI>DOT up solidly as Amazon.com, eBay, Yahoo! continue run.</LI><LI>Jury socks tobacco companies.</LI><LI>Dow also gains.</LI>
(
Updated from 4:08 p.m. EDT
)
The market went out with a flourish, building on Thursday's gains, and rode the
Nasdaq Composite Index to its best close since April 7. Investors jumped onto technology stocks again, as those stocks, along with financials, led all comers in another narrowly focused session.
The Comp ended up 70.84, or 1.7%, to 4245.7. The
Dow Jones Industrial Average finished 23.34, or 0.22% higher, to 10,812.05, sustaining a late decline in tobacco stocks after a Florida court awarded nearly $145 billion (that's right,
billion
) in punitive damages to people suffering from smoking-related illnesses.
The
S&P 500 rose 14.06, or 0.94%, to 1509.9. The
Russell 2000 fell 0.4 to 542.36.
"It feels like February again," said Gary Kaltbaum, chief technical analyst at
JW Genesis Securities
in Boca Raton, Fla.
What transpired today was a virtual repeat of yesterday. Tech investors have regained their cockiness. Though advancers finished ahead of decliners by a slim margin, 22 to 18, on the Nasdaq, volume was strong again, as 1.6 billion shares traded hands. Major Internet bellwethers pushed
TheStreet.com Internet Sector
index to a massive 5.1% gain, starting with
eBay's
14.5% rise.
Credit Suisse First Boston
initiated coverage of the e-auctioneer with a buy rating this morning.
Ssssssmokin!
The
American Stock Exchange Tobacco Index
fell sharply after the announcement of the verdict, which falls hardest on the head of
Philip Morris
(MO) - Get Altria Group Inc Report
, which was ordered to pay nearly $74 billion of the damages. However, those stocks recovered a bit heading into the close, as Big Mo ended down 1.2%, while
RJ Reynolds
(RJR)
, next on the list with a $36 billion bill, lost 3.5%.
3Com
(COMS)
announced the final distribution ratio for its
Palm
(PALM)
spinoff, which is 1.484 shares of Palm for each 3Com share. Both stocks rallied sharply today, with 3Com up 14.5% and Palm gaining 16.6%.
Another
DOT component,
Amazon.com
(AMZN) - Get Amazon.com, Inc. Report
, exploded, jumping 21.4% after positive analyst comments. The stock, through yesterday, was down 54% on the year.
America Online
(AOL)
was the most active on the Big Board, gaining 6% on 25.6 million shares.
"You're seeing a continuation of what we've seen recently, which is people buying techs," said Peter Coolidge, managing director of trading at
Brean Murray Foster Securities
.
However, strategists feel that some scrutiny's being injected to the market's recent exuberance, noting that many Net companies are not sharing in the gains witnessed in a company like
Yahoo!
(YHOO)
, which rose 4.4% today.
Not everything is rising (
drkoop.com
(KOOP)
is still below 2 a share, thank you), but there's clearly greater comfort with some of the highflying sectors that had been clipped weeks ago, such as the B2B names and networking stocks.
Commerce One
(CMRC)
was strong again today, gaining 16.7%. Networking plays such as
Extreme Networks
(EXTR) - Get Extreme Networks, Inc. Report
, which rose 16%, and
Altera
(ALTR) - Get Altair Engineering Inc. Class A Report
, up 7.6%, continued to run up after Altera's strong earnings release yesterday.
"The market is paying up for great earnings numbers that are coming out, but they're paying down for the not-so-great earnings out there," Kaltbaum added. "There are some Net stocks doing better, but there's still plenty being left in the dust."
Among those are
OpenMarket
(OMKT)
, which rose 9% after getting trounced yesterday, losing 27.5%.
Extended Systems
(XTND)
was one of the Nasdaq's biggest losers today, after the mobile information management company issued an earnings warning. The stock lost 42.5% today.
More dominant, active names such as
Cisco
(CSCO) - Get Cisco Systems, Inc. Report
were no slouch either (unlike Judge Smails, who is a
tremendous slouch). Cisco was the Nasdaq's most active, jumping 4.6% on 57.8 million shares.
It's not clear how long this week's rally will push forward, Coolidge said. "I don't see what's going to keep the market going up in sort of a straight line," he said. "I think there's going to have to be a little bit of a consolidation."
The Data Could Do It!
The market was generally pleased with this morning's
Producer Price Index
and
retail sales
reports, though for stocks on the Big Board its been mostly an opportunity to sell and take some profits from the Dow's recent run. The core PPI, which excludes food and energy prices, fell 0.1% in June and is rising at a relatively tame 1.4% year-over-year rate, comparing favorably with June 1999's 1.5% rate.
Retail sales, meanwhile, were strong again, jumping 0.5%. The market's been jumping for joy over economic data since the release of a soft June
employment report
. This combo of reports is something the market generally likes to see -- strength in spending data but low inflation figures, for it affirms going sentiment, that the slowdown has been achieved, although many an economist would disagree -- or withhold judgment.
"I think the
Fed has to remain on hold," said Dana Feick, strategist at
Wilke/Thompson
in Minneapolis. "If you look out nine to 12 months, what they've already done is keep things in check in the short-term. In the current interest rate environment, and with gas prices
higher, the consumer is not in a position to spend excessively. That's what will keep a lid on economic growth."
The
National Association of Business Economists
said today in a press
release that the increased pricing power shown by companies in the first quarter was "no fluke," and that 60% of businesses were experiencing rising prices. One-third of the firms were able to pass those price increases to consumers, suggesting the potential for more consumer inflation down the road.
Financials Did Well
Financials continued to display leadership qualities.
Brokerages were up again, including
Lehman Brothers
(LEH)
, hitting a new high again today. The entire sector's been strong since the announcement of a proposed purchase of
PaineWebber
(PWJ)
by
UBS
(UBS) - Get UBS Group AG Report
. The
American Stock Exchange Broker/Dealer Index
gained 1.8%.
The
Philadelphia Stock Exchange/BKW Bank Index
was rose 2.1%.
Gateway
(GTW)
was falling 5.8%, despite announcing that its earnings beat Wall Street's estimates by a penny.
Banc of America Securities
downgraded the stock and said it was not likely to see additional upside in the near term.
For the week, the Dow gained 1.7%; the S&P rose 2.1%; the Nasdaq jumped 5.5%; the Russell 2000 rose 2.7%, and TheStreet.com Internet Sector index gained 6.8%. The
Dow Jones Transportation Average
rose 4.8% and the
Dow Jones Utility Average
ended up 2.4%.
Back to top
Market Internals
Breadth was positive on strong volume.
New York Stock Exchange: 1,585 advancers, 1,276 decliners, 951 million shares. 81 new 52-week highs, 22 new lows.
Nasdaq Stock Market: 2,182 advancers, 1,787 decliners, 1.63 billion shares. 101 new highs, 44 new lows.
Back to top
Most Active Stocks
NYSE Most Actives
Nasdaq Most Actives
Cisco: 57.3 million shares. Palm: 29.9 million shares. WorldCom (WCOM) : 27.4 million shares.
Back to top
Sector Watch
What have you done for me lately? The drug stocks fared poorly, with the
American Stock Exchange Pharmaceutical Index
down 2.1%.
Johnson & Johnson
(JNJ) - Get Johnson & Johnson Report
closed down 3.6% and accounted for about 19 negative points on the Dow.
Eli Lilly
(LLY) - Get Eli Lilly and Company Report
ended down 1.3% after being downgraded to market performer from strong buy by Banc of America.
The transportation stocks, which have been among the market's better performers of late, continued a strong performance. The
Dow Jones Transportation Index
ended up 1%, led by a surge in airlines, as the
American Stock Exchange Airline Index
gained 1.4% today.
FedEx
(FDX) - Get FedEx Corporation Report
rose 1.5%, while railroad company
Union Pacific
(UNP) - Get Union Pacific Corporation Report
rose 6.1%.
Back to top
Bonds/Economy
Treasuries ended down after the stronger-than-expected economic data this morning.
The chief culprit was the retail sales report. Not so much the results for June, which were more or less in line with expectations, but the revisions to May, which erased what had been substantial weakness. May retail sales were originally reported to have fallen 0.3%. That was revised to a 0.3% gain. Excluding autos, they were originally reported to have held steady. That was revised to a 0.5% gain.
Treasuries initially moved up slightly following the 8:30 a.m. EDT release of the retail sales report and the PPI. But some heavy selling of eurodollar futures, which are a more liquid proxy for U.S. short-term interest rates, subsequently led short-dated Treasuries in particular into negative territory, said Ken Logan, managing analyst at
IFR
in Boston.
The benchmark 10-year Treasury note lately was down 28/32 at 102 26/32, lifting its yield to 6.105%.
Back to top
International
London markets closed flat and Germany was positive in late action.
The London
FTSE
came off of earlier losses, closing near flat, down 0.3 to 6475.4.
In Germany, approval of $24 billion in tax cuts that are seen as spurring mergers was lifting the market and Frankfurt's
Xetra Dax
gained 118.58, or 1.65%, to 7314.57 near the closing.
Bastille Day had Paris markets on holiday.
The euro was lately trading at $0.9368.
Tokyo and Hong Kong popped higher overnight despite fears of an interest rate hike in Tokyo. Hong Kong rose on strength in telecom.
With the market bracing for a possible interest-rate hike Monday, Tokyo trading was extremely light, but some bargain-hunting in tech shares lifted the market slightly higher.
The
Nikkei 225
index rose 106.00 to 17,142.90.
With currency dealers overnight placing bets that the
Bank of Japan
would raise rates on Monday, the greenback edged slightly higher against the yen to 108.04 in Tokyo trade. The greenback was lately at 107.8 yen.
Hong Kong's
Hang Seng
index rose 136.66 to 17,586.16.
Back to top
As originally published, this story contained an error. Please see
Corrections and Clarifications.