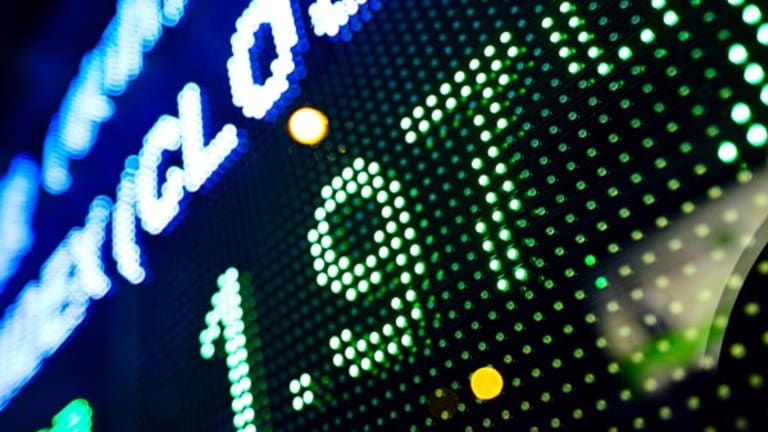 Today's Market: Semiconductors Get (and Deserve) Blame for Today's Mess; Dow, Nasdaq Both End Lower
It seems there's a different culprit ever day. Today it was the chips' turn.
Markets did the limbo lower and lower throughout the day. When the bell rang, both the
Dow Jones Industrial Average and
Nasdaq Composite Index slunk well under the limbo pole as technology and financial plays weighed down markets.
The Dow finished off 44 to 10,524, with almost two-thirds of the blue-chips in the red. Today's worst were
J.P. Morgan
(JPM)
,
IBM
(IBM)
and
Intel
(INTC)
, a fairly good cross-section of what was wrong with the market as a whole. There they all are, representatives from the finance, computing and semiconductor industries.
And here's a nice riddle. When is a 114-point drop not such a bad thing?
When you're the Comp and a terrible day in semiconductors threatens to make a bad stumble even worse.
Just look at the microchips or rather, "cow chips." Something
was
pretty rank in the once-hot silicon sector. Today, a pair of analyst downgrades torpedoed the
Philadelphia Stock Exchange Semiconductor Index
, sending all of its components into the red with more than a few mired in double-digit percentage losses. Looking for a good reason why the Comp didn't do better today? Check out
this
table:
Ladies and gentlemen, that's the very definition of a bloodbath. Hallmark doesn't make condolence cards with enough angels and trumpets and sympathetic statements to help people shake off that kind of hit. The sector fell 10% today, sending it down to 706.5, a level it hadn't seen since January.
All of this trouble came early in the day and never abated.
Salomon Smith Barney
and
Lehman Brothers
both downgraded Xilinx and Altera, which, as you can see, got destroyed in the wake of the downgrade. This move raised concerns about the rest of the semiconductor industry, leaving investors wondering whether the sector, which hit a 52-week high of 1362.1 on Mar. 14, had peaked and was now on its way down.
Late in the afternoon, around 2 p.m. EST, Xilinx struck back and said that it was comfortable with analyst estimates for 2001 and that third-quarter sales will rise 15% over the preceding quarter. Still, that was like putting a cotton ball on a gunshot wound. It really didn't stop the bleeding.
Has the sky fallen? Is the end near?
Maybe. Steven Goldman, market strategist at
Weeden
, thinks the end might be near. But that all depends on your definition of "near." Things won't really turn around next week, or even the week after that. (Try November.)
"Maybe we'll get a reprieve after October," Goldman said. "But we'll have to wait and see. I will say that the
NYSE is not as ugly as the Nasdaq."
The strategist feels that the New York Stock Exchange is firmer than the Nasdaq. And not for just the obvious reason -- that its stocks have fared better since March, when the Nasdaq's fortunes changed for the worse. Goldman said a combination of inflated expectations and an over reliance on technology left tech-heavy Nasdaq investors susceptible to a downturn. He feels that investors moved ahead of themselves and without any foothold in old economy stocks, were wide open to take a hit when their high expectations weren't met.
"They weren't braced for this kind of slowdown," Goldman said. "The Nasdaq is paying the price for false hopes. And hopefully, we can get through this month and closer to a bounce. But
investors did move ahead of themselves."
But fear not, bold investors. Earnings season may have a silver lining.
"I think it will help things when all is said and done. It won't really hurt things," Goldman said. "Earnings will be inline. This could be the harbinger of a rebound."
Earnings season is finally here and some big names are set to release this evening. Look for all eyes to be on
Yahoo!
(YHOO)
, which released its third-quarter earnings data. Ahead of that better-than-expected release, the Web bellwether dropped $2.31 to $82.69.
Elsewhere in the earnings picture, which can also be viewed in a
handy-dandy table format,
Biogen
undefined
and
Motorola
(MOT)
will release earnings this evening. Ahead of that, Biogen was off $4.75 to $51.50, while Motorola also dipped.
Market Internals
Awful. Putrid. Nasty. Today's market internals.
New York Stock Exchange: 1,140 advancers, 1,680 decliners, 1.04 billion shares. 35 new 52-week highs, 112 new lows.
Nasdaq Stock Market: 1,319 advancers, 2,626 decliners, 1.82 billion shares. 16 new highs, 293 new lows.
Back to top
Most Active Stocks
NYSE Most Actives
Nokia (NOK) : 18.05 million shares. Motorola (MOT) : 18.01 million shares. Nortel (NT) : 17.8 million shares.
Nasdaq Most Actives
Altera: 73.5 million shares. Xilinx: 66.9 million shares. Intel (INTC) : 65.1 million shares.
Back to top
Sector Watch
As mentioned earlier, semiconductors were terrifying today. And there was plenty of fear and loathing in other sectors, too.
Bankers got trashed, with the
Philadelphia Stock Exchange/KBW Bank Index
falling 3.3%. Elsewhere in financials, brokers got busted, insurers fell and the broad indicators looked terrible. The
American Stock Exchange Broker/Dealer Index
fell 2.9%, while the
S&P Insurance Index
dropped 0.5%. The
Nasdaq Financial-100 Index
, a broad indication of how financials were doing across the board, fell 2.6%.
Back to top
Bonds/Economy
Bonds were trading up courtesy of the stock-market selloff, which encouraged speculation that the economy is slowing. Earlier, the bond market fell as oil climbed to a two-week high in response to strife in the Middle East and falling temperatures. Rising oil prices alarm bond investors by threatening to lift the overall inflation rate. There are no major economic releases today.
Investors in
Treasury Securities are also watching out for a possible onslaught of new corporate bonds, which compete with Treasuries for investor dollars.
Unilever
(UN)
,
Telecom Italia
undefined
,
France Telecom
(FTE)
and
British Telecom
undefined
are all expected to float multi-billion dollar bonds before the end of the year. The Unilever deal is expected by the end of next week. The timing of the rest is uncertain, but they are considered likely to come this month.
The benchmark 10-year
Treasury note lately was up 3/32 at 99 21/32, dropping its yield to 5.797%.
Back to top
International
European stocks were mixed at the close.
London's
FTSE 100
was down 17.10 to 6247.70.
The
CAC 40
in Paris was up 33.24 to 6143.30, while the
Xetra Dax
in Frankfurt ended off 15.66 to 6665.12.
The euro was lately trading barely higher at 0.8716.
The major
Asian equity markets tripped lower overnight.
Returning from a long holiday weekend, Japan's equity markets finished lower Tuesday after one of the country's biggest insurers filed for bankruptcy. The
Nikkei 225
closed down 166.5, or 1%, to 15,827.7.
In Tokyo trading, the dollar fell to 108.51 yen. The greenback was lately trading at 107.82.
Elsewhere, South Korea's
Kospi
index closed down 0.8 points, or 0.1%, to 588.3 and Hong Kong's
Hang Seng
index fell 157.6, or 1%, to 15,535.9, as heavyweight
China Mobile
(CHL)
continued its 5.5% slide from Monday. The shares fell HK $0.25, or 0.5%, to 55.50 ($7.12).
Taiwan's stock market was closed for a holiday.
Back to top