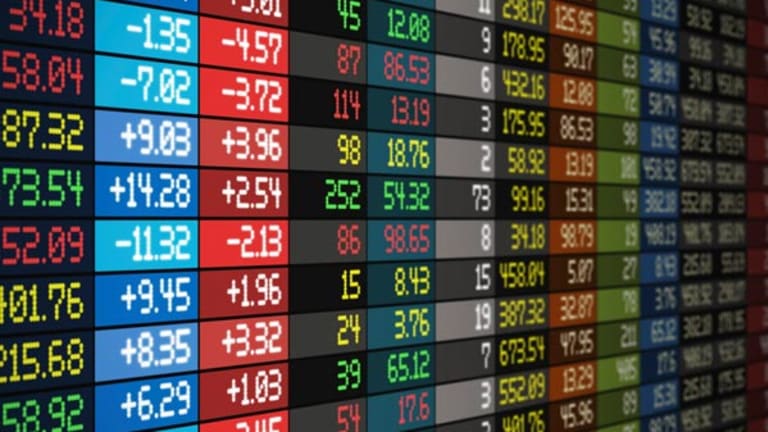 Publish date:
Today's Market: Say Cheese! Kodak's Picture Blurs; Dow Takes Another Negative Step
The Nasdaq didn't have a great day either, falling over 50 points.
The Nasdaq didn't have a great day either, falling over 50 points.
Investors would like to forget today's Kodak moment.
On the heels of the
Dow Jones Industrial Average's component
Eastman Kodak's
(EK)
warning that third-quarter profits would fall short of expectations, the blue chip index plunged 177 to 10,631.
This morning, Kodak said that its third-quarter earnings would be 20 cents to 25 cents below its previous estimate, which ranged between $1.56 and $1.66 per share. Analysts had expected the photo giant to come in at $1.60 per share.
Kodak's CFO, Bob Brust, stated that the company had expected strong September sales to offset earnings pressures of the rising dollar, increased raw material costs and higher levels of digital investment. But that didn't happen.
Investors today hammered Kodak's shares, which fell 25.1%, slicing 87 points off the Dow. Analysts hacked their recommendations on the company's stock:
Credit Suisse First Boston
dropped the film company to buy from strong buy and
PaineWebber
lowered its rating to neutral from hold.
Kodak was not the only company to attract negative investor attention during today's session. Dow technology components
IBM
(IBM) - Get Report
, off 2.9% to $119.38 and
Intel
(INTC) - Get Report
, off 4.6% to $45.19 both suffered through a ghastly session.
And even after the Supreme Court handed
Microsoft
(MSFT) - Get Report
a
victory by deciding that its appeal of antitrust violations should first be heard by a lower appellate court, technology stocks were dragged down in late-day action. Although Mister Softee finished up 2.4%, the technology laden
Nasdaq Composite Index -- which spent most of afternoon trading near the flat-line -- gave in to selling pressure in the final hour of trading, ending down 52, or 1.4%, to 3689.
"This is a very nervous market," said Brian Conroy, head of listed trading at
J.P. Morgan
. "Just days away from the end of the quarter, people will sell on pre-announcements."
Indeed, trading during this final week of confession season, when companies warn about any weakness in their upcoming earnings reports, has been very choppy. (
TSC
has been tracking third-quarter
profit warnings in a separate story.)
"Going into the end of the quarter, stocks that are down remain that way," notes Conroy. Amid concerns about the weak euro and high-energy prices eating into corporate profits, investors lack incentive to buy right now.
Warnings from printer manufacturer
Lexmark
(LXK)
, diesel engine maker
Cummins Engine
(CUM)
, baked goods distributor
Earthgrains
(EGR)
, and retailer
Guess?
(GES) - Get Report
all weighed on the market today.
Cough, Cough, Wheeze, Wheeze
Biotech stocks added downward pressure to the Nasdaq today. Shares of
Millennium Pharmaceuticals
(MLNM)
, off 4% to $147.44;
Alexion Pharmaceuticals
(ALXN) - Get Report
, down 7.4% to $105, and
Gilead Sciences
(GILD) - Get Report
, off 8.4% to $106.44, all ended south of the border. Salomon Smith Barney started coverage of several companies in the sector this morning, mostly with outperform or neutral ratings. The
Nasdaq Biotechnology Index
ended off 2%.
Market Internals
Breadth was negative on heavy volume.
New York Stock Exchange: 1,245 advancers, 1,603 decliners, 1.1 billion shares. 92 new 52-week highs, 117 new lows.
Nasdaq Stock Market: 1,417 advancers, 2,592 decliners, 1.79 billion shares. 74 new highs, 227 new lows.
Back to top
Most Active Stocks
NYSE Most Actives
Lucent (LU) : 26.5 million shares. Motorola (MOT) : 20.3 million shares. Texas Instruments (TXN) - Get Report: 19.3 million shares.
Nasdaq Most Actives
Back to top
Sector Watch
Although oil has come off the 10-year highs it hit last week, trading this afternoon up 18 cents to $31.75, concerns about high energy prices are still on investor's minds. As a result, energy-sensitive transport stocks took a turn for the worse today. The
Dow Jones Transportation Average
was down 1.5%. Additionally, this morning
Donaldson Lufkin & Jenrette
lowered its stock price target and earnings estimates on component
Northwest Airlines
(NWAC)
. Shares of Northwest were down 2.1%.
The
Philadelphia Stock Exchange Semiconductor Index
dropped 1.7%, pulled down by Intel. Shares of
Advanced Micro Devices
(AMD) - Get Report
,
Novellus Systems
(NVLS)
, and
KLA-Tencor
(KLAC) - Get Report
were all down.
Financial stocks also suffered during today's session. The
American Stock Exchange Broker/Dealer Index
was lower 2.1%.
Back to top
Bonds/Economy
The Treasury market is narrowly mixed amid stable oil prices and a stronger-than-expected
Consumer Confidence Index.
Oil is well off the 10-year highs it hit last week thanks to the Clinton administration's decision to release some from the country's emergency stockpiles, and that's a positive for the bond market. Rising oil prices make bond buyers stingy to the extent that they threaten to lift the inflation rate.
Meanwhile, consumer confidence remains high in spite of the rise in energy prices, indicating that the adverse impact on growth may be muted. The Consumer Confidence Index rose to 141.9 in September from 140.8 in August. Economists polled by
Reuters
had forecast a smaller rise, to 141.4, on average.
"The reaction of consumers remains a key factor that will determine how recent energy price increases will effect the economy,"
Barclays Capital
economist Henry Willmore wrote recently. "So far it appears that consumers are remaining confident. This will delay and possibly mute the impact of higher oil prices on growth."
The benchmark 10-year
Treasury note lately was up 9/32 at 99 19/32, dropping its yield to 5.804%.
Back to top
International
Technology stocks were leading European markets lower, following yesterday's late-afternoon sell-off on the Nasdaq. But the major indices had retreated from earlier lows.
The
FTSE 100
was down 0.70%. Across the channel, the
CAC 40
in Paris was off 0.67% and the
Xetra Dax
in Frankfurt was down 0.69%.
The euro got a boost Friday from the
joint intervention by the European Central Bank, the U.S. and Japan. It was lately trading at 0.8799.
Asian markets were mixed overnight. Both Tokyo and Hong Kong stocks were under pressure.
The
Nikkei 225
index shed 64.28, easing to 15,928.62.
The greenback fell against the yen in Tokyo trading to 107.32. The dollar was lately trading at 107.62 yen.
Hong Kong was dominated by worries about the high-debt burden of broadband and telecom operator
Pacific Century Cyberworks
(PCW)
. The key
Hang Seng
index fell 138.10 to 15,290.85 after PCCW fell HK$0.65, or 7%, to 8.65 ($1.11). An Australian newspaper reported that the company's mobile-phone joint venture with
Telstra
may fall through or be renegotiated.
Elsewhere in Asia, Korea's
Kospi
index rose 2.97 to 587.60, while Taiwan's
TWSE
index gained 71.57, or 1.1%, to 6749.03.
Back to top