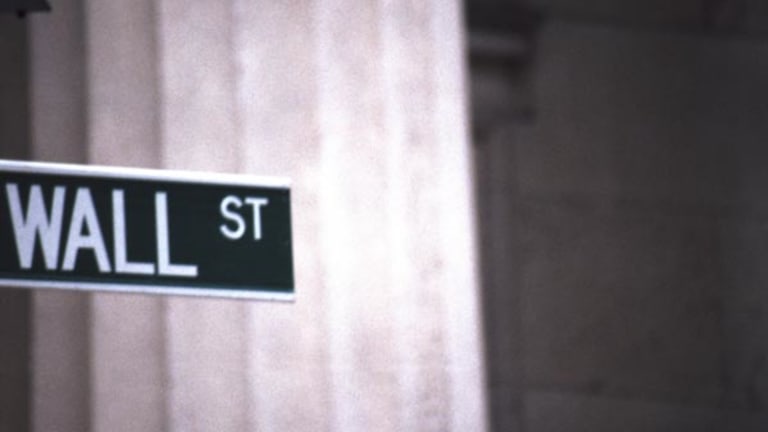 Today's Market: Rally Hangover Keeps Dragging Stocks Lower
Dow, Nasdaq fall. Oracle losing after Lehman downgrade. Chip stocks dip.
(Updated from 9:34 a.m.)
Wall Street was still nursing a hangover from last week's stock market rally, and investors were extending the profit-taking that began on Friday.
Selling this morning and at the end of last week follows a bursting two-day run-up in stocks inspired by a surprise
Fed
rate cut. The two-day pop topped off three weeks of solid stock market gains.
As the first-quarter earnings reporting season embarks on week No. 2, today's lineup includes
Compaq
undefined
,
Novellus
undefined
and
Dow Jones Industrial Average components
Minnesota Mining & Manufacturing
(MMM)
,
ExxonMobil
(XOM)
and
SBC Communications
undefined
.
Local telecom SBC reported first-quarter earnings of 51 cents per share, meeting analyst estimates, but it warned that its full-year results would fall below targets. It was losing 1.8% to $39.30. Exxon easily beat earnings targets, reporting $1.44 a share. That's up from 95 cents a year ago and is 9 cents above the
Thomson Financial/First Call
consensus estimate of $1.35 a share. It was up 1.1% to $86.10.
Brian Finnerty, head of trading at
C.E. Unterberg Towbin
, said he expected today's session to erase half the gains won in last week's two-day rally -- or some 5% in the
Nasdaq.
The Dow was recently off 36 to 10,544. The Nasdaq was losing 54 to 2110. The
S&P 500 was also off, lately 8 lower to 1235.
A few better-than-dismal earnings reports in the past few weeks helped fuel the recent rally. After months of earnings warnings about missed performance targets, investors began to bet the worst was behind them. But earnings in most sectors of the economy remain pretty bleak, and plenty of companies still have bad news to report.
Layoff announcements, for example, haven't slowed. Financial powerhouse
Merrill Lynch
(MER)
and industrial products retailer 3M are both laying off employees. Merrill may lay off some 2% of its investment banking division due to slowing business, according to the
Financial Times
. Investment banking business at Merrill and other financial outfits has been hurt by a weak stock market and a credit crunch. And 3M said it is planning to cut 5,000 jobs. The company this morning reported earnings that were in line with analyst consensus estimates of $1.16 a share.
A monthlong rally in software giant
Oracle
(ORCL)
came to an abrupt end this morning. Brokerage
Lehman Brothers
undefined
slashed its rating on the stock this morning to buy from strong buy, citing weak results and guidance from
Sun Microsystems
(SUNW)
and pricing pressure from IBM
(IBM)
. Lehman also said Oracle's valuation is well above historical norms. Sun's servers are most often bundled with Oracle's software. It was off 8.4% to $18.09.
Mobile-phone giant
Ericsson
undefined
also got the
cold shoulder this morning.
Goldman Sachs
analyst Sean Faughnan dropped his price target to $6 from $10 and snipped earnings estimates to well below Wall Street consensus. On Friday, he'd cut the company to market perform from market outperform. Ericsson was lately losing 9.3% to $5.36.
And
Merrill Lynch's
influential Joe Osha downgraded a bunch of chip stocks to near-term neutral from near-term accumulate. On the list were
Applied Micro Circuit
(AMCC)
,
Intel
(INTC)
,
PMC-Sierra
(PMCS)
and
Vitesse
(VTSS)
. The chip sector was being hit with losses after the downgrade.
Still, a drop at the open this morning is not expected to turn into a
retest of the major indices' recent lows. A retest probably won't happen until summer, say most strategists, when investors get a gander at how third-quarter earnings are shaping up. The Nasdaq hit a 31-month low on April 4, and since then, it is up a raging 32%.The S&P 500 is up 12.7% since hitting a 31-month low, and the
blue-chip Dow is up 12.7% since falling to a two-year low on March 22.
Strategists say there are several factors that will put a floor under stocks for the next few months. The Fed's surprise rate cut last week reassures the market that Fed chief
Alan Greenspan is solidly on the market's side. And the market's ability to rally in the face of mediocre earnings news may signal that first- and even second-quarter earnings expectations are already priced into stocks. Meanwhile, trading volume has been concentrated in stocks that are moving higher rather than declining, a sign that momentum is working in favor of more upside. Finally, money supply growth has soared up some 28% since January. More available money in the financial system tends to find its way into various financial assets, including stocks.
But the outlook could change when summer rolls around. If the economy is not poised for a rebound in the second half of the year, as so many CEOs and analysts have begun predicting, companies could be forced to lower their earnings estimates for the second and third quarter all over again.
Back to top
Bonds/Economy
The Treasury market was rallying this morning. The benchmark 10-year
Treasury note was lately up 8/32 to 97 31/32, yielding 5.269%.
Back to top
International
Euphoria over last week's U.S. rate cut and rally was on the wane in Europe this morning, and tech and telecom stocks led the major European indices lower. London's
FTSE 100
was off 19.8 to 5860.0, the Paris
CAC 40
was losing 48.3 to 5401.0 and Frankfurt's
Xetra Dax
was off 77.7 to 6050.2.
The euro was lately trading at $0.8997.
A hearty early rally in Asian markets lost its gusto into the close, as prospects for weakness on Wall Street deflated optimism that a new reformist candidate in the race for prime minister would drum up widespread buying. The major indices closed lower overnight, with Tokyo's
Nikkei 225
down 50.1 to 13,715.6 and Hong Kong's
Hang Seng
136.6 lower to 13,311.5.
The dollar was trading at 121.77 yen.
Back to top