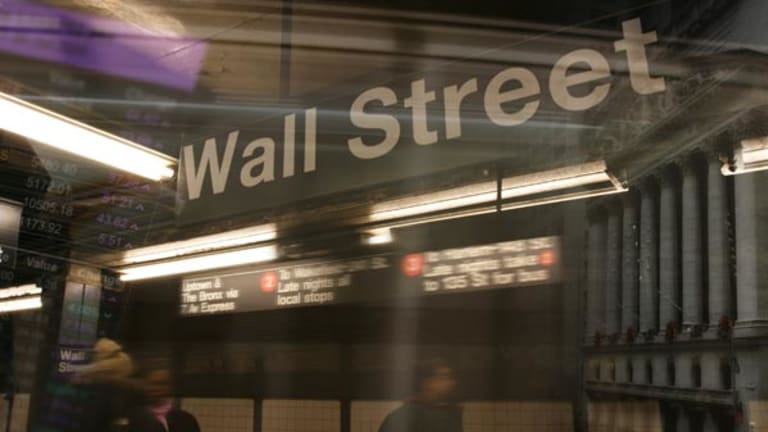 Publish date:
Today's Market: Profit Warnings Send Shudders Through Stock Market; Nasdaq Ends Below 4000
The Comp finishes at its lowest point of the day as tech gets battered.
The Comp finishes at its lowest point of the day as tech gets battered.
Stocks slumped today after a round of profit warnings prodded investors to pocket some profits of their own as they headed off for the weekend.
Technology stocks -- and semiconductors in particular -- were hit hard as the
Nasdaq Composite Index tumbled back below the key 4,000 support level for the first time since Aug. 22. The Comp lost 119.94, or 2.9%, to 3979.25. Overall, the Comp had a rough week, sliding 6% and bringing the index back into negative territory for the year.
Blue-chips fared a bit better with the
Dow Jones Industrial Average bouncing around and ending off its intraday low at a less-severe drop of 38.11, or 0.3%, to 11,221.76. The
S&P500 lost 7.87, or 0.5%, to 1494.64 and the
Russell 2000 dropped 7.13, or 1.3%, to 535.69.
"The market is basically correcting the rapid run-up it had in August, with the most pronounced action in high-tech," said Al Goldman, chief market strategist at
A.G. Edwards
in St. Louis. "The market always goes to the extreme."
Goldman said, though, that despite today's woes we are still in a bull market supported by a very positive economy and reiterated his faith in the tech sector. "The market is not going to go up every day. We're very positive on technology, the growth prospects and sheer appreciation prospects remain attractive," he said. Still, he concedes, there is a cost for such rapid growth. When a stock sells at a rich multiple, it's subject to a lot of volatility, he said.
Tony Dwyer, chief market strategist at
Kirlin Holdings
also chalked up the recent roller-coaster action to "stabilization". Noting the latest round of profit warnings to smack the market in the recent week, Dwyer said "things get discounted in the market very quickly," these days. Dwyer said given the fact that the Nasdaq had only four losing sessions in the past month, investors are finding excuses to take profits. "The sharpest declines happen in bull markets and vice versa."
In the latest week, the Dow slipped 0.2%, the S&P 500 lost 1.7%, the Russell fell 1.2% and
TheStreet.com Internet Sector
index fell 4.5%. The
American Stock Exchange Composite Index
rose 1.3%, the
Dow Jones Utility Average
gained 5.8% and the
Dow Jones Transportation Average
trucked up 0.6%.
SOX Socked
The action in the semiconductor stocks in the past week was a mirror of the tech-laden Comp. After a downgrade on
Micron Technology
(MU) - Get Report
on Wednesday, the sector slid, rebounded on Thursday and fell another 5% today.
Last night
SpeedFam-Ifec
(SFAM)
roiled things up again with a warning that its first-quarter earnings would fall below estimates because of a delay in delivery of some tools.
After a week's worth of turmoil the
Philadelphia Stock Exchange Semiconductor Index
, or SOX, is worse for the wear, down a painful 9.2%.
Indeed, it feels like the whiplash rotation pace is picking up even more speed as investors become increasingly nervous about an economic slowdown causing profits to fall short. Dwyer says the rapid moves are more a result of trigger-finger traders than anything else.
"The violent rotation is caused by aggressive trading more than any investment portfolio trading. A seasoned portfolio manager does not sell
Texas Instruments
(TXN) - Get Report
and buy
Budweiser
Anheuser Busch
(BUD) - Get Report
. It doesn't happen that way."
The Dow's technology components accounted for almost the entirety of its drop. Still there was strength in some of its retail and financial components. The strongest issues in the blue-chip average were retailer
Home Depot
(HD) - Get Report
and
SBC Communications
(SBC)
.
Gadzooks
(GADZ)
, a storage area network company, was also among companies warning of weaker earnings. The company said its second-quarter sales would be hurt by the slower-than-expected acceptance of its Capellix switches. The warning put additional pressure on other members of the group including
Juniper Networks
(JNPR) - Get Report
. Juniper was among the Comp's biggest losers off 8%, to $197.63.
Market Internals
Breadth was negative on moderate volume.
New York Stock Exchange: 1,303 advancers, 1,514 decliners, 965.83 million shares. 140 new 52-week highs, 41 new lows.
Nasdaq Stock Market: 1,513 advancers, 2,499 decliners, 1.480 billion shares. 82 new highs, new lows.
Back to top
Most Active Stocks
NYSE Most Actives
Lucent (LU) : 20.5 million shares. AT&T (T) - Get Report: 18.8 million shares. Nortel (NT) : 18.3 million shares.
Nasdaq Most Actives
Back to top
Sector Watch
With money coming out of tech, it wasn't a surprise to see sector rotation underway. Retailers looked good in the face of the decline with
Wal-Mart
(WMT) - Get Report
up 2.1% and Home Depot rising 4.8%.
And with energy prices on the rise, utility stocks looked attractive. The
Dow Jones Utility Average
bounced to a new high of 386.30, up 2.7%.
Peco Energy
(PE) - Get Report
also rocked up 6% to $53.71. The stock hit an intraday record of $54.
With crude oil futures moving lower, oil stocks lost energy. The
American Stock Exchange Oil & Gas Index
fell 1.5%.
"It's the week before the OPEC meeting, so this has got the street worried about energy prices and what an impact that will have on earnings," said Peter Cardillo, investment strategist at
Westfalia
, commenting on yesterday's earnings warning from
DuPont
(DD) - Get Report
. The chemical giant blamed higher raw material costs for the shortfall.
The
Philadelphia Stock Exchange Oil Service Index
shed 2.1%.
Back to top
Bonds/Economy
Treasuries rose for the first time in four sessions, as oil gave back some of the big gains it racked up earlier in the week.
Amid an economic data drought that will last through the first half of next week, bond traders are paying close attention to the price of oil, which yesterday exceeded $35 a barrel for the first time in 10 years. Rising oil prices have the potential to cause inflation elsewhere in the economy, reducing the appeal of bonds.
The benchmark 10-year Treasury rose 4/32 to 100 4/32, dropping its yield to 5.73%.
Back to top
International
European markets closed lower.
After pushing tentatively higher at the open, the
FTSE 100
turned tail as investors began taking profits in the index's two big oil stocks. The FTSE was lately down 88.50 to 660.70.
Across the channel, the
CAC 40
in Paris was off 131.10 to 6703.36, and the
Xetra Dax
in Frankfurt was off 107.96 to 7265.38.
The euro was lately trading lower at $0.8727.
TheStreet.com
wrote a separate piece about the
euro's woes.
Techs were partly responsible for turning around two days of losses in
Tokyo overnight, but they backhanded Hong Kong's
Hang Seng
, which ended lower.
Despite a downgrade from
Moody's Investors Services
on Japan's sovereign debt rating for the second time in two years, investors scooped up large-cap electronic shares ahead of the fiscal first-half earnings season. The
Nikkei 225
index gained 201.09, or 1.2%, to close at 16,501.55.
TheStreet.com
wrote about the Moody's downgrade in a
separate story .
With the euro struggling to gain ground, most Tokyo currency dealers were busy adjusting positions in euro/dollar positions, so they ignored the news from Moody's. The greenback fell against the yen to fetch 105.43 in Tokyo trading. The dollar was lately trading at 105.64 yen.
Traders and investors looked like they took the day off in Hong Kong, with the key
Hang Seng
index falling 156.50 to close at 17,275.45 amid extremely thin trading.
Back to top