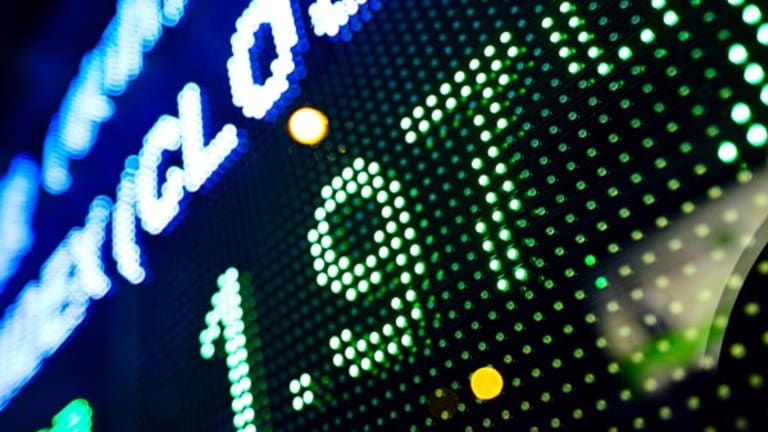 Today's Market: On the Day After, Blue-Chips Dip
Good earnings news from IBM and Apple adds fuel to Fed-inspired optimism. But Dow edges lower, while Nasdaq inches higher.
(Updated from 9:43 a.m. EDT)
Wall Street was trying to move higher this morning, as a parade of boffo earnings releases and bullish analyst reports gave extra momentum to yesterday's rate-cut-inspired surge. But it wasn't having too much success.
Tech stocks were squeaking higher, while blue-chips and the broader market were dipping lower. The
Nasdaq Composite was up 3 to 2083. THe
blue-chip
Dow Jones Industrial Average was off 35 to 10,578. Tracking the broader market, the S&P 500 was 4 lower to 1234.
Computing behemoth
IBM
(IBM)
, chipmaker
Advanced Micro Devices
(AMD)
, and PC giant
Apple Computer
(AAPL)
all issued strong earnings reports last night after the market closed and were the subject of the positive analyst comments this morning.
Siebel Systems
undefined
issued a more mixed report, but was also touched by positive analyst comments. All were popping in early action.
Market sentiment already had improved over the past few weeks, as investors began to bet the economy and the market were finally poised for a turnaround. Wednesday's
surprise intermeeting cut, which dropped the federal funds benchmark
rate to 4.5%, was the icing on the market's cake. Last night's earnings reports and this morning's analyst party were a few more steps in the right direction.
After the close of regular trading yesterday, IBM
reported first-quarter earnings that were in line with analyst expectations of 98 cents a share, while gross profit margins rose 0.3 percentage points from the first quarter of 2000. CFO John Joyce said gross margins improved in every hardware segment, which comprises personal computers.
More importantly, the company said it sees no reason why it shouldn't meet its targets for the rest of this year. Analysts currently think sales will grow 9.7% and earnings will climb 9.7%, in 2001. But IBM has told Wall Street to expect it to maintain double-digit percentage earnings growth and percentage sales growth in the high single digits.
Apple easily
beat analysts' earnings estimates for its second fiscal quarter, and said it was "targeting sequential improvements" in revenues and profits for the June and September quarters. But the company's bottom line fell sharply from the same period a year ago, and despite talk of sequential improvements, the PC maker quietly lowered its revenue projection for the full year.
AMD said Wednesday it
earned 37 cents a share in the first quarter, beating analyst expectations by 4 cents a share as sales increased slightly. The company confirmed its full-year earnings estimates and said it expects modest sales growth for the year. In the second quarter, however, AMD sees revenue declining by as much as 10% from the first quarter due to a decline in flash memory products and in its non-PC related chips and foundry services.
Siebel Systems' earnings report was less bright than those of its colleagues'. The customer relationship software company -- one of the few big technology firms
not to warn
that it would miss its performance targets -- earned 15 cents per share for the quarter ended March 31, a penny better than analysts were expecting. But Tom Siebel, the company's cocksure founder and CEO, said the company's software license revenue growth would be just 25% to 30% for the second quarter. Analysts were expecting growth of 40% or more.
IBM and Apple are the latest high-profile tech companies to be upbeat about future performance this quarter, and it's very welcome news for investors after months of earnings warnings and a lack of visibility in the tech sector. Just Tuesday, chipmaking giant
Intel
(INTC)
joined the fray, saying that it thinks the slowdown in its PC business has bottomed and that it expects a recovery in the second-half of this year.
Much of the analyst noise this morning was on IBM.
Goldman Sachs'
Laura Conigliaro upped her rating on IBM to U.S. recommended for purchase list from market outperform, but told investors that the second quarter won't be as good as the first, which was reported after yesterday's closing bell. No, she didn't suggest that investors run out and snap up as much tech as they could carry, but she did say that her bias was moving into neutral -- and in some cases, positive -- territory.
Lehman Brothers'
George Elling reiterated his strong buy rating on IBM, but cut his 2001 earnings per share estimate to $4.90 from $5.10 and his 2002 earnings estimate to $5.45 from $5.65, mostly due to currency weakness abroad. Aside from the euro-related issues, Elling was pleased that the company nailed down such a strong quarter in a difficult environment.
The tone of the market has steadily improved since the first week of April as investors began to hope that the worst of the earnings slowdown and market selloff might be over. Indeed, the Nasdaq is up 26.9% since April 4.
The improving outlook began when
Dell
(DELL)
said on April 4 that it was on track to meet its first-quarter earnings targets. Then
Lehman Brothers
analyst Holly Becker upgraded
Yahoo!
(YHOO)
to a buy from market perform, saying it was finally cheap enough to buy. The following week, Internet retailing giant
Amazon.com
(AMZN)
raised its first-quarter performance targets and
Salomon Smith Barney
analyst Jon Joseph upgraded the entire chip sector to market outperform from neutral.
Yesterday, the Dow rocketed 399.1 points, or 3.9%, to 10,615.83, while the tech-heavy
Nasdaq Composite Index soared 156.22 points, or 8.1%, to 2079.40. The broader market
S&P 500 rose 46.63 points, or 3.9%, to 1238.16.
Over the long run, and despite predictions that stocks should see some pullback and even retest their lows in coming weeks, several market strategists say that, according to historical data, a stock market recovery is
right on schedule.
Investors were not paying much attention to weekly jobless claims, released before the market open this morning. Claims for the week ended April 14 fell to 385,000 from 395,000 the previous week. But the four-week average rose to 382,250 from 381,500 the previous week. The latest data show that unemployment is around 4.2%, near last year's 30-year low of 3.9%, but moving higher.
Back to top
Bonds/Economy
The Treasury market was slipping this morning. The benchmark 10-year
Treasury note was lately down 3/32 to 98 25/32, yielding 5.159%.
Treasury prices ended mixed yesterday following the rate cut. The two-year note, which is affected most directly by expected changes in monetary policy, saw the sharpest rally, continuing a recent trend of steepening in the yield curve. In late afternoon trading, it rose 8/32 to 99 31/32, lowering the yield to 4.266%. The 10-year benchmark note, after initially losing ground following the cut, gained 24/32 to 99 1/32, moving the yield down to 5.128%. The 30-year bond rose by 7/32 to 96 2/32, yielding 5.649%.
Back to top
International
After spiking at the open, the major European indices were lately slightly lower. London's
FTSE 100
was down 26.4 to 5863.8. The Paris
CAC-40
was off 15.6 to 5489.5, and Frankfurt's
Xetra Dax
was off 11.0 to 6153.8.
The euro was lately trading at $0.8871.
Asian stocks rallied with vim overnight for a second straight day. Tokyo's key
Nikkei 225
soared 1.6% to 13,868.3, and Hong Kong's
Hang Seng
rose 4.4% to 13,549.0.
The dollar was trading at 121.7 yen.
Back to top