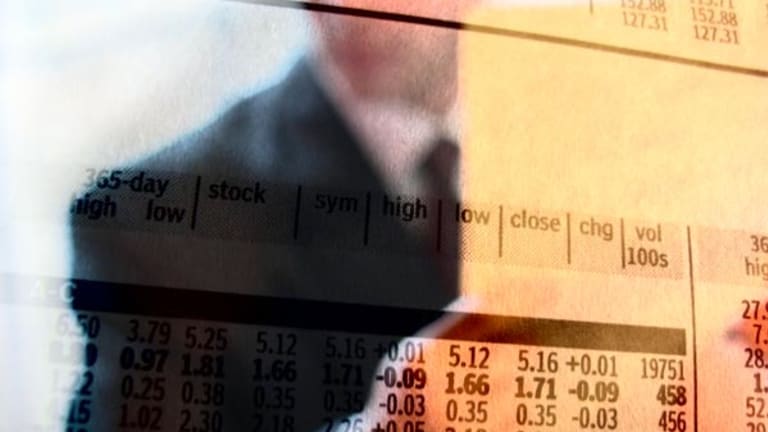 (Updated from 9:37 a.m.)
So far, there is little that's new about this New Year.
The economy is still slowing, capital spending on information technology is still waning, consumers are still tightening their pocketbooks, credit is still dwindling, earnings warnings are still coming out and analysts are still lowering forecasts and ratings on companies.
And the
Nasdaq is still struggling. The tech-heavy Nasdaq got off to a bad start on the year yesterday -- with its seventh-worst percentage drop ever -- and the picture wasn't much prettier today. The Nasdaq was lately down 2 to 2290. The
S&P 500, which tracks the broader market, was up 5 to 1288. The
Dow was gaining 15 to 10,661.
Investors were selling a swath of big-cap tech stocks in early trading, while Asian markets were weaker overnight and European markets were falling on weakness in telecoms like
Ericsson
(ERICY)
.
Still, one trader said that a lot of selling at the open could draw buyers back into the market.
"I think you'll see a jittery open, just based on yesterday's dismal performance on the Nasdaq and overall market. But at some point, that will have to stop. There is no real news out there now," said Peter Coolidge, managing director of trading at
Brean Murray Foster Securities
referring the lack of a catalyst for selling this morning. "Buyers might come in to stem some of those losses, at the very least."
There was a smattering of earnings and analyst news out there this morning, but nothing particularly shocking or new. Office retailer
Office Depot
(ODP) - Get ODP CORPORATION Report
and instant messaging communications firm
Tumbleweed
(TMWD)
warned they would miss earnings estimates. And
Lehman Brothers
lowered its earnings estimates on a bunch of semiconductor and PC-making stocks this morning, including chip powerhouse
Intel
(INTC) - Get Intel Corporation (INTC) Report
, specialty semiconductor-maker
Xilinx
(XLNX) - Get Xilinx, Inc. (XLNX) Report
and computer giant
Dell
(DELL) - Get Dell Technologies Inc Class C Report
. Lehman cited terrible PC sales in December as the reason for the change. Lower computer sales are no good for PC-makers or the chip companies that build the brains that power the machines.
But it's no surprise, either. Analysts have been talking about slowing PC sales for months. "We're looking for fundamental economic news or management decisions from bellwether companies right now," said Coolidge. "Individual analyst actions don't hold much weight."
Other things to watch today include a couple of retail sales indicators, President-elect
George W. Bush's
CEO summit and an announcement by OPEC, the organization of oil exporting countries, about plans to cut oil production.
Meanwhile, the bears think there's more drubbing to come -- that the Nasdaq will retest its Dec. 21, 2000 low of 2288 and that the S&P 500 will dive below its previous low for the past year to 1250.
The Dow, on the other hand, is about halfway between its 52-week high and low, putting it in a much healthier, happier place.
As economic data indicating a weaker economy accumulate, recession angst is building. Many market-watchers are now hoping -- and praying -- that
the Fed will act to remedy the slowing economy by cutting interest rates before it meets on Jan. 30 and Jan. 31. But some pros say
no way. It will probably depend largely on what the
jobs report-- the most closely watched piece of economic data in the market --
indicates about the economy when it's released on Friday.
Data released yesterday showed the manufacturing sector slowed severely last month, but that prices paid by manufacturers rose. This complicates the picture a bit for that famous and infamous engineer of the U.S. economy, the Fed. The Fed likes strong economic growth with controlled inflation, while yesterday's numbers indicate a sluggish economy coupled with rising prices. Still, manufacturing represents less than 20% of the economy.
The December Purchasing Manager's Index, or PMI, came in yesterday at 43.7 -- a level not seen since the economy was last in recession, in April 1991. Economists had been forecasting a PMI reading of 47; November's PMI was 47.7. A PMI reading below 50 signals a contraction in the manufacturing sector, while a number above that means manufacturing is expanding.
But Coolidge found some reason for cheer. Energy stocks, other defensives and bonds remain safe, strong pockets of investment. And the overall market is performing pretty well relative to the Nasdaq.
"One thing is encouraging. The overall market is not participating in this major selloff in the tech-heavy Nasdaq," he said. "I'm impressed with the overall market -- at least for now. We'll see whether it spreads."
Back to top
Bonds/Economy
Treasury prices were giving back some of yesterday's
stellar gains this morning. The benchmark 10-year
Treasury note was lately down 7/32 at 106 20/32, yielding 4.949%.
Back to top
International
As midsession neared, European markets were sliding precipitously on weakness in technology and telecom stocks like Ericsson and
Nokia
(NOK) - Get Nokia Oyj Sponsored ADR Report
.
London's
FTSE
was losing 101.80, or 1.65%, to 6072.9. Across the channel, Paris'
CAC-40
was down 133.62, or 2.30%, to 5665.28, while Germany's
Xetra Dax
was 74.25 lower, or 1.18%, to 6215.57.
The flip-flopping euro was trading down to $0.9505 this morning. It has been gaining slowly in the past few weeks as the U.S. dollar weakens in the face of a slowing domestic economy.
Hong Kong's
Hang Seng
closed down a whopping 280.36, or 1.89%, to 14,589.58.
Japanese markets were closed, again, for the holidays.
The greenback was lately falling against the yen, trading at 114.23 yen.
Back to top