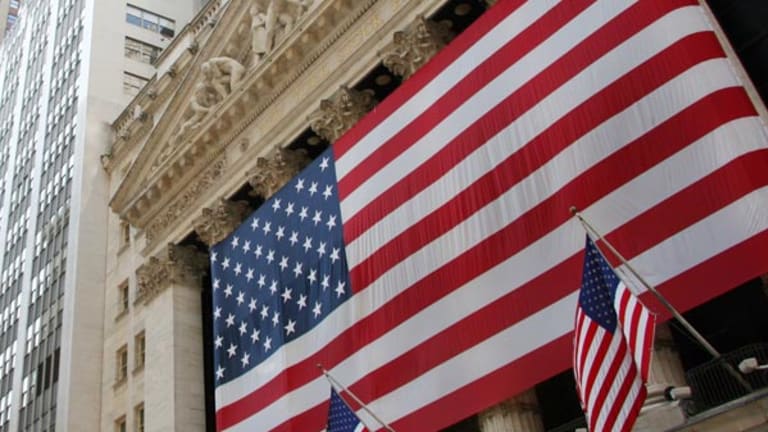 Today's Market: Negative, Negative, Negative. That's the Story of the Dow and Nasdaq
<LI>Micron downgrade and Teradyne's outlook hit chip stocks.</LI> <LI>Biotechnology one of the few bright spots.</LI>
"Negative" was the adjective of the day -- and it could have been used in front of earnings news, research reports from Wall Street analysts and general market sentiment.
Even though the
Dow Jones Industrial Average and the tech heavy
Nasdaq Composite Index ended off their lows of the day, they were still firmly in the red at the close.
The morning started off in its fairly typical manner of late. That is to say, the markets opened positive and then tumbled into the red. The drop was fueled by downgrades on chipmaker
Micron
(MU)
and better-than-expected earnings that were mixed with a warning about future growth from semiconductor equipment maker
Teradyne
(TER)
. That shattered semiconductors and all that depend upon chips, including computer boxmakers (the folks who make the machines) and telecom companies.
Matt Johnson, head of Nasdaq trading at
Lehman Brothers
, said that, Teradyne's news "certainly spooked the market place a little bit. Is it an overcapacity concern or a slowdown in demand? The jury's still out."
IBM
(IBM)
, however, wasn't hurt by the news. It rallied ahead of its earnings announcement that didn't come out until after the close.
TheStreet.com
wrote a
separate story about IBM's earnings, which topped analyst estimates on middling revenue.
But tech was only part of the Dow's problem.
J.P. Morgan
(JPM)
inflicted more than 30 negative points on the Dow (meaning that it alone contributed 30 points to the Dow's total loss of 149 points), while
American Express
(AXP)
and
Citigroup
(C)
took away about 20 points. Financials were down on general concern about credit quality in loan portfolios of banks and brokerage firms. The
American Stock Exchange Broker/Dealer Index
, which tracks the financial services sector, was down 2.8%, while the
Philadelphia Stock Exchange/KBW Bank Index
, which tracks the banking industry, was 3.5% lower.
Blue-chip companies
Disney
(DIS)
,
Eastman Kodak
( EK),
General Electric
(GE)
and
Home Depot
(HD)
separately weighed the index down with more than 10 points each.
America Online
(AOL)
fell 17.1% on concerns that a decline in advertising spending will hurt its earnings, which are scheduled to be announced Wednesday. The news sent Internet sectors downward.
TheStreet.com Internet Sector
fell 6.7%, while
TheStreet.com E-Commerce Sector
fell 6.8% and
TheStreet.com E-Finance Sector
fell 4.2%.
So it's no surprise to find some big losers throughout the Nasdaq.
Data storage and networking company
Marvell
(MRVL)
fell 30%, or $24.69, to $57.06, after it announced that it would buy rival
Galileo
(GALT)
in a $2.7 billion stock swap.
TheStreet.com
took a look at the deal in a
separate story.
Intel
(INTC)
bounced ahead of its earnings announcement, which came out after the market closed. It beat lowered forecasts.
TheStreet.com
wrote a story looking at the
earnings report.
Positive earnings news from Intel and others is what the market's looking for, Johnson said, adding, "We need some stability in the Middle East and the CPI number that's coming out tomorrow not to be something ridiculous." The Consumer Price Index is the key gauge of inflation.
With investors driving the markets lower during this flurry of corporate earnings reports, there doesn't seem to be confidence that the news so far is as strong as investors are seeking.
Market Internals
Breadth was terrible on active volume.
New York Stock Exchange: 813 advancers, 2,115 decliners, 1.16 billion shares. 37 new 52-week highs, 222 new lows.
Nasdaq Stock Market: 1,231 advancers, 2,777 decliners, 1.9 billion shares. 31 new highs, 365 new lows.
Back to top
Most Active Stocks
NYSE Most Actives
America Online (AOL) : 49.62 million shares. Xerox (XRX) : 25.49 million shares. Micron: 23.62 million shares.
Nasdaq Most Actives
Intel: 76.13 million shares. Cisco (CSCO) : 50.86 million shares. WorldCom( WCOM): 49.25 million shares.
Back to top
Sector Watch
Biotech companies bounced for a third-straight day. The
American Stock Exchange Biotechnology Index
rose 1.3%, regaining some of an October slide.
Oil service stocks in the
Philadelphia Stock Exchange Oil Service Index
rebounded, gaining 0.7%, after dropping over the past two sessions.
Schlumberger
(SLB)
was a big leader in the turnaround after it announced
third-quarter earnings that beat the street's estimates of what those earnings would be. Schlumberger gained 2.5% to $81.88.
The
Philadelphia Stock Exchange Semiconductor Index
, known as the SOX, got pummeled. It fell 9.3%. This move down came after Micron was cut by a
trio of analysts,
Applied Materials
'
(AMAT)
price target
was lowered by
Credit Suisse First Boston
and
Novellus
undefined
said its earnings were in line,
but it did not exceed expectations.
Tech, as a whole, was mired in the red. Telecommunications, big cap tech, computer peripheral makers, wireless and computer makers were all much lower. A wide cross section of industries related to semiconductors fell. The
Morgan Stanley High-Tech 35
fell 3.4%, while the
Philadelphia Stock Exchange Computer Box Maker Index
fell 2.8%.
Back to top
Bonds/Economy
Mideast concerns continue to dominate trading in bond markets.
The latest U.S.
industrial production
(
definition |
chart |
) data showed an increase of 0.2% in September after a revised 0.4% gain in August, generating further evidence that the economy is slowing in line with the "soft-landing" theory. In the third quarter, output rose only at a 2.8% annual rate. In the prior period, the annual rate of growth was a strong 8.2%.
Following the data, the 10-year note was off, but stock market woes sent investors to a safer haven. The 10-year Treasury was lately up 12/32 at 100 16/32, yielding 5.680%.
Back to top
International
Major markets in Europe
closed lower .
London's
FTSE 100
was off 82.50 to 6203.20.
The
CAC 40
in Paris was 20.89 lower to 6067.15, while the
Xetra Dax
in Frankfurt was off 95.54 to 6531.71.
The euro continued lower, lately trading down to 0.8540.
The major
Asian equity markets closed lower Tuesday, amid continuing concern over events in the Middle East and a renewed bout of weakness for the region's technology shares.
Tokyo's
Nikkei 225
closed down 172.1, or 1.1%, at 15,340.2.
In Tokyo trading, the dollar was trading higher at 108.15 yen from 107.85 yen Monday. It was lately trading at 107.99 yen.
Elsewhere, South Korea's stock market got hammered as
Hyundai Electronics
plummeted nearly 15%, after reporting third-quarter earnings. The
Kospi
index tanked 37.3, or 6.8%, to 512.9. In Hong Kong, the
Hang Seng
index fell 99.9, or 0.7%, to 14,873.4, as
China Mobile
(CHL)
fell HK$0.50, or 1%, to 50.75 ($6.51).
Back to top