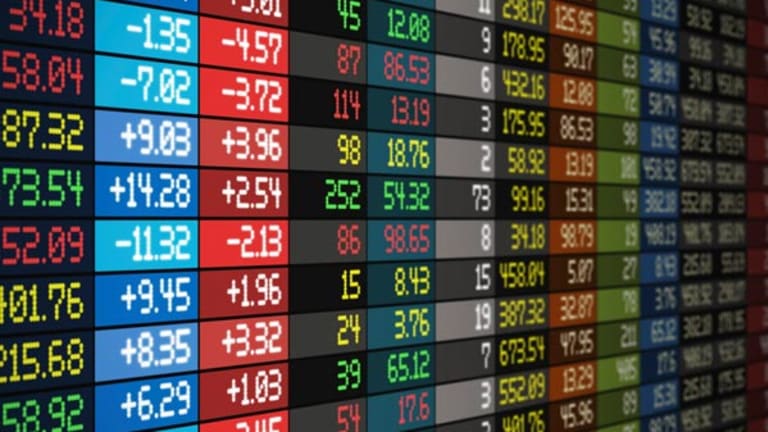 Today's Market: Nasdaq's Early Rally Melts Away as Red Is All the Rage This Afternoon
Cisco continues to be a drag on the tech world after missing its earnings estimates Tuesday night.
Oh, that wacky, madcap market.
There's been no real direction again today and the market's been all over the place, with the
Dow Jones Industrial Average, the
S&P 500 and the
Nasdaq Composite Index all toeing both sides of the breakeven line through the morning.
Yesterday, the Comp was under pressure from
Cisco's
(CSCO)
surprising
earnings miss, which spread throughout the broader tech market. Cisco was taken down 13% Wednesday and was continuing its slide today. Recently, the shares were off another 2.8% to $30.19. It was also the most actively traded stock on the Comp. It'll be hard to beat its volume from yesterday of 282 million shares traded, the second-most ever for one stock on the Nasdaq Stock Market.
The news killed fellow networkers as well as its customers and suppliers including
Juniper Networks
(JNPR)
,
Flextronics
(FLEX)
and
PMC-Sierra
(PMCS)
, which were all on the upside of late.
Others in those sectors such as
Redback Networks
undefined
,
Network Appliance
(NTAP)
and
Broadcom
undefined
weren't so lucky today and were down in recent action.
Cisco's announcement stirred up the market because the networking giant has beaten estimates by a penny every quarter for the last couple years. For Cisco to miss by a penny, it follows that even the seemingly unflappable can't escape a slowing economy -- translation: No one is safe.
That was evident from the list of most actively traded stocks on the Nasdaq, with only three out of the top 15 in positive territory.
Long-distance company
WorldCom
undefined
met
lowered estimates. Investors were rewarding the stock, lifting it 2.5% to $20.63.
Also on the upside was
Corvis Communications
(CORV)
, 8.7% higher to $21.13. The optical services networks provider said that it has $650 million in unfilled orders for its long-distance optical networking equipment products, and has no plans to change its financial outlook for the year. David Huber, Corvis' CEO, told a
Banc of America
conference for tech investors that demand is a strong as ever for its products.
Elsewhere, on the
Big Board,
Electronic Data Systems
(EDS)
was getting a nice pop, up 9.2% to $62.15, after posting
better-than-expected earnings after the bell last night.
If you recall the Dow gained more than 100 points on Monday. Since then, the index has been getting knocked around, shaking off those gains.
There weren't any big winners or losers on the blue-chip index.
Wal-Mart
(WMT)
was the only component adding or subtracting 10 or more points from the Dow. The world's largest retailer was actually taking off about 11 points after it met analyst expectations for same-store sales in January, which were up 6%.
Market Internals
Back to top
Most Active Stocks
Back to top
Sector Watch
The retail sector saw mixed results with a flood of January same-store sales reports released today. The bad outweighed the good, sending the
S&P Retail Index
down 3.1%.
Upscale women's clothes retailer
AnnTaylor
(ANN)
, 4.2% lower to $26.53, after reporting same-store sales down 14.3% and issuing a warning for fourth-quarter earnings. Also, commercial-crazy
Gap
(GPS)
was dropping 8.8% to $26.99 on news that its same-stores sales fell 12%. It, too, issued a warning for it fourth quarter.
TheStreet.com's
Tim Arango covered the
retail numbers in a separate story.
Back to top
Bonds/Economy
Treasury prices are lower in thin trading. The longer-dated securities are under greater supply-side pressure as the market awaits the auction of $10 billion worth of the 30-year bond. Dealers are selling in order to drive down the auction price.
The benchmark 10-year
Treasury note lately was down 14/32 to 98 27/32, raising its yield to 5.147%.
In economic news, the
initial jobless claims
(
definition |
chart |
source
), which tracks the number of laid-off workers applying for unemployment benefits for the first time, rose for the third consecutive week. The bond market has already priced in this trend, however. There were 361,000 claims for the period ended Feb.3, up from 346,000 the previous week. Economists polled by
Reuters
had forecast 348,000. The four-week moving average, considered the more reliable indicator of unemployment, rose to 331,250 from 327,000.
Back to top
International
Stocks in Europe were mixed at the close.
The
FTSE
reacted inversely to a widely expected interest rate cut this morning. The
Bank of England
lowered interest rates for the first time in 20 months, dropping them by a quarter point. London's
FTSE 100
slid 10 to 6216.
In Paris, the
CAC-40
rose 32 to 5789 and the still-rallying German
DAX
was up 46 to 6625.
The euro was lately trading at $0.9183.
Asian markets slipped overnight, with Japan's
Nikkei 225
closing down 1.7%, and Hong Kong's
Hang Seng
off 0.9%. The Nikkei has been hit with substantial losses the past two years. It is at a 28-month low.
The dollar was trading at 116.30 yen.
Back to top