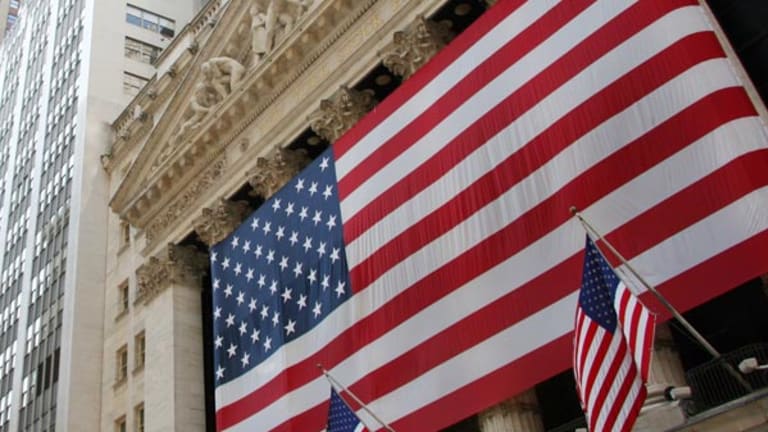 Today's Market: Nasdaq Under Pressure at Midday; Dow Gains Momentum
<LI>Intel downgrade hurting Nasdaq.</LI> <LI>Drugs, computer makers dragging.</LI>
Well-rested, traders are back in the office finding their bearings. And equities are losing theirs.
Downgrades of
Intel
(INTC) - Get Intel Corporation (INTC) Report
and
Merck
(MRK) - Get Merck & Co., Inc. (MRK) Report
have the
Dow and
Nasdaq under pressure in the early afternoon.
U.S. Bancorp Piper Jaffray
analyst Ashok Kumar this morning
downgraded Intel to a buy from strong buy, citing weakness in demand from the PC business. The stock was down $4.81 to $69.06, helping to drag the Nasdaq to a 73.3 point loss.
TheStreet.com
took a close look at
Kumar's comments in a separate story.
The PC makers are also reeling today, perhaps in sympathy. The
Philadelphia Stock Exchange Computer Box Maker Index
was considerably weaker, losing 1.9%.
The Dow was up 28.49 to 11,268.38, and the
S&P 500 dropped 14.28 to 1506.49. The weakness in the Dow was concentrated in the drug stocks and technology components. Merck lately lost $2.25 to $66.94 after a morning downgrade by
Banc of America Securities
.
Volume, however, is light. Just 451 million shares have traded thus far on the
Big Board. On the Nasdaq, volume is a little better -- 915 million shares have changed hands.
"I think people are largely coming back mentally from being out two weeks," said Bill Schneider, head of U.S. equity trading at
UBS Warburg
. "People are catching up on prices, what news is around and what's happened to valuation. It's a period of adjustment, and I think volume the rest of week will be muted."
The Nasdaq's dip is the most pronounced, largely owing to the Intel downgrade. Other big-cap technology stocks are having a hard time today, as
Cisco
(CSCO) - Get Cisco Systems, Inc. Report
and
Sun Microsystems
(SUNW) - Get Sunworks, Inc. Report
are dropping.
Fiber optic firm
Ciena
(CIEN) - Get Ciena Corporation Report
is one of the more significant decliners today, dropping $12.56 after it announced a post-split charge of 6 cents due to a reorganization at one of its European clients.
TheStreet.com
took a look at
Ciena in a separate story.
"The Nasdaq is down 1.5%, but it had a pretty good run," Schneider said. The tech heavy index rose 11.7% in August.
The small-cap
Russell 2000 was also down, dropping 1.72 to 540.22.
TheStreet.com Internet Sector
index, or the
DOT, was up 0.53%, on the back of a strong move by
eBay
, which rose $2.69 to $65.50.
The NYSE's most active stock today was
Clear Channel Communications
(CCU) - Get Compania Cervecerias Unidas S.A. Sponsored ADR Report
, which continues to sink from its slide last week. The stock, which was halted earlier due to an order imbalance, was lately down $5.69 to $62.88, on very little news. One trader called the action a reaction to the stock's mid-August run-up, which was motivated partially by anticipation the company's market weight in the S&P 500 would increase as a result of the acquisition of
AMFM
.
Drug stocks are weakening after Banc of America Securities recommended paring back positions in the major names in those sectors. In addition to Merck,
Eli Lilly
(LLY) - Get Eli Lilly and Company (LLY) Report
and
Pfizer
(PFE) - Get Pfizer Inc. Report
are posting significant losses.
Utilities stocks were stronger today after the announcement that Britain's
National Grid
(NGG) - Get National Grid plc Sponsored ADR Report
would purchase
Niagara Mohawk
(NMK)
in a $3 billion transaction.
TheStreet.com
wrote about the deal in a
separate story. The
Dow Jones Utility Index
was up 1.6%, as most components were getting a boost in today's trading.
After the market's steady, sure run that pushed the broad market to its best levels since the spring, analysts expect a bit of weakness this
month, as the market approaches the season when companies come forward to confess their sins
In addition, it's only natural to expect a mild correction now and then, said Paul Rabbitt, president of
Rabbittanalytics.com
in Los Angeles. "There's sort of a best-of-all-worlds scenario built back into the market," said Rabbitt. "It's true, in the sense that the economy is slowing, but that has been discounted into the price, and the market is looking for a continuation of that perfect scenario. You can see it in sentiment; it's just too bullish."
Market Internals
Breadth was weak on tired, post-holiday volume on the Big Board, with better volume on the Nasdaq.
New York Stock Exchange: 1,254 advancers, 1,469 decliners, 451 million shares. 93 new 52-week highs, 14 new lows.
Nasdaq Stock Market: 1,710 advancers, 2,117 decliners, 915 million shares. 89 new highs, 42 new lows.
Back to top
Most Active Stocks
NYSE Most Actives
Nasdaq Most Actives
Intel: 35.7 million shares. WorldCom (WCOM) : 33 million shares. Intermedia Communications (ICIX) : 22.2 million shares.
Back to top
Sector Watch
Retailers were one of the sectors moving up strongly today. The
S&P Retail Index
gained 1.8%, helped along by strong moves in
Home Depot
(HD) - Get Home Depot, Inc. (HD) Report
and
Wal-Mart
(WMT) - Get Walmart Inc. Report
. Other strong retailers include
Circuit City
(CC) - Get Chemours Co. Report
and
Sears
(S) - Get SENTINELONE, INC. Report
.
On the downside, the
Nasdaq Biotechnology Index
was in poor shape, losing 3.2%.
Back to top
Bonds/Economy
On little news and light volume, treasuries are surrendering a portion of the gains that
last week dropped most yields to their lowest levels of the year.
With no major economic releases slated for the week, bond traders are focusing on the new-issue calendar, which typically heats up in September after slowing to a crawl in the final week of August. European telecom companies are expected to issue at least $40 billion of bonds by the end of the year to finance new wireless investments. It is not yet clear how much will be offered during September. Large quantities of new corporate bonds can put pressure on Treasury bond prices because investors may sell Treasuries in order to buy the new corporate bonds.
The benchmark 10-year Treasury note lately was down 2/32 at 100 13/32, lifting its yield to 5.695%.
Back to top
International
The recent run-up in technology and telecom stocks came to an abrupt halt in
European markets today. Gains won in earlier trading were shed as investors engaged in some profit-taking.
The
FTSE 100
ended down 45.60 to 6752.50.
Across the channel, the
CAC 40
in Paris lost 65.57 to 6856.76, and the
Xetra Dax
in Frankfurt was 56.93 lower to 7388.63.
The euro was lately trading lower at $0.8879.
Asian markets tumbled overnight. The
Nikkei 225
index shed 235.94, or 1.4%, to close at 16,452.27.
The dollar was recently trading at 105.79 yen.
After rising nearly 600 points over the last two sessions, Hong Kong's
Hang Seng
took a break and fell 130.95 to close at 17,595.22.
Back to top