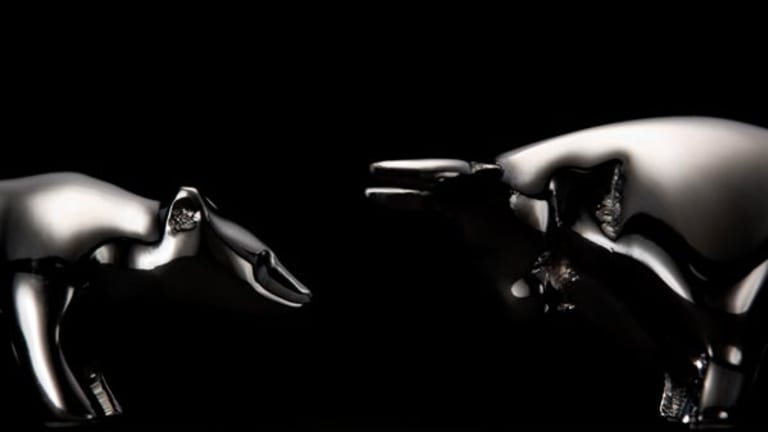 Today's Market: Nasdaq Slumping to Late-1998 Levels; Greenspan's No Help
Following the Fed boss' speech new 52-week lows have been hit for Cisco, Nortel, Oracle, JDS Uniphase.
It ain't nothing but a G-thang on Wall Street as the
Fed chair delivered Round Two of his
Humphrey Hawkins testimony today.
But just because
Alan Greenspan was in the House, didn't mean stocks were bustin' the place up. In fact, they slumped again after he delivered testimony to the
House Finance Committee
that expressed more concern about the state of the economy, yet not enough to warrant an intermeeting cut.
Despite the fact that the
Nasdaq Composite Index is off close to 10% year-to-date, Greenspan said the Fed needs to be careful not to read too much into the current state of stock prices. In his last address to Congress, his mention that the Fed was aware of the wealth effect stocks have on the American economy caused some to speculate that the Fed was eying stock prices as a possible factor in a rate cut.
Traders, who have fully priced in a 50 basis-point cut to the
federal funds rate at the next
Federal Open Market Committee meeting on March 20, have been clamoring for more rate cuts as the squeeze in money supplies shows up on company balance sheets. Today's latest is something of a disappointment for exuberant traders who were either expecting a cut before the upcoming meeting or speculate the Fed could cut by 75 basis points on March 20. That would be a huge move for the Fed, which has already dropped the rate by a full percentage point in just one month.
And as Greenspan faces a question-and-answer period focused largely on tax cuts, the markets sorted through the comments and dropped sharply. The Comp was down 54 to 2154, just one day after easing 100 points. Today, it reached a 27-month low, turning the clock all the way back to late-1998, before the dot com explosion and subsequent implosion. Meanwhile, the
Dow Jones Industrial Average fell 128 to 10,508 as old economy stocks, financials and
IBM
(IBM) - Get International Business Machines Corporation Report
all add to the downside.
After
Merrill Lynch
analyst Judah Kraushaar snipped his first-quarter earnings estimates on
Goldman Sachs
(GS) - Get Goldman Sachs Group Inc. (The) Report
,
Morgan Stanley Dean Witter
undefined
and
Lehman Brothers
undefined
, the sector dropped a bunch, despite the fact he was only highlighting near-term risk for the industry.
Investors accentuated the negative, not hard since individual investors have shied away from the market, costing brokerages commissions and fees. And with conditions poor for mergers, acquisitions and underwriting, the brokers will continue to have trouble meeting year-over-year comparisons, when a bull market made it possible to mint money. Also, an intermeeting Fed cut, which would help financials, seems less likely now. The
American Stock Exchange Securities Broker/Dealer Index
fell 3.6%.
American Express
(AXP) - Get American Express Company Report
,
Citigroup
(C) - Get Citigroup Inc. Report
and
J.P. Morgan
(JPM) - Get JP Morgan Chase & Co. Report
, the Dow's financial triumvirate, were much lower, adding to the big blue-chip loss.
Sing. Sing a Song
After another
song of softness came from
Altera
(ALTR) - Get Altair Engineering Inc. Report
, a programmable chipmaker, Lehman Brothers and Credit Suisse First Boston cut their estimates on the company, adding more logs to an already raging fire.
Although the blood has been on the tracks for a while now, with technology facing an industrywide slowdown in spending that ripples through many market sectors, today's analyst vitriol was due to Altera's warning last night. The company said first-quarter revenue would drop 20% from fourth-quarter levels, coming in at $368 million, a far cry from the $412.6 million expected by analysts.
"We continue to believe we have not seen the bottom," wrote Lehman's Dan Niles in his note to investors before the start of trading. Niles said Altera has eight months of inventory on hand, something that'll make it harder for Altera to push things down the pipeline going forward.
Altera was off 3.2% to $22.63. Competitor
Xilinx
(XLNX) - Get Xilinx Inc. Report
, which was also trimmed back by Niles, slid 5.2% to $36.75. Between the Altera drop and the Xilinx freefall, there wasn't much room for semiconductors to improve. The
Philadelphia Stock Exchange Semiconductor Index
dropped 6.5% as investors flee from technology as if it were XFL programming.
All across the board, the market was selling off. Few, if any, sectors offered shelter from the storm as losers destroyed winners on both the
Big Board and Nasdaq Stock Market. Just look at the number of new lows on the Nasdaq, where 131 companies sank to 52-week-lows. That's pretty tough to do considering many of those companies, like
Cisco Systems
(CSCO) - Get Cisco Systems Inc. Report
had just reached new lows in the past few sessions.
Within the Dow, aside from the financials, major manufacturers were crushed like Patrick Ewing's hopes of going out with a championship ring on his finger.
General Motors
(GM) - Get General Motors Company Report
,
General Electric
(GE) - Get General Electric Company Report
, would-be merger partner
Honeywell
(HON) - Get Honeywell International Inc. Report
and
United Technologies
(UTX) - Get n.a. Report
all added to the Dow's heavy loss.
Meanwhile, data out this morning on fourth-quarter
gross domestic product showed estimates were revised downward to 1.1% annual growth from a previous estimate of 1.4%. Economists had forecasted that the revision -- which entails a more complete calculation of GDP -- would bring the number down to 1%. GDP -- the output of goods and services produced in the U.S. -- has slowed sharply; it was 5.6% in the second quarter of 2000.
Market Internals and Most Actives
Volume was pretty thin as those poor, defenseless stocks take more beatings than a Timex watch.
Today's most active stocks are the saddest collection of tech names on Wall Street. Four of the six listed were at 52-week-lows, while the another -- General Electric -- helped tank the Dow.
Back to top
Sector Watch
Airliners in the
American Stock Exchange Airline Index
dropped 1.7%, while transports overall stumbled.
Gold, usually a defensive play on days this bad, were no salvation, since they've already rallied quite a bunch. The
Philadelphia Stock Exchange Gold & Silver Index
eased 3.4%.
Drugs and healthcare were the only notable winner. And that ain't saying anything. The
American Stock Exchange Pharmaceutical Index
rose 0.9%, while the
S&P Health Care Index
gained 0.6%.
Back to top
Bonds/Economy
Treasuries are mixed as traders realize they will probably have to wait until later in March for an interest rate cut. The short-dated securities, which are more sensitive to revisions in short-term lending rates, are moving positively now after having slipped earlier this morning. The long bond is down slightly, while its yield has not changed much.
Federal Reserve chairman
Alan Greenspan today updated his Feb. 13 testimony before Congress. Speaking to the
House Financial Services Committee
, he once again
expressed concern about the economy, reiterating that he expects a slow recovery and possibly more dips before the eventual pickup. Though his words clearly point to further rate cutting, his remarks also snuffed out hopes that the Fed would move before its next scheduled meeting, on March 20.
The benchmark 10-year
Treasury note lately was up 4/32 to 100 15/32, lowering its yield to 4.938%.
In economic news, the revised reading of the
gross domestic product
(
definition |
chart |
), which measures the rate at which goods and services are produced in the nation, is at 1.1% for the fourth quarter of last year, its slowest growth since the second quarter of 1995, when it was 0.3% lower. Still, it is slightly above the 1.0% predicted by economists in the
Reuters
poll.
The latest
Mortgage Applications Survey
(
definition |
chart |
source
) detected an increase in the purchase of new units but a decrease in home refinancing. For the week ended Feb. 23, the purchase index rose to 291.4 from the 274.3 in the previous week. The refinancing index fell to 2140.4 from 2346.1. Greenspan mentioned the relatively strong showing in home
and automobile sales as a sign that some sections of the economy are holding steady.
The
Chicago Purchasing Managers' Index
(
definition |
chart ) rose to 43.2 during February after falling to 40.2 for January. The gauge indicates a contraction in the manufacturing sector when below 50.
Back to top
International
British telecommunications stocks have been quite a drag on the
FTSE
in the new year. Ever since the floatation of shares in telecommunications company
Orange
went nuts up and attracted far less interest than expected, many of the bigger names suffered. Companies like
Vodafone
have been sliding and pushing the London index to lower lows.
Well, under the weight of sliding tech both at home and abroad, the FTSE dropped to a 16-month-low of 5,901 earlier in the trading day. It closed just above that, falling 23.3 to 5917.9. Volume was thin. Chipmakers were big losers.
The Paris
CAC
fell 90.5 to 5327.3, while Germany's
Xetra Dax
dropped 90.5 to 5347.3, but still had a few hours left to trade.
The euro, which trended up in the last session or two, last traded at $0.9215, above its recent close. The yen traded at 117.29.
Asian markets continued to slide as the Nasdaq retests its lows here in the States. Japan's beleaguered
Nikkei 225
dropped 176.32 to 12,883.54, the lowest point since October 1998 -- a 28-month low. Tokyo traders had reason to smile, however. After the market closed, the Bank of Japan announced that it would cut interest rates, dropping the key overnight money-market call rate to 0.15% from 0.25%. The move comes as a surprise to many, who expected the BOJ to make its move on March 19, when it has its next meeting.
Hong Kong's
Hang Seng
dropped 46.86 to 14,787.87.
Back to top