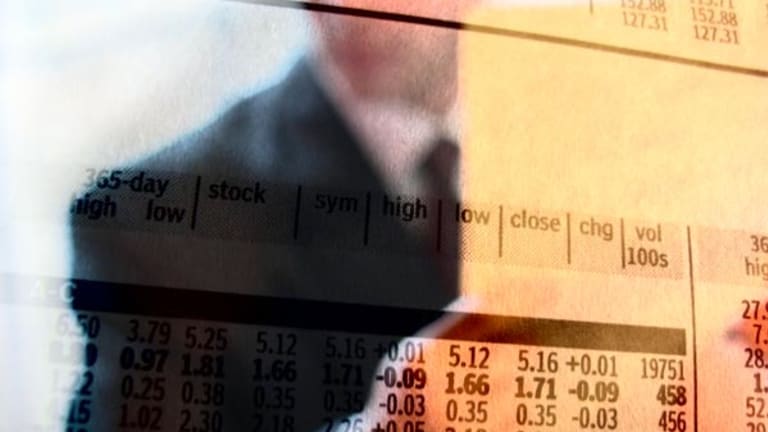 Publish date:
Today's Market: Nasdaq Posts Triple-Digit Loss on Broad Tech Weakness
But, J.P. Morgan helped keep the blue-chip index in the green.
But, J.P. Morgan helped keep the blue-chip index in the green.
The
Nasdaq's fickle friend, the summer wind, has come and gone, and with it has gone nearly half of the Nasdaq's August rally. An autumn wind has blown in the last two days, carrying lots of worries about the chip sector, and today investors used it as motivation to hammer technology stocks.
The Nasdaq finished down 129.82, or 3.1%, to 4013.36.
Meanwhile, the
Dow Jones Industrial Average held firm, rising 52.90, or 0.5%, to 11,313.51, on the back of a published report that
J.P. Morgan
(JPM) - Get Report
could be combined with
Deutsche Bank
. Among the other major indices, the
S&P 500 lost 14.82, or 1%, to 1492.26, and the small-cap
Russell 2000 dropped 2.96 to 536.06.
TheStreet.com Internet Sector
index, or the
DOT, fell 22.74, or 2.6%, to 846.07.
Officials at J.P. Morgan declined to comment on the rumors, but that didn't stop zealous folk from running the stock, and other brokerages, up on the chatter. J.P. Morgan accounted for 46 points of the Dow's gains today, rising $7.81 to $167.75. Other brokerages finished at all-time highs today, including
Merrill Lynch
(MER)
and
Goldman Sachs
(GS) - Get Report
. The
Amex Broker/Dealer Index
gained 0.9%.
Meanwhile, market analysts said today the technology sector's pullback this week lies somewhere between a natural pullback from a strong August rally and more pronounced worry over continued semiconductor demand. In the last two days, the market has been rocked by two significant downgrades -- Intel yesterday,
Micron Technology
(MU) - Get Report
today.
The worries, as noted by
TSC
in an earlier
story, stem from concern that demand for DRAM (dynamic random access memory), a commodity among chips, will weaken in coming months. Micron specializes in the manufacture of DRAM, while Intel does not. A concern has been that chipmakers are going to suffer from a lack of demand in the next 12 to 18 months, or see DRAM prices drop due to too much supply.
"My guess is the market will be fine, and these stocks will come back," said Bob Lee, portfolio manager of the
Sentinel MidCap Growth Fund
in Montpelier, Vt. "You're going to get some profit taking, but the reaction is a bit overblown. It's certainly possible
supply/demand concerns will come to fruition, but the guys making negative calls are jumping ahead of a story that might develop; there's no evidence it is developing."
Micron fell $9.50 to $69, or 12%, pushing the
Philadelphia Stock Exchange Semiconductor Index
to a 5.7% loss.
Xilinx
(XLNX) - Get Report
lost 8%, Intel dropped 5% today, and
Texas Instruments
(TXN) - Get Report
fell 5.5% today.
Investors took the opportunity today to take apart the entire technology arena. The
Philadelphia Stock Exchange Computer Box Maker Index
fell 4.1%, the
Nasdaq Telecommunications Index
declined 2.7% and the
Nasdaq Biotechnology Index
lost 5.2%.
Investors regard some of today's the pullback in the overall equity market as linked to anticipation of the coming preannouncement season, and concerns about earnings momentum, especially in technology. The Nasdaq gave up 220 points of its 550-point August surge in just two days.
"The market expended all of the energy it had pushing the upper boundary of the trading range, but it has no real gumption to make it through," said Scott Bleier, chief investment strategist at
Prime Charter
.
So, instead, they killed all comers, including the more speculative types like B2B stocks.
FreeMarkets
(FMKT)
dropped 12.5% today and
Commerce One
(CMRC)
lost 9.5%.
With the exception of the commodity-related stocks and the brokerages, a good lot of the industrial sectors saw some pressure today, although not nearly as close to the tech selloff.
On the strong side, the
Philadelphia Oil Service Sector Index
rose 3.7% today, as the price of crude oil rose ahead of OPEC's Sunday meeting. Due to heavy demand, the price has risen to its highest closing level since the beginning of the 1990s, closing at $34.30 today.
Halliburton
(HAL) - Get Report
reached a new high today, closing at $54.69, while
R&B Falcon
(FLC) - Get Report
gained 5.9%.
Predictably, other commodity-linked indices were strong today. The
Amex Natural Gas Index
gained 2.4% and the
S&P Chemical Index
rose 1.9%.
The
Amex Pharmaceutical Index
dropped 2.7%.
Market Internals
On moderate volume, breadth was positive on the Big Board and lousy on the Nasdaq.
New York Stock Exchange: 1,594 advancers, 1,237 decliners, 998 million shares. 161 new 52-week highs, 31 new lows.
Nasdaq Stock Market: 1,747 advancers, 2,335 decliners, 1.7 billion shares. 90 new highs, 54 new lows.
Back to top
Most Active Stocks
NYSE Most Actives
Citigroup (C) - Get Report: 28.4 million shares. Associates First (AFS) : 26.7 million shares. Micron Technology: 19.9 million shares.
Nasdaq Most Actives
WorldCom (WCOM) : 69.2 million shares. Intel: 61.3 million shares. Cisco (CSCO) - Get Report: 36.5 million shares.
Back to top
Sector Watch
A
Merrill Lynch
downgrade of the beverage bottlers hurt those stocks today, especially
Pepsi Bottling Group
, ending off 5%.
Whitman
(WH) - Get Report
lost 1.4%, but
Coca-Cola Enterprises
(CCE)
held steady, ending up 0.3%.
The
Dow Jones Transportation Average
displayed some strength today, gaining 0.9%, and the
Dow Jones Utility Average
continued its recent gains, ending up 1.4%.
Back to top
Bonds/Economy
Treasuries dropped on little news today, retreating further from the lowest-of-the-year yields they reached at the end of last week.
The benchmark 10-year Treasury note lately was down 10/32 at 100 4/32, lifting its yield to 5.731%.
With no major economic releases slated till the
retail sales report and the
Consumer and
Producer Price Indices nest week, Treasury traders are mostly watching the corporate bond calendar. This fall, it is expected to be loaded with European telecom issues, but as yet it isn't clear how much of the $40 billion of expected issuance will come in September.
Also of interest today,
Fed Governor Edward Kelley, in an interview with
Market News International
, said he continues to see the economy as running a higher risk of too-high inflation than of too-slow growth. A recent spate of weak economic reports has some economists thinking that the Fed, in its pronouncements after meetings of the
Federal Open Market Committee, might start describing those risks as balanced, indicating a lower likelihood of future rate increases.
Back to top
International
Despite strength in banks and pharmaceutical stocks, the major
European markets were down at the close.
The
FTSE 100
finished down 57.80 to 6694.70. Across the channel, the
CAC 40
in Paris ended off 59.97 to 6796.79 and the
Xetra Dax
in Frankfurt ended off 62.05 to 7333.02.
The euro was lately trading lower at $0.8702.
Asian markets were mixed overnight.
After swinging between positive and negative territory all day, Tokyo shares were nudged lower as a series of earnings downgrades punched investor confidence. Some volatility remained ahead of the expiration of September futures and options contracts Friday, but the futures market gained composure after consecutive sessions of heavy selling. The
Nikkei 225
index shed 52.40 to close at 16,399.87.
In Tokyo trading, the greenback edged slightly lower against the yen to 105.86. The dollar was lately trading at 105.71 yen.
Hong Kong's
Hang Seng
index rose 10.01 to close at 17,605.23 in rather dull trading, with the market concentrating on buying index heavyweights.
Back to top