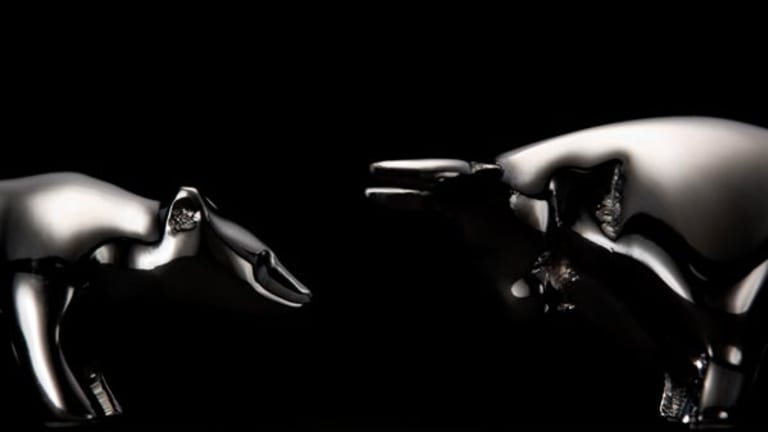 Today's Market: Nasdaq Logs Modest Gains; Dow Treads Water at Midday
Semiconductors were leading a tech rebound at midday, though volume was thin as investors await the outcome of today's Fed meeting.
Hey
Alan -- hurry it up already!
Tumbleweeds rolled through a chilly Wall Street as all eyes stay on the
Federal Reserve and few fingers stay on the trading trigger. Volume was pretty light as investors await the results of today's
Federal Open Market Committee meeting.
Today could be a monumental day for the slowing American economy. For the first time in a long time, the outcome of this meeting is subject to a wild array of speculation. Usually, the Fed's release of meeting results at 2:15 p.m. EST is anticlimactic -- an affirmation of Wall Street expectations. Many are predicting that the Fed will adopt a neutral bias today, which means that it feels the risk of inflation is balanced with the risk of recession, meaning that
a Fed cut is as likely as a Fed hike. Currently, the Fed has a tightening bias -- meaning it's more likely to hike rates because inflation is seen as a risk, as it has six straight times.
But others are predicting an even more dramatic move, that the Fed will slash rates now -- right now -- without changing the bias and waiting a month to hike rates in its January meeting. Over the past few days, people have tried to get a handle on the situation, with the
Wall Street Journal
and the
Washington Post
butting heads, each pimping contradictory stories about the Fed's next action.
This has muddied the speculative waters a whole lot, and investors seemed most content to wait and see what will happen.
And so, the
Dow Jones Industrial Average was just in the green after spending some of the morning in losses, while the
Nasdaq Composite Index traded higher on the back of rallying semiconductors. Still, both gains were rather slight, with the Comp getting the better percentage move.
The Dow rose 36 points to 10,681. Old-technology, a soda pop producer and paper were all the biggest gainers, helping to offset the nasty, terrible, awful, putrid day in
SBC Communications
undefined
.
The holy trinity of
Hewlett-Packard
undefined
,
IBM
(IBM)
and
Intel
(INTC)
pulled out a solid performance, adding a combined 48 points to the Dow's good side. These guys have been sent to hell lately as those technology-related warnings sent all three to 52-week-lows. Investors were pinning angel wings to the old-technology triumvirate for the second straight day.
International Paper
(IP)
and
Coca-Cola
(KO)
were another pair of stocks that logged gains. IP's move came despite last night's earnings warning from
Mead
, maker of the
Trapper Keeper
,
the
elementary school supply to own in the late 1980s.
Lehman Brothers
helped raise the sector's profile in a positive way, initiating coverage on a handful of paper companies, starting them all at buy. In its recommendation to investors, it wrote: "Shares of paper companies have endured the worst bear markets versus the
S&P 500 since the Great Depression." Lehman recommended an overweight position in
Georgia-Pacific
(GP)
,
Louisiana-Pacific
(LPX)
, Mead,
Sappi Limited
undefined
and
Weyerhaeuser
(WY)
.
As a result, the
Philadelphia Stock Exchange Forest & Paper Products Index
rose 1%.
So, yeah. Okay. Fine. Eighteen of the 30 blue-chips were on the plus side, with three old-tech stocks rebounding again, while paper and pop crept higher. That's the good news, but the bad news was named SBC Communications, and it was very bad.
SBC Communications became the latest company to warn today, announcing that its earnings per share would grow between 11% and 14% next year, which is just south of the 14.5% growth picked by the folks at
First Call/Thomson Financial
. The second-largest local phone company also said that revenue would shrink as well, coming in with growth of 8% and 9%, lower than the 10% expected by analysts. And the fourth quarter is also looking a little sad, with earnings coming in between 56 cents and 58 cents a share, at the low end of the 58-cent analyst call.
SBC should probably stand for "sad, battered company." It fell 13.1% and added 45 points to the Dow's downside, easily the worst blue-chip.
The Comp stayed pretty strong, rallying after five straight days of losses. Semiconductors, one area hit hardest by all this preannouncing and talk of an economic slowdown, were rallying today despite a note from
Credit Suisse First Boston
that none-too-subtly-suggests that now is not the time to buy.
The
Philadelphia Stock Exchange Semiconductor Index
, which tracks the chipmakers, rose 7.3%. This move lifts the SOX, as the chipmaker index is known, from 52-week-lows touched after a veritable who's who of the industry warned in recent weeks, including giants Intel and
Advanced Micro Devices
(AMD)
. In fact, AMD was one of the major catalysts behind today's rally, announcing that its three-year supply contract with
Cisco
(CSCO)
would be doubling its output. (AMD rose 7%.)
But some are still advising caution. Like CSFB analyst John Pitzer, who made some notes about the semiconductor equipment industry, telling investors that now is not the time to snap up those battered semiconductors. In a note to investors this morning, the analyst wrote, in all capital letters, no less: "We continue to believe that a better buying opportunity will present itself in
the first quarter of 2001."
Don't get much clearer than that, do you?
Market Internals
Volume was moderate to slightly active, with the advancers and decliners mixed and split.
New York Stock Exchange: 1488 advancers, 1264 decliners, 617 million shares. 141 new 52-week highs, 67 new lows.
Nasdaq Stock Market: 1716 advancers, 2007 decliners, 1 billion shares. 59 new highs, 280 new lows.
Back to top
Most Active Stocks
NYSE Most Actives
SBC Communications

undefined

: 13.6 million shares. Compaq

undefined

: 10.3 million shares. Pfizer (PFE) : 9.9 million shares.
Nasdaq Most Actives
Cisco (CSCO) : 45.9 million shares. Sun Microsystems (SUNW) : 34.4 million shares. Microsoft (MSFT) : 25.8 million shares.
Back to top
Sector Watch
Overall, drillers and oil service stocks have had a pretty good year, trading well above where they closed 1999. But, since hitting a better-than-two-year high in September, these guys have fallen from grace. The
Philadelphia Stock Exchange Oil Service Index
, which closely tracks the industry, fell 31% from Sept. 12's peak to its close on Nov. 30.
In the past few weeks, the drillers have been rebounding mightily, and that trend continued today after a pair of
Lehman Brothers
analysts issued a bullish joint call on the sector. In a note to investors this morning, James Crandell and Angeline Sedita said that spending in exploration and production, which is conveniently shortened to E&P hereafter, is set to increase 19.1% in 2001 vs. the same period in 2000.
That's a good thing for the drillers and oil service companies, which depend on this spending for income.
"The strong increases budgeted in worldwide E&P expenditures in 2001 support our broad-based stance on oilfield service and drilling stocks," the dynamic duo wrote. "We believe that the sector is in the early stages of a multi-year recovery and that the stocks are significantly undervalued versus their earnings potential as well as what we see unfolding next year in E&P expenditures. Overall, we view the sector as highly attractive at these price levels and are encouraged to see major oils come back in force, as well as continued strong spending levels by the independents."
Lehman's top oil service picks include
Schlumberger
(SLB)
,
Weatherford
(WFT)
,
Grant Prideco
(GRP)
and
BJ Services
(BJS)
. The drillers:
Transocean Sedco Forex
(RIG)
,
Ensco International
undefined
,
Nabors Industries
(NBR)
,
Santa Fe International
(SDC)
and
Rowan
(RDC)
.
The Philadelphia oil service index rose 2.4% on the good news.
Biotechnology names had a huge day, with the
American Stock Exchange Biotechnology Index
gaining 3.5%, as the heavy-hitters swung for the fences.
Biogen
undefined
, something of an industry bellwether, was one of the biggest gainers on the Nasdaq Stock Market, with a jump of 9.5%.
Amgen
(AMGN)
and
Protein Design Labs
(PDLI)
followed suit.
Back to top
Bonds/Economy
Treasury prices are down, due to some profit taking and diminished expectations that the
Fed will lower interest rates at its meeting today. The
Federal Open Market Committee is expected to adopt a more balanced approach toward interest rates. Rather than concentrating solely on reining in inflation, it is expected to look out for recession as well. Such a posture may lead to lower interest rates next year if the slowing economy stalls completely.
The benchmark 10-year
Treasury note lately was down 14 at 103 29/32, lifting its yield to 5.229%.
In economic news, the
international trade
(
definition |
chart |
) report showed that the trade deficit narrowed to $33.2 billion in October from $33.7 billion in September. Imports and exports both fell.
The
BTM-UBSW Weekly Chain Store Sales Index
(
definition |
chart ) fell 0.6%, its third consecutive decline. The
Redbook Retail Average
(
definition |
chart ) found December sales running 0.2% behind November after three weeks, widely missing the target of a 1% gain. These numbers indicate that consumer spending is slowing.
Back to top
International
European indices were looking fine toward the end of their trading day.
The just-closed
FTSE
gained 49 to 6295, largely supported by telecommunications stocks after
Goldman Sachs
said a whole lot of nice things about the sector, including that it's undervalued and investors should increase their holdings. On the Continent, where indices were still trading, the Paris
CAC
jumped 71 to 5959, while Germany's
Xetra Dax
rose 88 to 6478.
The euro's been pretty closely watched in the last half year, as the fledgling currency dipped to record lows in the past few months, before bouncing back. The comeback, which recently brought the euro up to 12-week highs, was postponed for another day. The euro last traded at $0.8903, still unable to stay past the 90-cent barrier.
Asian markets have been closely tied to the performance of America's
Nasdaq Composite Index. And as the Comp goes, ending in losses for each of the last five sessions, so goes the
Nikkei 225
. Japan's major economic index fell 351.53 to 14,132.37. Hong Kong's
Hang Seng
was a contrarian, gaining 163.51 15,188.04.
And the yen, well, it last traded at 112.49. The dollar's been gaining in strength over the past few weeks.
Back to top