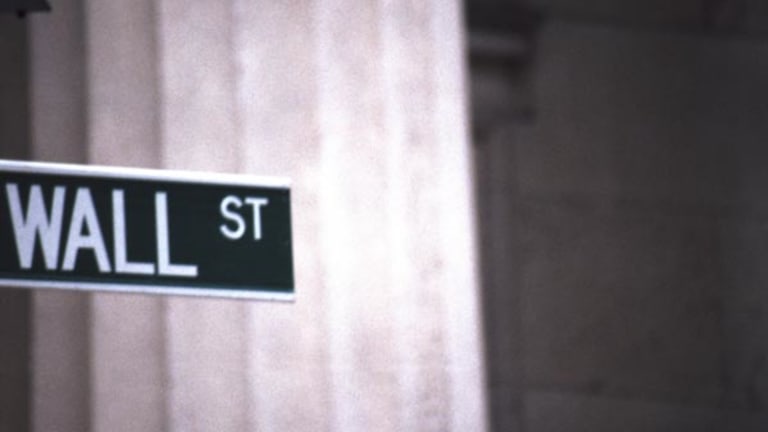 Today's Market: Nasdaq Inching Back from Recent Selloff
<LI>Employment Cost Index rises less than expected.</LI> <LI>Nortel rebounding.</LI> <LI>Tune in for all earnings, all the time.</LI>
(Updated from 9:42 a.m.)
In the past three days, the
Nasdaq Composite Index has erased all the gains it won during record-breaking rallies last Thursday and Friday. This morning, it's fighting to get some back.
But investor enthusiasm that was strong before the market's opening bell was tempered after trading started. Some of it may be Saddam Hussein's latest move, which sent oil prices soaring this morning. Iraq is demanding oil for food payments in euros, a proposal that is now before the U.N. Security Council. Traders are worried that Iraq could disrupt oil shipments if it doesn't get its way.
The
Dow Jones Industrial Average was lately up 32 to 10,358. The tech heavy Nasdaq was moving 15 higher to 3244. And the
S&P 500 moved up 3 to 1368.
As one of the roughest earnings seasons of this year comes to a close, investors may be betting that the bad news is finally done - and stocks are priced for the worst. A slowing economy and several earnings misses this quarter has put investors on edge about what will happen to corporate earnings. TheStreet.com recently wrote about how an
earnings slowdown looms as the economy slows.
In fact, despite the havoc it wreaked on the market yesterday,
Nortel
(NT)
may have done the market a real favor.
The optical networking darling, which warned Tuesday evening of
slowing optical sales for the year, may have just helped this market get that much closer to a real, rock-solid bottom. Nortel's warning brought on yesterday's nasty selloff in optical networking stocks. While the sector may not score a lasting recovery any time soon, it's looking like that selloff may be a harbinger of better times ahead.
TheStreet.com
took a look at the
optical selloff in a separate story.
Optical networking stocks were some of the last holdouts against what some market pros are calling a "revaluation" of the market, as investors attempt to adjust stock prices to revised expectations for earnings going forward. And once tech valuations reach more reasonable levels, the market should become a kinder, safer place to put your money.
Of course, there is another scenario. The successive correction in sector after sector could reflect a downward spiraling in the broader economy. Market losses dampen consumer spending, which slows business, lowers stock prices and means more market losses.
Nortel was rising 2.8% in early trading.
Meanwhile, optical networking leader
JDS Uniphase
(JDSU)
is up 0.7% ahead of its earnings report that comes out later today. The company got hit yesterday after it was downgraded on the heels of Nortel's earnings announcement. The official analyst forecast for the company's earnings is 16 cents per share, according to
First Call/Thomson Financial
, but the whisper number is 18 cents per share. A whisper number is what the market really expects --typically to the upside -- from company earnings vs. analyst estimates.
Other earnings reports today come from telecom
WorldCom
undefined
, which reported earnings that were in line with expectations. Biotech company
Amgen
(AMGN)
, digital wireless telecom
Nextel
undefined
and networking software company
Inktomi
(INKT)
also report today.
While earnings remain the market's biggest focus, in this climate of tight labor markets and rising oil prices, investors are always concerned about inflation. And investors got a piece of very good news this morning: Growth in salaries and benefits cooled last quarter, with labor costs for U.S. businesses showing their smallest rise in a year for that period.
The third-quarter
Employment Cost Index, known as the ECI, came out at 0.9% gain, just below
Reuters
consensus estimates of 1%. The third-quarter number is the smallest since a gain of 0.8% in the quarter that ended Sept. 30, 1999.
Back to top
Bonds/Economy
The benchmark 10-year
Treasury note was lately up 1/32 to 100 15/32, making its yield 5.688%.
Treasury prices down for a second day, leaving some to wonder if bonds are still in a bull market. Bonds had enjoyed a three-day rally through Monday on continuing unrest in the Middle East and instability in the equity markets. But the market didn't get much of a boost from the Treasury's announcement that it would buy back $1.5 billion in debt, part of its plan to buy back up to $30 billion in government debt this year.
Back to top
International
European markets were mixed near midsession.
The
FTSE 100
in London was falling 34.70 to points to 6333.10.
The
CAC 40
in Paris was 19.88 lower to 6258.02, while the
Xetra Dax
in Frankfurt was up 78.19 to 6826.41.
The
euro tumbled below what currency traders were calling a key support level, lately trading down to 0.8314.
The major
Asian equity markets closed lower Thursday, as the Nasdaq's 5.6% slide Wednesday put pressure on the region's technology issues.
Tokyo was the one exception to the downtrend, as the
Nikkei 225
closed up a paltry 18 points, or 0.1%, at 14,858.4.
In Tokyo trading, the dollar traded up 0.33 yen to 108.24 yen Wednesday. The greenback was lately inching lower, at 108.15.
The Nasdaq's drop weighed more heavily on indices throughout the rest of the region Thursday, as South Korea's
Kospi
index slid 18.7, or 3.4%, to close at 523.7; Taiwan's
TWSE
index fell 81.9, or 1.4%, to finish at 5941.9; and Hong Kong's
Hang Seng
index dipped 64.9, or 0.4%, to end the day at 14,996.2.
Back to top