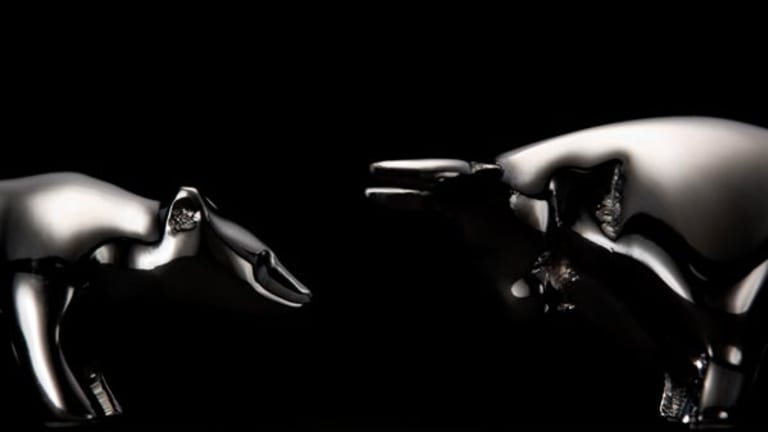 (Updated from 3:36 p.m.)
The major market indices showed signs of yesteryear at lunchtime, as investors rotated out of blue-chip stocks and into technology. The Dow Jones Industrial Average and the S&P 500 ended down, while the Nasdaq Composite was looking like a champ.
After climbing 2.6% yesterday, the Dow shed 83.09 to 10,019.65 and the S&P shed a modest 1.92 to 1166.46. The Nasdaq finished up 50.4 to 1902.40, as the tech-heavy index notched up its third upside session in three tries.
But traders indicated that they don't see a real return to the past. Behind today's tech gains was a
lukewarm endorsement on the semiconductor industry.
Influential
Salomon Smith Barney
analyst Jonathan Joseph this morning upgraded the entire chip sector to market-outperform from neutral, nine months after he downgraded the industry. It's taken a major tumble as computer sales and the economy in general have slowed. Although he wasn't overly optimistic today about the sector's fundamental conditions, Joseph raised his recommendations on eight of the largest semiconductor names, from
Altera
(ALTR) - Get Altair Engineering Inc. Class A Report
to
Xilinx
(XLNX) - Get Xilinx, Inc. (XLNX) Report
. The upgrade sent the
Philadelphia Stock Exchange Semiconductor Index
, which tracks chip stocks, up 8.5%.
The Nasdaq managed to climb despite more bad news for tech stocks. After the close of regular trading yesterday, the Big Board-listed
Motorola
(MOT)
posted its first quarterly loss in 16 years, missing analysts' already reduced earnings estimates. But in a conference call this morning, the mobile-phone maker said it expects improved sales and profits in the second half of the year. Investors appeared to be hanging on that piece of rosy news. Motorola was up in morning trading, but had recently turned into losing territory.
And just when investors thought the preannouncement season was over,
EMC
(EMC)
said this morning that it expects first-quarter earnings to fall 10% below expectations The enterprise software manufacturer was off 6.4% to $32.21.
Financial stocks joined the tech sector in the positive camp, while drug and consumer stocks were falling. The moves follow a familiar theme: When they need shelter, investors tend to move into drugs and other stocks that are buffered from the tech storm. When tech looks attractive, the money flows back out.
Financial stocks got a boost today after
Goldman Sachs
raised its recommendation on
Lehman Brothers
(LEH)
.
Bonds were having their second day of selloffs as investors found places to make money in stocks.
Good news overseas has taken some pressure off the stock market today. After an 11-day standoff, China agreed to release the crew of U.S. Navy spy plane today. The crew was held in China after a crash between the U.S. plane and a Chinese fighter jet forced the place to land off the coast of China. That takes any external pressure off the markets.
Back to top
International
Major European indices finished mixed. The
FTSE 100
closed down 14.9 to 5788. Across the channel, the Paris
CAC-40
gained 30 to 5361. Frankfurt's
Xetra Dax
-- which is still trading -- was climbing 30 points, putting the index at 5941.
The euro was lately trading at $0.8825.
Asian markets soared overnight on the wings of the rally in the U.S. yesterday. Japanese investors added 554.6 points of padding to Tokyo's
Nikkei 225
, putting it up 4.4% to 13,174.9. Hong Kong's
Hang Seng
bust up 492.8 points, or 4%, to 12,706.4.
The dollar was trading at 124.4 yen.
Back to top