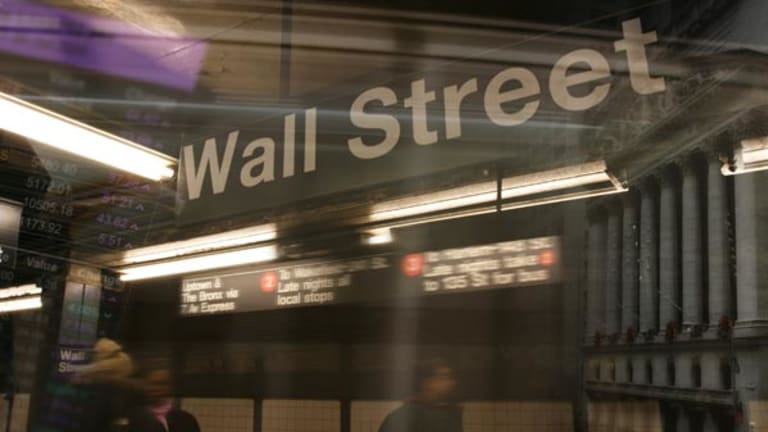 Today's Market: Nasdaq Ends a Lousy Week on a Lousy Note -- Down Almost 5%
<LI>Comp off 10.5% for the week.</LI> <LI>Corvis' IPO hits the heights.</LI><LI>Nortel to buy Alteon; both end lower.</LI>
(
Updated from 4:06 p.m. EDT
)
Today's hotter-than-expected
gross domestic product
report slammed the brakes on Wall Street today, as investors grew concerned that the economy might not be slowing down enough to stop the
Fed from raising rates. When it came to stocks, buyers were throwing in the towel, cashing out of sectors that they sped to yesterday, in the face of tech's decline.
The
Nasdaq Composite Index got slammed 179.24, or 4.6% to 3662.99. The
Dow Jones Industrial Average gave into the selloff after resisting the downturn this morning, ending down 74.96, or 0.7% to 10,511.17. The
S&P 500 sank 29.71, or 2%, to 1419.91.
TheStreet.com Internet Sector
index continued to get hit, sinking 35.62, or 4.8%, to 699.27, while the small-cap
Russell 2000 tumbled 11.39 to 490.22.
Typically, market players get defensive when their tech shares tumble, taking positions in other sectors for protection. But today, there was no blatant rotation to be found. Besides a fractional gain for the drugs and a pop in some other D-names like
Coca-Cola
(KO) - Get Coca-Cola Company Report
, most sectors across the board remained in the red, with little activity.
"It is very quiet here, everyone is talking about how it's a typical Friday" said Brian Conroy, head of listed trading at
J.P. Morgan
. "The market was trying to bounce back from its earlier lows, but I think the selling indicates that people have just had it."
Buy the Dips!
Indeed, today's drop is all the more ugly on top of yesterday's 145.47-point loss in the Comp. But Howard Barlow, vice president of
WHB/Wolverine Asset Management
in Stamford, Conn. said he is not that surprised, given the market's
seasonal pattern of reaching an intermediate-term top in July over the last three years.
On the bright side, Barlow said his firm is using the downside to add or start positions in stocks that are oversold.
Nokia
, for instance, which was slammed more than 25.8% yesterday, was not a typical stock for his firm to own ... until yesterday.
"We got heavily involved yesterday at a lot lower price. When you get an opportunity to own a global leader in a high-growth business," you take advantage, said Barlow. Nokia is looking a lot better today, closing up 7.1%. "It underscores the fact that you must be discriminating in this market."
Earlier today, the market flip-flopped after a morning report showed preliminary second-quarter GDP rose to 5.2% from a downwardly revised 4.8% in the first quarter. Economists on average had called for a 3.8%. But a relatively benign GDP price deflator, a broad indication of inflation in the economy, softened the headline number's blow. Futures fell on the news, then stocks steamed a little higher at the open, as investors tried to get a handle on the data, but eventually the downside won out.
"The psychological damage done yesterday
in tech was pretty significant. I don't think that was a one-day event. There will probably be negativity in tech through next week," said Rob Cohen, co-head of listed trading
Credit Suisse First Boston
.
Push and Pull
But, these days it seems the market can't decide what it is or what it wants to be, as it casts about for some sort of leadership or direction.
It's the push and pull between bottom-fishers and rally-sellers, those who take advantage of the upside to get out quick. The optimists still think the U.S. economy will get a "soft landing," that there are no more interest-rate hikes on the
Fed's agenda, and that a summer rally might yet pan out yet, while the pessimists see earnings warning after earnings warning and believe the golden days are over.
Lately, the pessimists have been winning, with two lower closes following every up session. In fact, most of what looked like a summer rally in the first half of July was deflated as of Thursday.
For the week, the Dow fell 2.1%, the Nasdaq Composite lost 10.5%, the S&P 500 slipped 4.1% and the Russell 2000 shed 6.2%. The Dow Jones transports fell 1.4%, the
Dow Jones Utility Average
let go of 0.4% and the
American Stock Exchange Composite Index
rose 1.8%. TheStreet.com Internet Sector Index declined 2.7% in the latest week.
There was some good news out there today, or at least some news of interest.
Nortel
(NT)
has decided to buy
Alteon WebSystems
(ATON)
, after its deal with
Corning
(GLW) - Get Corning Inc Report
fell through yesterday. Traders sent both Nortel and Alteon lower on the news, however.
TheStreet.com/NYTimes.com
joint newsroom looked at the deal in a
story earlier.
In today's IPO action, long-distance transmissions equipment producer
Corvis
(CORV) - Get Correvio Pharma Corp. Report
soared 48, or 135.3%, to 84 in its trading debut. The shares were priced at 36 by underwriter
Credit Suisse First Boston
and opened dramatically higher at 95 before falling back a bit.
TSC's
Scott Moritz wrote about the IPO in a
story yesterday and our Silicon Valley columnist, Adam Lashinsky, also
weighed in on the stock earlier this week.
On the bad-news front, financial services companies continue to slash jobs.
Bank of America
(BAC) - Get Bank of America Corp Report
plans to let go some 7% of its work force as part of a restructuring program to be announced today.
TheStreet.com/NYTimes.com's
joint newsroom covered the layoffs in a
story earlier today.
Insurance company
Conseco
(CNC) - Get Centene Corporation Report
is also letting go some 2,000 workers at its finance unit, or 11% of its total work force, to reduce costs. Conseco was off 13.3% today.
First Data
(FDC) - Get First Data Corporation Class A Report
, meanwhile, is cutting 6.7% of its work force. Those shares were also lower, down 9.9%.
Another of yesterday's major losers continued to get whacked today despite positive comments from analysts.
VerticalNet
(VERT)
was way down yesterday despite easily beating earnings estimates and reporting "blowout" second-quarter results. This morning, several research firms reiterated buy and strong buy ratings on the company.
WR Hambrecht
said it "continues to see a number of near- and medium-term drivers of expansion and growth which should serve as key catalysts for VerticalNet's stock price," and raised its estimates for the company. The shares were down 11.3% today.
Back to top
Market Internals
Breadth was negative on moderate volume.
New York Stock Exchange: 929 advancers, 1,854 decliners, 979 million shares. 69 new 52-week highs, 93 new lows.
Nasdaq Stock Market: 1,134 advancers, 2,849 decliners, 1.741 billion shares. 31 new highs, 214 new lows.
Back to top
Most Active Stocks
NYSE Most Actives
Nokia: 44.9 million shares. AT&T (T) - Get AT&T Inc. Report: 24.1 million shares. Nortel: 21.4 million shares.
Nasdaq Most Actives
Back to top
Sector Watch
Semiconductor stocks were higher, boosting the
Philadelphia Stock Exchange Semiconductor Index
was up 0.8%.
Net stocks sported a bright shade of crimson as
Yahoo!
(YHOO)
fell about 5.4%.
America Online
(AOL)
lost 3%, and
CMGI
(CMGI)
stumbled 5.9%.
Telecom stocks were under pressure aside from the turnaround in Nokia. The
Nasdaq Telecommunications Index
tumbled 6.3%.
Back to top
Bonds/Economy
Treasury prices are falling as bond traders price in higher odds of additional rate hikes by the Fed based on the advance second-quarter GDP report.
The surprisingly fast growth rate lately had traders of
fed funds futures handicapping a 25-basis-point rate hike at the Aug. 22
Federal Open Market Committee meeting at 38%, up from 30% on Thursday.
The benchmark 10-year Treasury note lately was down 12/32 at 103 10/32, making its yield to 6.038%.
Back to top
International
European markets lost ground.
London stocks initially rebounded from a decline Thursday on strength in oils and drugs stocks this morning, but they fell back by the close, with the
FTSE 100
ending down 16.4 to 6335.70.
Across the channel, Frankfurt's
Xetra Dax
was down 61.07 to 7122.37 and the Paris
CAC
lost 95.81 or 1.5%, to 6415.72.
The euro was lately trading at $0.9252.
Asian markets tumbled overnight.
Tokyo stocks were spanked to their lowest close in 16 months overnight as bankruptcy concerns continued to stir jitters over economic recovery and the Nasdaq's weakness hit high-tech. The
Nikkei
closed down 343.44, or 2.1%, to 15,838.57.
Despite a sluggish stock market, a wave of option-related dollar-selling pulled the greenback slightly lower against the yen to around 108.83 in Tokyo trading. The dollar was recently trading at 109.67 yen.
Investors continued overnight profit-taking begun Thursday, deflating a recent rally and heady gains over the past few weeks. The key
Hang Seng
index shed 266.16, or 1.5%, to 17,183.93.
Back to top