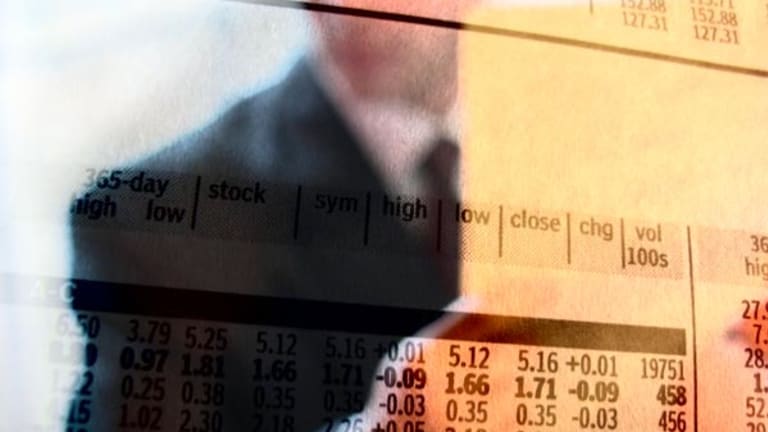 Publish date:
Today's Market: Nasdaq, Dow Stumble at Open
<LI>Oil prices, Euro weakness spur earnings worries.</LI> <LI>Glaxo Wellcome and SmithKline Beecham delay merger.</LI> <LI>Hewlett-Packard in talks with PricewaterhouseCoopers.</LI>
<LI>Oil prices, Euro weakness spur earnings worries.</LI> <LI>Glaxo Wellcome and SmithKline Beecham delay merger.</LI> <LI>Hewlett-Packard in talks with PricewaterhouseCoopers.</LI>
(Updated from 9:27 a.m. EDT)
There are several corporate deals in the news this morning, but that wasn't giving any upward buzz to the market as the Euro hit a new record low and oil prices were just a touch off last week's record highs. Meanwhile, the
Nasdaq Composite Index broke out below the 4000 support level last week, which didn't help sentiment much following August's nice rally.
The
Dow Jones Industrial Average moved 30 lower to 11,190 soon after the open. The
Nasdaq Composite Index fell 18 to 3961. And the
S&P 500 slipped 2 to 1492.
Crude oil prices only slipped by a dollar, remaining above $32 a barrel, after OPEC said in Vienna on Sunday that it would increase output by 3%, or 800,000 barrels a day. Traders are skeptical as to how much the production increase will really do to quench strong demand. Prices last week steadily beat previous 10-year highs. Meanwhile, Merrill Lynch said this morning that it expects natural gas prices to fall, which wouldn't be good news for the energy companies.
And the euro hit a new low of 86 cents and 91 yen this morning, after European officials signaled that they are not ready to intervene to prop up the beleaguered currency.
As the earnings preannouncement season kicks off, fears of slowing consumer spending, a strong dollar and higher oil prices have investors scared stiff about profit warnings from retail companies, multinationals with high European exposure and industries that are sensitive to rising fuel costs -- including chemicals, airlines and trucking companies.
Jitters about third-quarter earnings sparked a selloff last week, as traders who had recently returned from vacation decided to play it safe ahead of some new economic data releases, the beginning of the earnings confession season and triple-witching this coming Friday. Triple witching is the expiration of equity options, index options and futures contracts on the same day. This happens on the third Friday of March, June, September and December. Some investors fear increased volatility on these days. The Nasddaq closed down 6%, falling below the 4000 support level.
"If it breaks this level it can go down some 10% more. We have already had some nice pullback ... We're getting a little bit oversold," said Kenneth Sheinberg, head of listed trading at
SG Cowen
.
"If they don't turn around quickly, they could trade down to the lower end of the trading range, around 3600. The major averages had nice run in August. And September is historically a bad month for the market. Last week we saw weakness in tech stocks and drugs," he added.
In the merger department,
Goldman Sachs
(GS) - Get Report
confirmed after the market close Friday that it is wrapping up talks to buy trading firm
Spear, Leeds & Kellogg
for about $7 billion in cash and stock, in a bid to build its market-making capabilities. Goldman lost a little ground Friday a half an hour before the close after
The Wall Street Journal's
online edition reported the then-unconfirmed news.
TheStreet.com
wrote about this in a separate
story.
Hewlett-Packard
(HWP)
is in talks to buy the consulting unit of global accountancy and consulting firm
PricewaterhouseCoopers
. The deal would be worth $17 to $18 billion in cash and stock. The acquisition would help Hewlett boost services that help corporate clients choose large computer systems. Hewlett said the deal would be mildly dilutive to its 2001 cash earnings per share.
TheStreet.com
wrote more about the companies in a
separate piece. Hewlett fell 3% in early trading.
Pharmaceutical companies
Glaxo-Wellcome
(GLX)
and
SmithKline Beecham
(SBH) - Get Report
have decided to delay their merger.
Antitrust regulators expect to approve Covisint, a business-to-business online auto parts exchange set up by
Ford
(F) - Get Report
,
General Motors
(GM) - Get Report
and
Daimler Chrysler
(DCX)
,
The Wall Street Journal
reported.
And software company
Sapiens
(SPNS) - Get Report
confirmed it is in merger talks with the Israeli information technology service provider
Ness Technologies
, according to
Reuters
. Ness is controlled 50% by the
Wolfson Group
of New York,
and E.M. Warburg Pincus
owns a 20% stake.
Back to top
Bonds/Economy
The 10-year Treasury note was lately down 5/32 at 99 30/32, and yielding 5.758%.
On Friday, a drop in the price of oil from the 10-year high helped to break a three-session losing streak in the bond market. Treasury bond prices rose slightly, retracing some of the losses incurred earlier in the week as oil prices rose.
Back to top
International
European markets were being dragged down by techs and telcos today.
The
FTSE 100
was lately 61.30 lower to 6539.40.
Across the channel, the
CAC 40
in Paris was off 38.17 to 6665.19, and the
Xetra Dax
in Frankfurt was off 59.77 to 7208.00.
The euro was lately trading lower at $0.8600.
TheStreet.com
wrote a separate piece looking at the
euro's woes.
Asian markets stumbled overnight.
Despite strong economic numbers, Tokyo shares closed lower amid news of an index reshuffling that had investors scrambling to adjust portfolios. The key
Nikkei 225
index shed 370.65, or 2.3%, to close at 16,130.90,
With the euro hitting a new low, the greenback fell against the yen to fetch 106.21. in Tokyo trading. The dollar was lately trading at 106.04 yen.
Hong Kong's Hang Seng index declined 267.47, or 1.6%, to close at 17,007.98 as shares of
Pacific Cyberworks
(PCW)
continued to be punished by investors.
Back to top