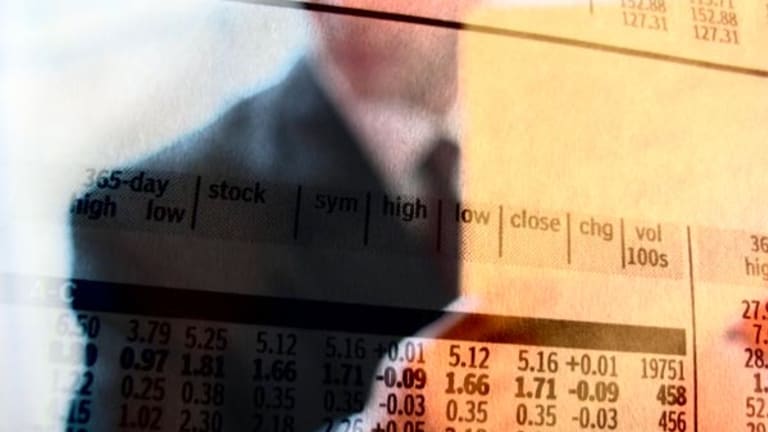 Publish date:
Today's Market: Nasdaq, Dow Both Posting Triple-Digit Losses in Morning Action
<LI>Euro higher on EU, U.S. and Japan's intervention.</LI> <LI>Microsoft, Dell, Cisco falling.</LI>
<LI>Euro higher on EU, U.S. and Japan's intervention.</LI> <LI>Microsoft, Dell, Cisco falling.</LI>
(Updated from 8:42 a.m. EDT)
Intel's Bombshell: TSC Coverage
European Early Update: One Word -- Intel
Asian Markets Update: Intel Whacks Asian Tech Shares
Wall Street Gets Soaked by Intel's Surprise
Spread the Word: Tech Companies Plenty Exposed Over There
More Than 1,000 Funds Get Clocked by Intel Warning
Intel's Warning Wreaking Havoc in After-Hours Action
Intel
(INTC) - Get Report
was giving the market some serious indigestion this morning.
In early action, the Nasdaq was down 142 to 3686 after opening off over 200 points. The Dow was off 131 to 10,634.
After the semiconductor mammoth and
Dow Jones Industrial Average component announced after the close last night that its third-quarter revenue would fall below estimates, the tech-heavy
Nasdaq 100 futures were down almost 100 points this morning, at "limit down." Limit down is a predetermined threshold at which the
Chicago Mercantile Exchange
halts trading of the index futures.
Intel last night said it expects third-quarter revenue to rise 3% to 5% from the second quarter's $8.3 billion. The Santa Clara, Calif., chip-maker said third-quarter gross margin would also fall below estimates, at 62% vs. the previous 63% to 64% guidance.
A slew of brokerage firms cut Intel's ratings and earnings per share estimates this morning, including
Merrill Lynch
,
Lehman Brothers
,
Deutsche Banc Alex. Brown
,
Credit Suisse First Boston
and
Salomon Smith Barney
.
In early action, Intel's malaise was spreading far and wide in tech. Intel's shares were lately trading down over $14 from Thursday's close to about $47. Software heavy-hitter
Microsoft
(MSFT) - Get Report
, computer-networking giant
Cisco
(CSCO) - Get Report
, hardware-maker
Dell
(DELL) - Get Report
and fellow-semiconductor
Micron Technology
(MU) - Get Report
were all taking a beating.
But some think the news is really Intel-specific, that it won't spread to the rest of tech, and that, in fact, the market is oversold enough for a nice rally.
"I think, technically, the market is oversold. It could turn around. The euro has started to show some life," said Brian Conroy, head of listed trading at
J.P. Morgan
.
Conroy said he thought a little selling this morning would make things look pretty cheap. "I don't think a turnaround will be event-specific. I think people are just going to go for some value," he said.
"In the meantime, what's rising overseas should provide some indication of what is going to go higher here. Financials are holding up, pharmaceuticals, defensive names, restaurants, beverages, food stocks," he said.
Intel, which hadn't given analysts any indication that it might miss estimates for the quarter, blamed the weakness on slower sales in Europe --a sensitive issue on Wall Street these days.
This earnings preannouncement season -- the time ahead of earnings reports when companies warn they might miss estimates -- has seen a euro in the dumps, record highs in oil prices and a slowing economy, all of which have had investors on edge. In the past few weeks, Wall Street has severely punished the share prices of several companies that have issued warnings.
Lower oil prices and a slight rebound in the euro yesterday didn't give much of a boost to stocks.
But the Central Banks in Europe, the U.S. and Japan have joined together to buy euros in an attempt to break the euro's fall. This if the first time since 1995 that the U.S., Japan and Europe have joined together to intervene on behalf of a currency. The euro soared up to 4% against the dollar, recently trading at $0.8880.
And crude-oil futures continued to trade lower today. November crude-oil futures were lately trading down 10 cents at $33.90 a barrel, after falling $1.24 to $34 yesterday.
Semiconductor and tech stocks have been eating dust since the beginning of the month, as have industrials, although industrials saw a little bit of a rebound yesterday. The Dow rose 77.60, or 0.7%, yesterday. Dow futures were lately down 175.
When not watching Intel today, investors will be listening for words of caution or optimism from a slew of heavy-hitters in several sectors that are
presenting at the
Banc of America Securities Investment Conference
today in San Francisco.
Back to top
Bonds/Economy
The 10-year Treasury note was lately up 11/32 at 99 14/32, yielding 5.825%.
Back to top
International
Intel's surprise whacked
Asian markets overnight and was dragging heavily on
Europe.
TheStreet.com
wrote a separate story about how Wall Street got
soaked by Intel's announcement.
Intel's news had all European markets deep in the red, though stocks got a little lift from news that the
European Central Bank
, the U.S. and Japan had joined in an effort to stop the euro's slide.
The
FTSE 100
was lately down 66.6 points to 6132.6, up from its session low of 6075 -- but the real story was in the
Techmark 100
, which was down 104 points to 3593.
Across the channel, the
CAC 40
in Paris was down 85.22 to 6169.55, and the
Xetra Dax
in Frankfurt was down 66.32 to 6616.60.
The euro was getting a boost from intervention, lately trading up about 4% at 0.8938.
The Intel news hit Asian markets, particularly tech stocks, severely, fanning fears that growth in the chip market, and perhaps in telecom as well, would slow down in Asia.
Closing figures were ugly in Tokyo, but there were glimmers of hope that the market will rebound next week. The
Nikkei 225
index shed 492.80, or 3%, to close at 15,818.25.
Thanks to the stock slump in Tokyo, the greenback edged higher recently to fetch 106.88 yen in Tokyo trading. The dollar was lately trading at 107.55 yen.
Korean stocks were all shook up by Intel's news, with the key
Kospi
index declining 42.74, or 7.2%, to close at 553.25. Besides ongoing woes at
Daewoo Motor
, many foreign investors today fled the tech sector as well.
Samsung Electronics
fell KW30,000 ($168.74), or 13.6%, to 190,000, while rival
Hyundai Electronics Industries
lost 1550, or 9.8%, to 14,350.
Hong Kong's
Hang Seng
index also slumped 551.57, or 3.1%, to close at 14,612.88 as telecom shares fell hard.
China Mobile
(CHL) - Get Report
shed HK$4.10, or 8.0%, to 46.90, while
China Unicom
(CHU) - Get Report
lost 1.05, or 6.3%, to 15.50.
Back to top