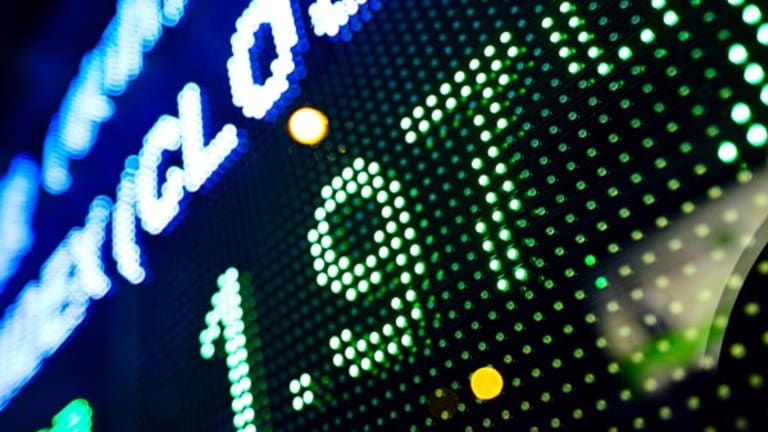 Today's Market: Nasdaq, Dow Both End Lower on Busy Earnings Day
<LI>Earnings have been strong; the market hasn't.</LI><LI>IBM beats the Street.</LI> <LI>Comments from Bank One chief boost stock.</LI>
(
Updated from 4:09 p.m. EDT
)
A batch of eye-catching earnings reports were treated more like ugly ducklings as investors focused on the bad points and shrugged off the good.
Selling in technology bellwethers left the
Nasdaq Composite Index smarting with a triple-digit loss, down 121.09, or 2.9%, to 4056.09, a level that marks a return to negative territory for the year-to-date. There was much ado about the Comp's crossover back to positive territory when it closed at 4099.59 just a week ago, and while today level is not drastically lower, it still looks and feels like a setback.
Some prominent tech companies, including
Microsoft
(MSFT) - Get Microsoft Corporation Report
,
Intel
(INTC) - Get Intel Corporation Report
and
Apple
(AAPL) - Get Apple Inc. Report
kicked out decent earnings reports last night but that didn't stop investors from honing in on some of the not-so-hot aspects such as revenue growth and outlook.
Other major indices followed the Comp south. The
Dow Jones Industrial Average lost its afternoon battle for a meager gain and fell 43.84, or 0.4%, to 10,696.08. The
S&P 500 lost 11.78, or 0.8%, to 1,481.96 and the
Russell 2000 was off 8.42, or 1.6%.
The action had many traders scratching their heads. "This is really a convoluted market today. I'm not sure why they are selling the stocks off," said Ray Hawkins, vice president of block trading at
J.P. Morgan
.
Still, Hawkins points out that volume was not exceptionally heavy and breadth, at least earlier in the day, is not as negative as it was in recent weeks. "Maybe it's just a minor pullback. The fact that the Nasdaq has been as strong as it has means that
today's loss is not really a big deal here." Hawkins also speculated that Friday's double option expiration, the monthly expiration of selected stock and index options, may be injecting a little volatility into the market.
It's no secret that investors are feeling nervous about the second half of the year, specifically that earnings growth will not be as robust. Microsoft and
UAL
(UAL) - Get United Airlines Holdings, Inc. Report
, parent of United Airlines, fanned the flames with cautious comments about future growth. The recent pullback, while partially due to investors taking profits on stocks that have rallied during the last few weeks, also looks like the market is factoring in expectations of diminished growth.
Fed chairman
Alan Greenspan was also being fingered as a source of market fear, ahead of his Humphrey-Hawkins
testimony, his semiannual report on the economy and Fed policy, which will be delivered to Congress tomorrow.
"That's the double-edged sword," said Peter Blatchford, trader at
Miller Tabak
. "You need a real catalyst to get this market going, and it's tough to have no inflation without a tightening, and you can't have great corporate profits and tightening at the same time for long."
Microsoft served up an
earnings report last night that bested fiscal fourth-quarter estimates of 42 cents per share by reporting earnings of 44 cents a share. Analyst comments have been middling, with two downgrades mixed in with several reiterations of buy recommendations.
" 'Caution' remains the operative word from Microsoft management, as continued choppy monthly unit demand from business PCs and a deliberate, gradual ramp from Windows 2000 platforms and related applications hinders near-term growth," wrote Chris Shilakes, a
Merrill Lynch
analyst, in a comment this morning.
Microsoft was emblematic of the Nasdaq's troubles all day. Among the companies that reported last night or this morning that were getting pit-smoked were Internet media software maker
RealNetworks
(RNWK) - Get RealNetworks, Inc. Report
and semiconductor maker
Rambus
(RMBS) - Get Rambus Inc. Report
were also among companies that beat analyst expectations.
Of those three, RealNetworks was the hardest-hit, falling 15.5% and pulling
TheStreet.com Internet Sector
index, or the
DOT, down with it. The DOT dropped 34.72, or 4%, to 833.06.
Apple was bruised 4 9/16, or 8%, to 52 11/16. The slide coincided with the company's annual Macworld trade show in New York, which kicked off today with a keynote address from CEO
Steve Jobs
. Jobs' presentation was met with the usual enthusiasm of the rabid Apple faithful, who greeted each new iMac color that was announced---Indigo, Ruby, Sage, Snow and a new, improved Graphite-- with all the reserve of a college hockey crowd.
Product highlights included an oblong optical mouse, containing no moving parts and replacing the round device that many users found awkward to operate, and a new line of Power Macs with dual-G4 processors. Jobs concluded his keynote by unveiling Apple's new desktop products, the Cube -- a G4-powered machine that is crammed, as its name suggests, into an eight-inch cube, itself suspended in a clear plastic case.
Seventh-Inning Stretch?
The two-day technology pullback was somewhat expected -- investors marked up prices heavily in the few weeks preceding earnings season on expectations of stellar earnings. Some of this week's decline represents profit-taking, but as earnings season plods on, it also represents an acknowledgment that uncertainty will again reassert itself.
"We're now in about the seventh inning of earnings releases," said Jerry Hegarty, chief analyst at
Cape Market Research
in Osterville, Mass. "As investors start to look out beyond the end of this week, there really isn't anything favorable on the horizon. The onus will swing back toward interest rates, the next Fed meeting and the uncertainty of third-quarter earnings."
Veritas
(VRTS) - Get Virtus Investment Partners, Inc. Report
also lost ground. The software company reported earnings of 13 cents a share, a penny ahead of the 24-broker consensus as reported by
First Call/Thomson Financial
. The stock shed 15 5/16, or 12%, to 112 1/4 and was among the Nasdaq's most stocks with 22.8 million shares changing hands.
Meanwhile, the Dow's early rally turned out to be a sucker's bet, as the nontech indices followed their high-tech brethren to the downside.
Intel
(INTC) - Get Intel Corporation Report
, which tried to hang on in positive territory, succumbed to the sellers, and the 30-stock average also dealt with declines in drug components,
Merck
(MRK) - Get Merck & Co., Inc. Report
and
Johnson & Johnson
(JNJ) - Get Johnson & Johnson Report
.
The
American Stock Exchange Pharmaceutical Index
lost 1.1%. Dow component
IBM
(IBM) - Get International Business Machines Corporation Report
edged up 11/16 to 104 ahead of its earnings report, which came out better-than-expected after the close.
Big Board Stocks Tried to Hack It
One of the
New York Stock Exchange's most active was software-maker
EMC
(EMC)
, up 5.7% on 12.3 million shares after reporting strong earnings. On the downside,
Boston Scientific
(BSX) - Get Boston Scientific Corporation Report
dropped 26.7%, after several analyst downgrades.
Earlier, Big Board stocks were generally doing better after several prominent companies reported, including
Citigroup
(C) - Get Citigroup Inc. Report
, which reported earnings of 87 cents a share, compared with 70 cents a share the year before. The
First Call/Thomson Financial
consensus was for 83 cents per share. The stock rose 2%.
But many sold off later on in the day. It may be that the market's tenor has changed again, if only temporarily. The market moved from a period of blas¿ churning to a recognition that stocks were undervalued looking ahead to second-quarter earnings, and back to a realization that corporate profits may not explode in coming quarters the way they've done for the last few quarters.
The cautious comments from Microsoft and UAL underscore that. UAL, which warned it would miss Street estimates for the remainder of the year, was lately off 10%.
Now that a little pessimism has crept back in, it's a fine time to think about Greenspan's semiannual report to Congress, which begins tomorrow morning. Greenspan's report on the economy is one of his most important speeches every year, as he'll provide a detailed assessment of both the direction of the economy and his views on current monetary policy.
It doesn't necessarily mean an end to the modest upward trend that the Nasdaq and S&P have experienced during the last two months, however. Through Monday, the Nasdaq bounced nearly 8% in July, and Charlie Crane, market strategist at
Spears, Benzak, Salomon & Farrell
said it was a little early to proclaim the summer rally over.
"There's a little concern that second-half growth is going to be less vigorous," said Crane. "But, we also have to put this into the context of where we are and where we've been. The Nasdaq is up rather strongly from its lows of six to eight weeks ago, and it's natural that it might take a little breather."
Ford
(F) - Get Ford Motor Company Report
, which reported strong earnings, rose 1%, while
Bausch & Lomb
(BOL)
was the Big Board's biggest losers, falling 21.7%.
Jamie Dimon
certainly
talks a good game, because after a lousy quarter for
Bank One
(ONE) - Get OneSmart International Education Group Ltd Report
, the stock put together an 8.8% gain after the CEO and former Citigroup big-wig spoke to analysts on a conference call this morning.
Information technology company
CNet
(CNET) - Get ZW Data Action Technologies Inc Report
fell 7.8% after announcing plans to buy Internet content and commerce company
Ziff-Davis
(ZD)
for $1.6 billion in stock.
Back to top
Market Internals
Breadth was negative on active volume.
New York Stock Exchange: 1,120 advancers, 1,679 decliners, 906.2 million shares. 42 new 52-week highs, 39 new lows.
Nasdaq Stock Market: 1,428 advancers, 2,551 decliners, 1.41 billion shares. 50 new highs, 55 new lows.
Back to top
Most Active Stocks
NYSE Most Actives
Nasdaq Most Actives
Back to top
Sector Watch
The transports were hurt today, thanks to weakness in the airline sector. The
Dow Jones Transportation Average
slipped 3.2% and the
American Stock Exchange Airline Index
lost 3.5%.
The culprit was UAL, which fell after saying it would fall short of Wall Street estimates for the remainder of the year; and that's killing airlines today.
US Airways
(U) - Get Unity Software, Inc. Report
was also weak, dropping 2.5%.
Back to top
Bonds/Economy
Treasury yields were narrowly mixed following the release of the
international trade
report and the announcement of the details of tomorrow's buyback operation.
The larger-than-expected trade deficit will depress the second-quarter
GDP growth rate, and the slowing rate of import growth is consistent with the idea that consumer spending is slowing down.
Meanwhile, the Treasury Department announced that tomorrow's buyback will target $1.5 billion of 30-year bonds issued between February 1991 and August 1993.
The benchmark 10-year Treasury note was down 4/32 to 102 13/32, its yield at 6.165%.
Back to top
International
European markets ended mixed, with London easing upward, and France and Germany coming off of earlier lows.
London's
FTSE
lost strength late in the day, closing up 14.9 to 6465.4.
Frankfurt's
Xetra Dax
ended down 40.66 to 7366.25, and the Paris
CAC
ended off 19.43 to 6495.11.
Asian markets all closed higher overnight following a sustained rally in the United States last week.
Tokyo ignored the second corporate failure in less than a week and decided the slip in the Nasdaq overnight was much more important. Large- and small-cap tech shares were sold off, but with a market holiday coming up Thursday, selling volume was light. The
Nikkei 225
index closed up 38.50 to 16,983.57.
Hong Kong stocks continued to move higher, rising on gains in tech shares, and the
Hang Seng
index closed up 269.24, or 1.5%, to 17,710.07.
Elsewhere in Asia, Korea's
Kospi
index shed 15.03, or 1.9%, to 797.30.