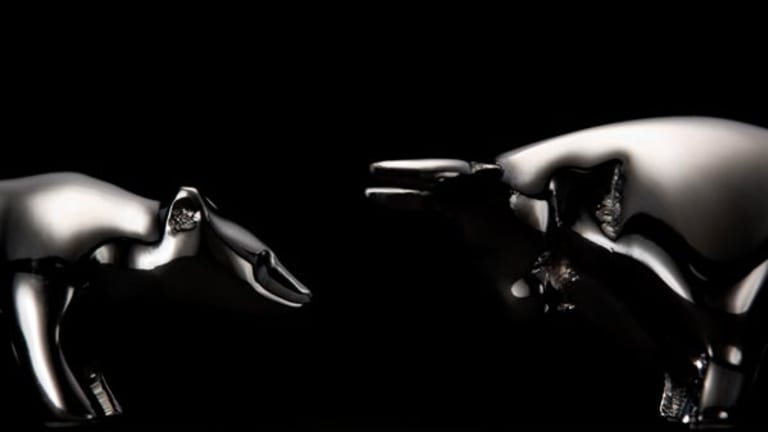 Today's Market: Nasdaq Climbs Back From Morning Losses
<LI>Dow remains strong.</LI> <LI>Oracle gets downgraded and keeps tumbling.</LI> <LI>Transportation and paper stocks strong.</LI>
Major indices were split down the middle in the morning, as blue chips built on yesterday's modest gains and tech stocks stumbled lower. Tech, however, was making a play for the green.
Another round of profit warnings in the tech sector this morning roiled already nervous investors and spurred more selling in the
Nasdaq Composite Index. Even more unsettling has been the roster of tech bellwethers leading the charge down.
"Pre-announcements in the tech world, from
Apple
(AAPL)
and others, have raised investors' skittish levels," said Walt Czaicki, senior portfolio manager at
Banc of America Capital Management
in St. Louis. The downside is "spreading through even some of the big names. There's not a lot of room to hide," he said, adding that stocks that escaped some of the damage in September, such as B2B software companies, are now getting hit.
Oracle
(ORCL)
was the whipping boy of late as it endured a second straight day of pounding, lately off 6.9%. That's on top of yesterday's $9.25, or 11.7% slide, despite upbeat comments from a
Goldman Sachs
analyst.
A downgrade of Oracle today from
Robertson Stephens
, to long-term attractive from buy, added to the pain.
Bear Stearns
and
Merrill Lynch
maintained their ratings on the stock, but that did little to help. The "tone from
some of the analysts is not up to expectations," Czaicki said.
In a familiar scene, the tech stocks bounced higher at the open the past two days, only to pare their gains as the trading session progressed. Today, the index didn't even have the strength to get out of bed, and the Nasdaq slipped from the opening bell.
Given all the recent downward action, talk of a bottom in the tech sector abounds once again.
"For this market to find a bottom, it will probabaly open with the futures limit down one day and get everyone really frightened before you can wash all these sellers out," said Howard Barlow, vice president of
WHB Wolverine Asset Management
in Stamford, Conn. Barlow thinks the market needs the kind of jolt it got in 1998 with the Russian debt crisis or something as perilous as the Long Term Capital Management debacle before we make a bottom.
Others think the bottom is already happening in fits and starts. "A fair amount of capitulation has taken place in individual stocks this year," said Brian Belski, fundamental market strategist at
U.S. Bancorp Piper Jaffray
in Minneapolis. "The indices have been mixed for most of the year, big stocks have not done well. The market does not necessarily have to have capitulation. Everyone is looking for one because that is what they are used to." Traders and strategists often refer to a stock or index bottoming out as capitulation. Thus many market watchers think the Nasdaq will endure a steep and sudden drop before it can start to move higher again in any significant way.
U.S. Bancorp
(USB)
was acquired this morning by
Firstar
(FSR)
.
TheStreet.com
wrote about the deal in a
separate story .
In company news, e-business software provider
Calico Commerce
( CLIC) was off 27.7%, after warning last night that it will post lower-than expected revenues and operating results for the second quarter.
Saga Systems
(AGS)
, also an e-business software company, sang the same sad song as Calico and was lately sinking 30.5% to $5.69.
Trading in shares of
EMC
(EMC)
, a data storage company, was fast and furious and not at all pretty. The stock topped the most active list on the
NYSE, and was lately down $4.19, or 4.3%, to $89.94, as investors shrugged off recent reports that the company is expected to cruise through the year with little competition from rivals.
Back to top
Market Internals
Breadth was negative on moderately heavy volume.
New York Stock Exchange: 1,091advancers, 1,496 decliners, 607.1million shares. 40 new 52-week highs, 58 new lows.
Nasdaq Stock Market: 1,364 advancers, 2,319 decliners, 1.1 billion shares. 21 new highs, 213 new lows.
Back to top
Most Active Stocks
NYSE Most Actives
EMC: 14.5 million shares. Firstar: 13 million shares. Xerox (XRX) : 10.8 million shares.
Nasdaq Most Actives
Oracle: 60.4 million shares. Microsoft (MSFT) : 38.4 million shares. Dell (DELL) : 34 million shares.
Back to top
Sector Watch
Defensive stocks were quite popular this morning, lead by strength in transportation and paper stocks, both of which were strong yesterday. The
Dow Jones Transportation Average
was up 3%. The average continued to get a lift from airline components, including
AMR
(AMR)
and
Delta
(DAL)
The
Philadelphia Stock Exchange Forest & Paper Products Index
was up 2.7%, thanks to support from nearly every one of its component.
Cyclicals and utilities were mixed with the
Morgan Stanley Cyclical Index
2.4% higher, and the
Dow Jones Utilty Average
off 3.7% higher.
The
S&P Insurance Index
was under some pressure again after falling 1.1% yesterday, lately down a notch.
Back to top
Bonds/Economy
Treasuries are mixed on little news, as the focus shifts from yesterday's
Federal Open Market Committee meeting to Friday's September
employment report. In keeping with the
Fed's aggressive stance on interest rates, short-maturity issues are under pressure while the longest-maturity issue is higher in price. There are no major economic reports today.
In deciding to keep the
fed funds rate at 6.5% -- but also to maintain that the economy is still at risk of rising inflation -- the FOMC
cited the high rate of labor-force utilization -- a.k.a the low
augmented unemployment rate -- as one of the major reasons why. The September jobs report will measure that rate anew. In August it stood at 6.9%, just off its all-time low (since the Labor Department began measuring it in 1994) of 6.8% in June.
The benchmark 10-year
Treasury note lately was down 5/32 to 98 31/32, lifting its yield to 5.89%.
Back to top
International
Investors were dumping
European stocks in a hurry today after yesterday's three-digit pullback on the Nasdaq intensified earnings worries there.
In London, the
FTSE 100
lost 10.10 to 6334.90.
Across the channel, the
CAC 40
in Paris fell 104.30 to 6296.13, while the
Xetra Dax
in Frankfurt dropped 57.92 to 6810.34.
The euro continued its downward spiral, lately down to 0.8735.
TheStreet.com
recently looked at what
ails the euro .
Undaunted by Wall Street's uninspiring performance the day before, most of
Asia's major markets posted solid gains Wednesday.
Japan's
Nikkei 225
closed up 237.0, or 1.5%, to 16,149.1, shaking off early losses with help from both Old and New Economy shares.
In Tokyo currency trading, the dollar fell to 108.74 yen from 108.88 yen. The greenback was lately trading up to 109.355 yen.
Other Asian markets also had a good session Wednesday, as Hong Kong's
Hang Seng
index rose 152.9, or 1%, to 15,878.9, and South Korea's
Kospi
index overcame an early drop to close up 9.2 points, or 1.6%, to 598.4.
Taiwan's equity market was the region's one exception, however; the
TWSE
index plunged 145.5, or 2.4% to 5997.9, as the country's premier unexpectedly resigned.
Back to top