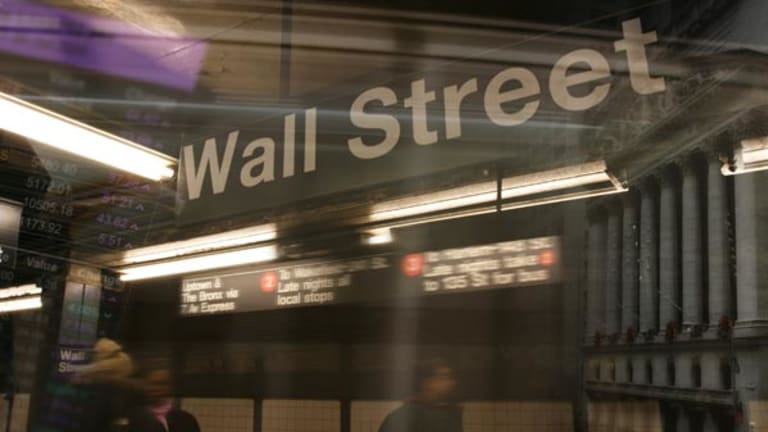 Today's Market: Nasdaq Breaks Key 2000 Level
<LI>Lots of negative analyst notes out.</LI> <LI>All Dow components in the red.</LI> <LI>CSFB cuts Viacom, Disney.</LI>
<LI>Lots of negative analyst notes out.</LI> <LI>All Dow components in the red.</LI> <LI>CSFB cuts Viacom, Disney.</LI>
(Updated from 9:32 a.m.)
Despite a lack of any major news grenades since Friday's close of trading, gargantuan losses in Asia and a pretty dismal outlook for corporate earnings sent the
Nasdaq tearing through that psychologically critical 2000 mark at the open.
The Nasdaq, which is off 16.9% since the start of the year, dropped another 71 to 1982 soon after the opening bell. The
Dow lost almost 2% on Friday and is off another 171 to 10,472 so far today. Every component of the 30-stock Dow was in the red this morning.
There are plenty of negative analyst notes out this morning.
Cisco
(CSCO) - Get Report
was hit hard following a
Credit Suisse First Boston
note on the stock. CSFB cut its earnings estimates on the networker, as did
Robertson Stephens
. The networker was off 7.3% to $19.13.
Media stocks are taking a beating this morning after CSFB lowered its earning estimates and targets on
Disney
(DIS) - Get Report
and
Viacom
(VIA) - Get Report
. And telecom giant
AT&T
(T) - Get Report
had its 2001 estimates sliced by
Goldman Sachs
. All are lower.
Chip stocks are suffering more drubbing after chipmaker
General Semiconductor
(SEM) - Get Report
reported this morning that it expects first-quarter revenue to fall 14% to 16% below its fourth quarter's. In the first week of March, the sector was brushing off the flurry of earnings warnings crowding the sector. But not last week -- a sector selloff that began Monday culminated Friday following a warning from
Intel
(INTC) - Get Report
. Intel was off 2.7% this morning, and General Semiconductor was losing 1%.
Still, there were a few risers this morning. Insurance bellwether
American General
(AGC) - Get Report
was up 4.3% after the U.K.'s
Prudential
(PUK) - Get Report
agreed to buy the Texas insurance company for about $26.59 billion in stock, in one of the biggest insurance deals ever.
Oline auction site
eBay
(EBAY) - Get Report
was losing 3.3% even though it announced plans for a strategic alliance with software titan
Microsoft
(MSFT) - Get Report
. The two companies plan to develop e-commerce applications and expand their presence on the Internet. The size of the deal was undisclosed in their release.
The bulls sure don't have a whole lot to go on, even though some think the markets are due for some kind of bounce. And the catalysts for Friday's selloff still linger. A strong
jobs report released that morning made it less than a foregone conclusion that the
Federal Reserve will cut interest rates by the hoped-for half-percentage point when it meets March 20. Some now think a quarter-point cut is more likely. And Intel wasn't the only bad corporate news on Friday. Networking giant
Cisco
(CSCO) - Get Report
announced plans for layoffs.
Intel was just the latest in a series of high-profile companies to warn they will miss first-quarter targets -- including
Yahoo!
(YHOO)
,
JDS Uniphase
(JDSU)
, and
Broadcom
, among others. And first-quarter warning season is just beginning. In other words, Intel wasn't the first to warn, and it certainly won't be the last.
However you slice it, some investors are finding the Dow may be their
best bet in this market. Compared to the Nasdaq, the
blue-chip index has held up pretty well this year -- down just 1.32% -- buoyed by some of its Old Economy components. Indeed, it's some of the older names in the market, like
Sears
(S) - Get Report
and
Phillip Morris
(MO) - Get Report
, that are outshining many of the once-highflying tech names.
Back to top
Bonds/Economy
Treasury prices were rebounding from Friday's round of profit-taking this morning. The benchmark 10-year
Treasury note was up 9/32 to 100 24/32, yielding 4.901%.
Treasury prices finished lower Friday, with longer-term maturities taking the bigger hit. Although stocks were battered throughout the day, there was little sign of investments flowing toward fixed income. Rather, bond traders indulged in end-of-the-week profit-taking that kept the money market suppressed right up to the close.
Back to top
International
Foreign stock indices were taking their cues from Friday's selloff in the U.S., and nearing midday, London's
FTSE 100
was at a 17-month low. Weakness in tech, telecom and media stocks put it down 85.3 to 5832. Across the channel, the Paris-based
CAC
was 107.6 lower to 5261.3, and the German
DAX
was losing 117.5 to 6086.9.
The euro was lately trading at $0.9273.
Asian markets were trashed overnight, with the
Nikkei 225
sliding another 3.6% overnight to a 16-year low, while the
Hang Seng
lost 2.94%, hitting a 10-month low.
The dollar was much stronger on the yen, lately trading at 120.4 yen.
For more on the world stock markets, check out
TheStreet.com's
global indices information.
Back to top