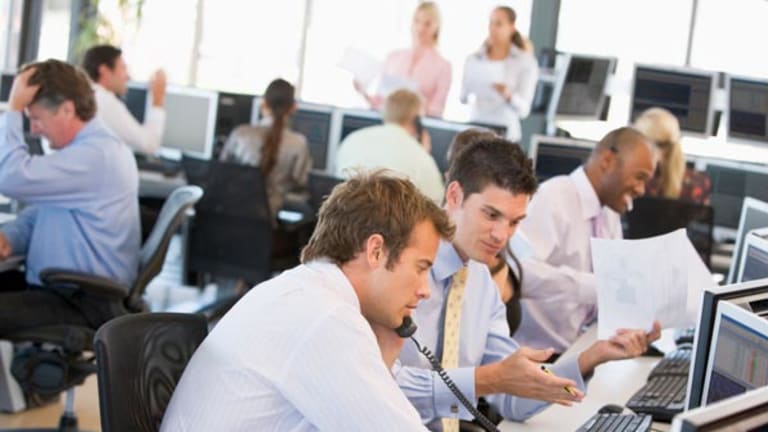 Today's Market: Nasdaq Bounces Strongly but Dell Could Bring New Test
<LI>Dell issues postclose warning.</LI><LI>Nasdaq 3400 breached intraday but holds.</LI><LI>Dow solid on plus side all day.</LI>
It had to happen eventually. Investors, recalling the commercials of
Eddie Antar, declared current stock prices insane and gave a lift to the major averages today, giving some respite to the market's mounting gloom over the economic picture. Capital goods, cyclicals and technology stocks led the way in a heavily traded session.
Investors bought into a market that was reeling after yesterday's
Federal Reserve meeting. The monetary policy committee maintained that the balance of risks in the economy continue to tilt toward higher inflation, and that disrupted a stock market hoping for friendlier words from the Fed.
Today's rebound in technology stocks indicates to some that money managers were overzealous in taking the
Nasdaq Composite Index to its lowest intraday levels since late May. The Nasdaq fell as low as 3382.53 today, having been under constant pressure during the last few weeks as investors faced numerous earnings warnings from companies ranging from
Intel
(INTC) - Get Intel Corporation (INTC) Report
to
Apple
(AAPL) - Get Apple Inc. (AAPL) Report
and now
Dell
(DELL) - Get Dell Technologies Inc Class C Report
.
However, with earnings reporting season
arriving, investors are heartened by the knowledge that the percentage of preannouncements that were
negative still falls short of the historical average; the large number of companies that have kept their mouths shut are expected to report strong numbers for the third quarter.
Through the early afternoon, though, this was another dispiriting session, with technology stocks led by significant losses in
Oracle
(ORCL) - Get Oracle Corporation Report
and
EMC
(EMC)
. Non-tech blue chips held in reasonably well, and around midafternoon the tech sector perked up, as investors responded positively to the breach of the 3400 level in the
Nasdaq Composite Index, identified as a technical support level. Levels defined as technical support are spots where buying is expected.
"I was really happy we held 3400," said Charles Payne, president and chief analyst at
Wall Street Strategies
. "A rotation based on fundamentals is one thing, but based on fear, it's another."
Oracle still finished down $1.50 to $68, but the stock was down $9 at one point, after losing $9.25 the previous day. The stock was the
Nasdaq Stock Market's
most active, with 100 million shares changing hands. Save for analyst actions, prompted in part by the stock's sharp Tuesday decline, there was little news on the stock. The company eventually issued a press release affirming its current strong outlook.
Microsoft
(MSFT) - Get Microsoft Corporation (MSFT) Report
hit another 52-week low, losing $1.13 to $55.44.
EMC, a software storage company that's been one of the market's new darlings of late, finished down $2.75 to $91.25 after the company's chairman filed to sell approximately 8% to 10% of his holdings, not exactly a show of confidence. The stock was the
New York Stock Exchange's second-most actively traded today.
Meanwhile, other market darlings, such as fiber optics and telecommunications equipment companies, rebounded sharply today.
JDS Uniphase
(JDSU)
gained $6.44 to $94.06 today, while
SDL
(SDLI)
rose $20 to $310.94.
Semiconductor stocks, hit hard in recent weeks, were up sharply today; the
Philadelphia Stock Exchange Semiconductor Index
gained 6.2% today. The
Philadelphia Stock Exchange Computer Box Maker Index
rose 3.5% today.
Odds on a strong day tomorrow at first blush are looking long. PC maker Dell, one of the big-cap tech bellwethers, issued an earnings warning, saying weak European demand could shave a couple of cents off fourth-quarter profits. Right now, today's Nasdaq action looks like a rebound off support levels, rather than a shift in sentiment in terms of market valuation. The economic picture is still fuzzy -- strategists by and large expect a slowing in economic growth, and while investors feel the selling had gone too far, it's not clear whether the market can build on today's strength.
"I firmly believe the market has more downside risk," said Roseanne Lang, head of block trading at
Cantor Fitzgerald
. "It's a function of again being concerned with fundamentals and looking at valuations."
Cyclical stocks continued their strong gains. Dow component
International Paper
(IP) - Get International Paper Company (IP) Report
finished strong, gaining $1.88 to $31.50, and leading the
Philadelphia Forest & Paper Products Index
to a 2.8% gain. The
S&P Chemical Index
rose 1.6%.
Consumer cyclicals and capital goods names also rose strongly.
Ford
(F) - Get Ford Motor Company Report
gained 3% and
Illinois Tool Works
(ITW) - Get Illinois Tool Works Inc. (ITW) Report
rose 2.8%.
In the wake of today's strength in technology and capital goods companies, recent leaders like pharmaceuticals, financials and energy stocks were mostly weak today. The
Philadelphia Stock Exchange/KBW Bank Index
shed 1.9% today, and the
Amex Pharmaceutical Index
lost 1.2%.
Market Internals
Breadth was mixed on strong volume.
New York Stock Exchange: 1,254 advancers, 1,565 decliners, 1.2 million shares. 53 new 52-week highs, 77 new lows.
Nasdaq Stock Market: 1,874 advancers, 2,140 decliners, 2 billion shares. 35 new highs, 281 new lows.
Back to top
Most Active Stocks
NYSE Most Actives
Nasdaq Most Actives
Back to top
Sector Watch
The
Dow Jones Transportation Average
advanced 2.5%, lifted by airline stocks for a second day in a row, which in turn boosted the
American Stock Exchange Airline Index
2.4%.
Delta
(DAL) - Get Delta Air Lines, Inc. Report
was adding about 12 points to the transport index's average.
The
Morgan Stanley Cyclical Index
rose 1.7%, while the
Philadelphia Stock Exchange Forest & Paper Products Index
jumped 2.8%. Shared components
Georgia-Pacific
(GP)
and
International Paper
(IP) - Get International Paper Company (IP) Report
were both up.
Pick an energy sector, any energy sector -- they were all down, including the
American Stock Exchange Natural Gas Index
, off 2.2%, the
Chicago Board Options Exchange Oil Index
, down 2%, and the
Philadelphia Stock Exchange Oil Service Index
, 4.2% lower.
Telecommunications companies recovered from recent weakness.
Lucent Technologies
(LU)
gained 7.7% in today's session, and chipmaker and cell phone company
Motorola
(MOT)
rose 8.5% today.
SBC Communications
(SBC)
gained 3.6%, and the
Nasdaq Telecommunications Index
gained 2.4%.
Back to top
Bonds/Economy
Treasuries ended lower on little news, as the focus shifted from yesterday's
Federal Open Market Committee meeting to Friday's September
employment report. In keeping with the
Fed's aggressive stance on interest rates, short-maturity issues are faring worse than long-maturity ones. There are no major economic reports today.
In deciding to keep the
fed funds rate at 6.5%, the Fed maintained their stance that the economy is still at risk of rising inflation,
citing the high rate of labor-force utilization -- a.k.a., the low
augmented unemployment rate -- as one of the major reasons. The September jobs report will measure that rate anew. In August it stood at 6.9%, just off its all-time low (since the Labor Department began measuring it in 1994) of 6.8% in June.
The benchmark 10-year
Treasury note lately was down 8/32 at 98 29/32, lifting its yield to 5.895%.
Back to top
International
Investors dumped
European stocks in a hurry today after yesterday's three-digit pullback on the Nasdaq intensified earnings worries there.
In London, the
FTSE 100
lost 10.10 to 6334.90.
Across the channel, the
CAC 40
in Paris fell 104.30 to 6296.13, while the
Xetra Dax
in Frankfurt dropped 38.83 to 6823.43.
The euro continued its downward spiral, lately down to 0.8744.
TheStreet.com
recently looked at what
ails the euro .
Undaunted by Wall Street's uninspiring performance the day before, most of
Asia's major markets posted solid gains Wednesday.
Japan's
Nikkei 225
closed up 237.0, or 1.5%, to 16,149.1, shaking off early losses with help from both Old and New Economy shares.
In Tokyo currency trading, the dollar fell to 108.74 yen from 108.88 yen. The greenback was lately trading up to 109.35 yen.
Other Asian markets also had a good session Wednesday, as Hong Kong's
Hang Seng
index rose 152.9, or 1%, to 15,878.9, and South Korea's
Kospi
index overcame an early drop to close up 9.2 points, or 1.6%, to 598.4.
Taiwan's equity market was the region's one exception, however; the
TWSE
index plunged 145.5, or 2.4% to 5997.9, as the country's premier unexpectedly resigned.
Back to top