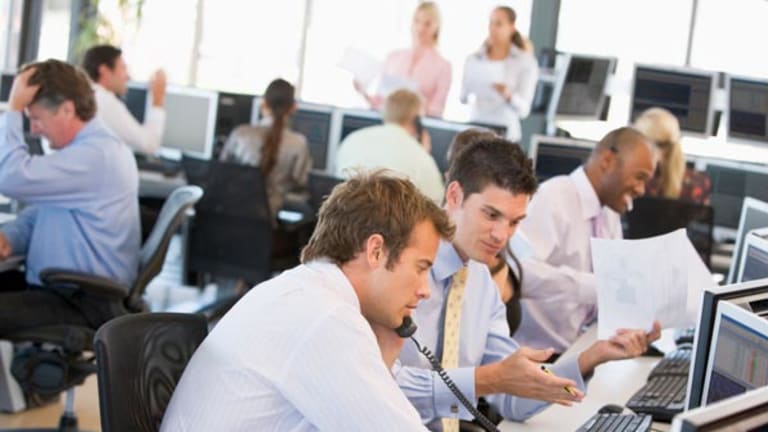 Today's Market: Mideast Violence, Home Depot's Woes Bear Burden for Stocks' Massacre
Both the Dow and the Nasdaq were beaten up today, with the Comp closing at its low for the year.
Bloodshed abroad wrought bloodshed at home.
In a sad and crazy day of trading, all major indices took hits as a
pair of deadly attacks in the Middle East shook up oil prices, while
a warning from blue-chip
Home Depot
(HD)
sucker punched an already teetering market. Curbs, or trading collars, which are designed to help decrease market volatility, were in place for much of the afternoon.
The
Dow Jones Industrial Average lost 4%, falling 380 to 10,033 today, one of the worst point drops in Dow history. These levels are the lowest in more than six months, dragging the major market indicator towards levels last seen in mid-March. Today's point drop is one of the worst in recent memory, second only to the 615-point monstrosity felt on
April 14.
Within the blue-chips, nearly everything was bloody as hell. Twenty-three of the 30 industrials were mired in losses. Ten of them added 10 points or more to the Dow's negative side. Five added more than 20. But that only pales in comparison to the devastation caused by a trio of stocks.
J.P. Morgan
(JPM)
and
IBM
(IBM)
threw a combined 117 points to the negative side, while the aforementioned Home Depot added a whopping 83 to the losing effort.
Earlier this morning, Home Depot, something of a retail darling for many a market watcher,
disappointed analysts and announced that its third quarter would fall three cents short of expectations. And things got very, very ugly. Home Depot ended off $13.88, or 28.4%, to $35.06, thrown into 52-week lows (actually, the worst since summer 1999) after tasting the wrath of a market scorned.
And to tell you the truth, that's all it really took. Markets never really recovered when Home Depot came off its morning halt. Other broad indicators, like the
S&P 500, which fell 35 to 1329, took a steep drop. The
Nasdaq Composite Index posted its sixth straight day of losses, dropping 95 to 3073, the worst close in 2000. The technology-laden Comp really did quite well when you consider how terrible internals were overall. Then again, it's off 1161 since Labor Day.
A Troubled Day
Home Depot was just one of many problems today.
Before the bell,
news broke that the conflict between Israelis and Palestinians flared up to scorching temperatures after two Israeli soldiers were beaten to death and dragged through the streets. Israel, in retaliation, launched a counterstrike against
Yasser Arafat
, sending rockets toward Gaza, where one of his many headquarters is situated and Ramallah, where the two soldiers were killed. And while news of that bloody conflict filtered into the morning market, news broke that terrorists attacked the
USS Cole
, a U.S. Navy destroyer in Yemen, injuring scores and killing at least four.
The conflict between Israel and Palestine, plus the added pressure of the Yemen terrorist attack wreaked havoc on recently easing petroleum prices. Oil sprinted back the highest levels in years, with barrels of November crude jumping 8.7%, up $2.90 to $86.15 on the
New York Mercantile Exchange
. And as a whole, petroleum had quite an incredible day. NYMEX natural gas futures rose 2.4%, while heating oil futures rose 6.6%.
But don't blame just Israel and oil -- not with that Home Depot warning and the unabated and pernicious fears of investors running wild like Hulkamania, circa 1987. Michael Strauss, manager of the $25 billion
Commonfund
, said that the real problem isn't oil, but rather, earnings.
"Without Israel, would the market have had a lot of difficulty today? Yes, it would," he said. "The underlying concern here is a price-to-earnings, a sales-to-earnings issue."
And to Strauss, that's a major issue. He said a lot of the estimates and expectations are off and now are being readjusted to fit a new landscape. "Most of the analysts didn't factor in $40 to $30 barrels of oil into their models."
He said the general perception that
technology stocks were not cyclical allowed people to overvalue them, instead of treating them like automakers. You see, automakers trade lowest when sales are good, because the market prices in the cyclical nature of the automotive industry. And in technology, many people felt that they weren't subject to cyclical pressures and never adjusted P/E ratios to accommodate for the down times.
Strauss also said that the slowing economy and higher input costs (things like energy prices needed to keep businesses going) have kicked off new concerns over P/E ratios. Now, investors are fleeing technology.
"The economy isn't growing as fast as it was, you've got higher input costs, and more importantly, the market should be moving downward, historically speaking at this junction," Strauss said. "It should seek a lower sales to earnings, price to earnings ratio. That's unfolding now and unfortunately, it's doing it in a very violent fashion."
Market Internals
Internals were terrible today, so bad that it's kind of difficult to explain
exactly
how bad the numbers really are.
It's scary to think that just about 70% of all the stocks on the
New York Stock Exchange lost money today. And on the Nasdaq, the picture's almost the same. Scary stuff. Like seeing Burt Reynolds in a love scene with Estelle Getty. Really scary stuff.
New York Stock Exchange: 767 advancers, 2,143 decliners, 1.4 billion shares. 36 new 52-week highs, 220 new lows.
Nasdaq Stock Market: 1,119 advancers, 2,964 decliners, 2.1 billion shares. 21 new highs, 497 new lows.
Back to top
Most Active Stocks
NYSE Most Actives
Home Depot: 66.6 million shares. Lucent (LU) : 40.9 million shares. Motorola (MOT) : 34.3 million shares.
Nasdaq Most Actives
Intel (INTC) : 97.2 million shares. Cisco (CSCO) : 76.3 million shares. Dell (DELL) : 45.6 million shares.
Back to top
Sector Watch
Throw a rock and chances are you'll hit any type of industry that took a major thrashing in the American market today. Pick a sector, any sector. To make things easier, we'll just put things in alphabetical order.
File under "I am a loser": airlines, bankers, biotechnology, boxmakers, brokers, chipmakers, cyclicals, dot-coms, e-tailers, financials, forest and paper, online brokers and bankers, retailers, telecommunications and transports.
File under "I am a big loser": Internet plays.
TheStreet.com Internet Sector
, DOT for short, continued to hemorrhage, dropping 6.2%, led by
Yahoo!
(YHOO)
,
America Online
(AOL)
and
Amazon.com
(AMZN)
. The DOT's more-specific kin were also dreadful with both hitting 52-week lows.
TheStreet.com E-Commerce Index
dropped 6.7%, while
TheStreet.com E-Finance Index
dropped 7.1%.
File under "I am in a parking lot wearing no shirt, drinking canned orange soda in front of a convenience store": Retailers were the biggest market losers today, following the horror show from
Home Depot
(HD)
. The
S&P Retail Index
fell 7.7%, hitting 52-week lows.
And the only companies in the winner's circle were commodity-related stocks. The
American Stock Exchange Oil & Gas Index
rose 1.7%, while the
American Stock Exchange Natural Gas Index
rose 1.6%. The
Philadelphia Stock Exchange Oil Service Stocks
rose 2.6%, while the
Philadelphia Stock Exchange Gold & Silver Index
rose 5.4%.
Back to top
Bonds/Economy
Treasuries recouped early losses and moved into positive territory following reports of escalating violence in the Middle East.
Bond and note prices starting moving sharply off their lows shortly after 9 a.m., when news services started reporting that Israeli helicopter gunships were firing on the West Bank and that Palestinian President Yasir Arafat's headquarters in Gaza had been attacked. Arafat was reportedly unhurt.
As the world's safest and most liquid asset,
Treasury securities typically rally in response to reports of international strife. Short-maturity Treasuries, which are the most liquid, have benefited the most in today's action.
The bond rally is occurring in spite of the fact that oil prices spiked in response to the news. Because they are potentially inflationary, rising oil prices normally cause alarm in the bond market. Today, demand for safety and liquidity is trumping oil in the setting of bond prices.
The benchmark 10-year
Treasury note, down as much as 9/32 earlier, lately was up 2/32 at 100 7/32, dropping its yield to 5.722%.
Back to top
International
Tech and telecom stocks were leading European stocks were mixed at the end of the day, after expectations of a rebound in the U.S. this morning.
London's
FTSE 100
was up 14.30 to 6131.90.
The
CAC 40
in Paris was 34.58 higher to 5990.70, while the
Xetra Dax
in Frankfurt fell 105.09 to 6456.54.
The euro was falling again after seeing some mild strength in recent days, lately lower to 0.8624.
The major
Asian equity markets ended mixed Thursday, as investors in Japan stepped in to buy some oversold technology stocks, but in South Korea and Taiwan tech shares continued tumbling lower.
In Tokyo, the
Nikkei 225
closed up 37.1, or 0.2%, to 15,550.7.
In Tokyo trading, the dollar traded fractionally down to 107.63 yen. The greenback was lately trading at 107.59 yen.
Elsewhere, South Korea's stock market looked like it might recoup part of its 5.3% loss from Wednesday in early trade, but after all was said and done the
Kospi
index ended down 22.5, or a further 4%, to 534.7.
Taiwan's
TWSE
index fell 235.5, or 3.9%, to 5805.0, as big chipmakers continued to feel the pain and the government reinstated the market's normal limit for a maximum 7% fall per day. Hong Kong's
Hang Seng
index fell 52.2, or 0.4%, to 15,074.8.
Back to top