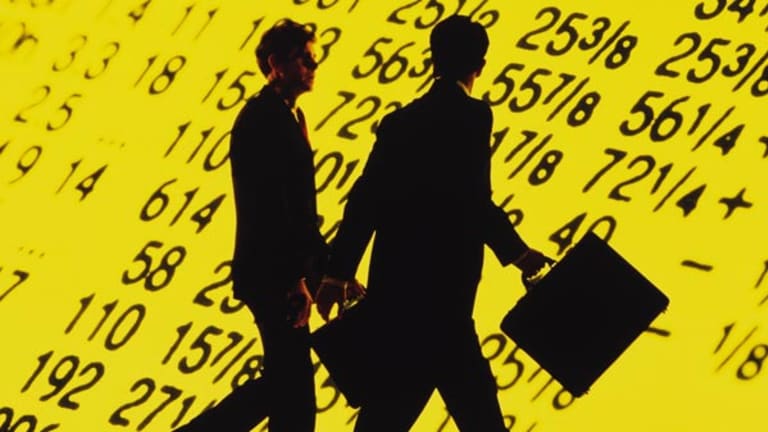 Today's Market: Microsoft, AOL, Nokia Reversing Market's Fortunes
<LI>One day after wild ride, stocks rising higher.</LI> <LI>Nokia reports robust earnings.</LI> <LI>Apple disappoints.</LI>
Stocks look set to win back at least some of what was lost yesterday.
What exactly are investors celebrating? You can bet it's not the 13th anniversary of the 1987 stock market crash. Yup, 13 years ago today.
The party is being thrown for earnings. And some good ones. Finally.
After the worst pre-announcement season this year bit a black hole in stocks during September and October, investors have been hoping this earnings season would bring some happy surprises. And some stock buying. With the pace of economic growth slowing, investors are worried about how much corporate earnings are slowing in synch.
Last night, some of the market's biggest technology and telecom names reported great numbers, including software and computer application mammoth
Microsoft
(MSFT)
, Internet king fisher
America Online
(AOL)
and telecom biggie
Nokia
(NOK)
.
Computer makers have been getting whipped of late on fears of a slowdown in PC demand, so the positive outlook for that business from Microsoft should help investor sentiment today.
TheStreet.com
took a look at Microsoft's numbers and its outlook for future quarters in a
separate story.
As should positive analyst comments on Microsoft and a
Bear Stearns
upgrade on
Sun Microsystems
(SUNW)
. Sun reported
strong earnings on Wednesday.
The
Dow Jones Industrial Average was up 52 to 10,029. The
Nasdaq Composite Index was up 161 to 3332. And the
S&P 500 moved up 21 to 1363.
Still, computer-maker
Apple
(AAPL)
did not impress, coming out with
earnings lower than already lowered forecasts. That's gotta hurt, especially when you¿re the CEO or an investor.
TheStreet.com
took a look at Apple's earnings in a
separate piece .
We can't forget that yesterday's action had some folks wondering whether the markets had hit a bottom. The blue-chip
Dow Jones Industrial Average tanked over 400 points at the open, and the tech-heavy
Nasdaq Composite Index fell more than 200 points, but both indices rebounded robustly and ended down only moderately for the day. The trading session had exorbitant volume and high volatility.
TheStreet.com's
Dan Colarusso took a look at how the earnings party was crashed by some
rude guests who dragged down the market.
Whether or not a swift upward kick at the open today will hold is another question.
Nokia's
report of strong cell phone handset sales should give a boost to the telecom sector today since concern over a slowdown in this area has put immense pressure on telecom stocks since early September. Many of Nokia's competitors had earlier predicted slowing growth in the mobile-phone market and diminishing margins, but some analysts say Nokia has more credibility in the market. Nokia's profits for the period rose 43% to 1.34 billion euros ($1.13 billion), well above analysts' expectations of around 1.10 billion euros. Earnings per share increased to 0.19 euro compared with 0.14 euro a year ago. Nokia's net sales increased by 50% to 7.58 billion euros.
The big earnings reports that come out today include
BellSouth
(BLS)
,
Coca-Cola
(KO)
and
McDonald's
(MCD)
. For a complete list of the S&P 500 companies that are reporting earnings today, see
TheStreet.com's
earnings
calendar.
Elsewhere, there is a parade of
Federal Reserve guys speaking today. The king of them all, Chairman
Alan Greenspan speaks at 9:10 a.m, when he addresses a
Cato Institute
conference on Monetary Policy in the New Economy. Investors always have one ear open to catch whether he says anything new about the economy.
Back to top
Bonds/Economy
The benchmark 10-year
Treasury, which has been seeing its price driven higher as investors have been seeking safety from turbulent equity markets, was flat at 100 13/32, yielding 5.694%.
Back to top
International
European markets were getting a lift from strength in telecom stocks following Nokia's earnings. Tech stocks were also rising.
London's
FTSE 100
was up 55.60 to 6203.80.
The
CAC 40
in Paris was up 117.43 to 6054.78, while the
Xetra Dax
in Frankfurt was 105.21 higher to 6588.21.
The beleaguered euro steadied after the ECB decided to leave interest rates unchanged. The euro was lately trading at 0.8414.
The major
Asian equity markets closed lower Thursday, as technology shares in Taiwan experienced a particularly nasty drop.
Amid political uncertainty at home and lacking support from Wall Street, Taipei's
TWSE
index plummeted 351.0, or 6.5%, to 5081.3. Many stocks dropped the market's daily maximum of 7%.
Tokyo's
Nikkei 225
erased early gains to drop 61.4, or 0.4%, to close at 14,811.1
In Tokyo trading, the dollar traded down to 107.90 yen. The greenback was lately trading higher to 108.08.
Elsewhere, Hong Kong's
Hang Seng
index fell 36.0, or 0.3%, to 14,422.5, as banking heavyweight
HSBC
(HBC)
fell HK$2.00, or 1.9%, to 105.00 ($13.47) and
China Mobile
(CHL)
rose HK$0.70, or 1.4%, to 49.70.
Back to top