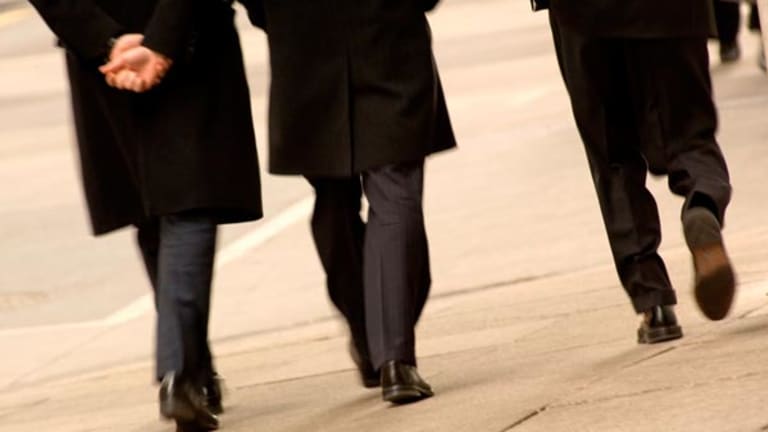 Today's Market: Major Indices Bathed in Red at Midday; Warnings Continue to Raise Doubts
Last night's announcement from Dell isn't instilling much confidence today.
Stocks haven't been able to muster any enthusiasm today as major indices surrendered to selling pressure. Another bout of earnings warnings, and especially a high profile tech company, kept a cloud of worry hanging over the market today.
The
Nasdaq Composite Index and
Dow Jones Industrial Average spent minimal amounts of time in the green this morning before both slipped into the red.
Amid a number of concerns currently weighing on the market -- the largest of which is the upcoming earnings season -- it didn't take much for yesterday's modest gains to evaporate. "I'm not quite sure yesterday's rally is to be believed. Internals were still showing selling," said Pat Dwyer, head of institutional sales at
Cantor Fitzgerald
, noting yesterday's negative breadth, particularly on the Nasdaq.
The number of declining stocks was 2,140 as compared with 1,874 advancing stocks on the Nasdaq. A dismal 281 stocks hit new lows while a mere 35 stocks scored new highs.
Dwyer said he thinks the Nasdaq needs to test the lows of the year before it can put in a bottom, referring to the May 24 intraday low of 3042. "The Composite went from 5000 to 3000 and then we had a 50% retracement off the low. We need to retest those lows before we can put in a bottom."
Another troubling sign for Dwyer is the low level of the
Chicago Board Options Exchange Volatility Index
, or VIX, which he says he watches carefully. Traders use the volatility index to gauge the market's anxiety level. The VIX rises when put option buying increases on options on the
S&P 100
, or OEX. A put option gives the purchaser the right but not the obligation to sell a security for a specified price at a certain time. For contrarians, low readings on the VIX are bearish, while high readings are bullish. During the April selloff, the VIX spiked as high as 41.53.
The low level "signals complacency in the marketplace. You need volatility to expand and a very heavy volume day or two on the downside to put the bottom," in this market, said Dwyer.
If the parade of earnings warnings from high profile companies continues the same way, that visit to the bottom could happen soon.
Dell
(DELL) - Get Dell Technologies Inc Class C Report
became the latest company to join the line-up of techs warning about a shortfall in third-quarter earnings.
Dell was lately down 8.7%, after saying last night that slower sales growth could dent profits in the third and fourth quarters. See
coverage from
TheStreet.com
for more details. Other box makers were feeling the pain with
Gateway
(GTW)
sliding 6.5% and
Compaq
(CPQ)
off 9.5%.
In a sign of just how jittery the market is lately, even the stocks with good news are getting socked. Take
Micron Technology
(MU) - Get Micron Technology, Inc. (MU) Report
, which handily beat fourth-quarter estimates last night. Today
ABN Amro
cut its price target on the stock to 100 from 120, saying semiconductor chip prices are bottoming out at lower levels.
Lehman Brothers
and
Sanford Bernstein
stood by their ratings and price targets but investors were only focusing on the bad news. Micron was lately off 10.8%, along with more modest weakness in the chip sector.
"It's really not a good-looking market," said Ricky Harrington, chief technical analyst at
Wachovia Securities
in Charlotte, N.C. "The Nasdaq is down 20% in the last 23 days or so. One stock after another responds negatively to any kind of news it seems. We're now entering the peak period for earnings and have to very cautious," he said, adding he thinks there has been an increase in pessimism.
"Any rally will be one to two days in duration but it will probably be disappointing. There has been a slight shift to more pessimism but not nearly enough to warrant thinking we are nearing the end of this correction," said Harrington.
The Dow was a mixed bag today with some defensive issues such as
Procter & Gamble
(PG) - Get Procter & Gamble Company Report
and
Johnson & Johnson
(JNJ) - Get Johnson & Johnson (JNJ) Report
showing strength. The consumer products sector got a boost from an upgrade by
Merrill Lynch
analyst Heather Murren on several bellwether stocks.
Retail stocks were hanging near breakeven after several disappointing same-store sales reports from companies including
Gap
(GPS) - Get Gap, Inc. (GPS) Report
and
J.C. Penney
(JCP) - Get J. C. Penney Company, Inc. Report
.
Market Internals
Breadth was negative, particularly on the Nasdaq on moderately heavy volume.
New York Stock Exchange: 1,162 advancers, 1,420 decliners, 632 million shares. 36 new 52-week highs, 45 new lows.
Nasdaq Stock Market: 1,508 advancers, 2,064 decliners, 946.4 million shares. 35 new highs, 136 new lows.
Back to top
Most Active Stocks
NYSE Most Actives
Lucent (LU) : 17.1 million shares. America Online (AOL) : 14.6 million shares. TNPC (NPW) : 14.9 million shares.
Nasdaq Most Actives
Dell : 77.9 million shares. Intel : 27 million shares. Worldcom (WCOM) : 25.7 million shares.
Back to top
Sector Watch
Weakness in Dell was spreading to the rest of the PC maker sector as The
Philadelphia Stock Exchange Computer Box Maker Index
tumbled 4.6%.
Concerns about chip prices weighed on Micron and the broader chip sector, with the
Philadelphia Stock Exchange Semiconductor Index
off 2.4%.
Oil and gas stocks were under pressure after a dip in oil prices when U.S. energy firms snapped up the national reserves offered by the government. The
American Stock Exchange Oil & Gas Index
was down 1.3% while the
Philadelphia Stock Exchange Oil Service Index
was off 1.7%.
Meanwhile transports and airline stocks got a lift on the news with the
Dow Jones Transportation Index
up 0.7% and the
American Stock Exchange Airline Index
up 2.1%
The
S&P Retail Index
was slightly lower, after mixed reports on same-store sales.
Back to top
Bonds/Economy
Treasuries are little changed on little news on the day before the release of the September
employment report, the most important economic report to roll around each month.
There are no major economic reports today, although at 2 p.m. EDT the
Federal Open Market Committee will release the minutes of its Aug. 22 meeting.
At its most recent meeting on Tuesday, the FOMC
cited the still-high level of labor-force utilization -- a.k.a. low unemployment rates -- as its main reason for maintaining its aggressive posture on interest rates.
The employment report will provide the latest readings on unemployment, with possible implications for monetary policy. In August, the regular unemployment rate stood at 4.1% and the
augmented unemployment rate -- the measure preferred by the Fed -- stood at 6.9%.
The benchmark 10-year
Treasury note lately was up 2/32 to 98 31/32, to yield 5.888%.
Back to top
International
European stocks pulled back following a
surprise interest rate hike from the European Central Bank this morning, though most indices remained in the green.
Reuters
survey of economists showed that 34 of 48 had expected the ECB to keep interest rates unchanged at its meeting this week. Earlier, equity prices remained stable after the
Bank of England
left Britain's interest rates unchanged at 6%.
A weaker outlook for the U.S. market was also putting pressure on European markets.
In London, the
FTSE 100
was lately up 22.30 to 6357.20.
Across the channel, the
CAC 40
in Paris was up 10.87 to 6307.00, while the
Xetra Dax
in Frankfurt was up 14.73 to 6838.16.
The euro was squeezing out some slim gains, lately up to 0.8782.
TheStreet.com
recently looked at what
ails the euro.
Heartened by the Nasdaq's recovery, most of
Asia's major stock markets ended in positive territory Thursday.
Japan was the major exception, as the
Nikkei 225
closed down 49.8, or 0.3%, at 16,099.3. Dell's earnings warning weighed on the shares of
Sony
(SNE) - Get SONY GROUP CORPORATION SPONSORED ADR Report
and
NEC
(NIPNY)
.
In Tokyo currency trading, the dollar rose against the yen to 109.40 yen from 108.74 yen Wednesday. It was lately trading at 109.27.
Other Asian markets were lifted by buoyant technology shares following the Nasdaq's rebound. Hong Kong's
Hang Seng
index rose 305.8, or 1.9%, to finish at 16,184.7; Taiwan's
TWSE
index rose 31.7, or 0.5%, to end at 6029.7; and South Korea's
Kospi
index closed up 8.4 points, or 1.4%, to 606.8, despite a surprise move by the central bank to hike interest rates by 25 basis points to 5.25%.
Back to top