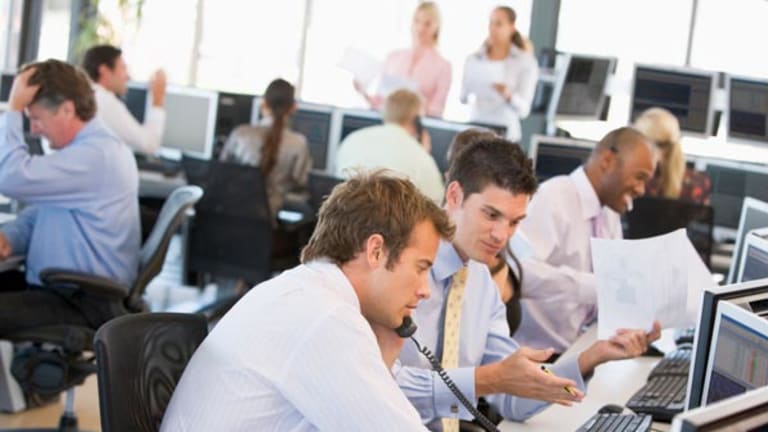 Today's Market: Leave the Wasteland for Teens, Views are Green for Stocks
<LI>Financials are bolstering the markets.</LI> <LI>National Semiconductor dragging down chip stocks.</LI>
"Who let the dogs out?"
Sure, the top 40 staple is so cloying and terrible it makes the "Macarena" look like "Baba O'Reilly," but it's a fairly apt question to ask at midday, while the
Dow Jones Industrial Average has triple-digit gains and the
Nasdaq Composite Index up solidly in the green.
Today, the Dow looks set to make this its four straight day of gains, led higher by a wide majority of its components.
J.P. Morgan
(JPM) - Get JPMorgan Chase & Co. (JPM) Report
and
General Electric
(GE) - Get General Electric Company (GE) Report
were two of the best gainers.
The Nasdaq, if it finishes in the green, will end higher for the third day in the four sessions since it hit what might turn out to be bottom of 3026, a low for the year, last Wednesday. It was being led higher by telecommunications, wireless and computer peripherals.
"That bottom looked good to me," said Paul Cherney, a market analyst with
S&P MarketScope
. "I've got a positive bias in place for the next five to ten trading days."
Cherney said that markets should do pretty well in the next two weeks because all the bad news, in terms of companies warning about earnings, has passed. And now, with many of the companies having actually reported their third-quarter earnings, markets have calmed down substantially. "We're in something of a sweet spot," he said, citing the
Chicago Board Options Exchange Volatility Index
. The index, known as the VIX, tracks the amount of volatility in the market by creating a ratio between market calls (a bet that markets will improve) and market puts (a bet markets will fall), as an example of this new calm.
Last week, while the Nasdaq plummeted, the VIX, was near the 40 level, within a few points of its 52-week-high. That's a pretty scary level for investors to see, meaning in the most general fashion, that a whole lot of people think the market will go down and are looking to sell.
That's not to say that things are going great guns for everyone. Just look at
marchFIRST
(MRCH)
, which fell 55.6% after
missing third-quarter estimates. In the past 52 weeks, investors have beaten this stock in ways that'd leave the fine folks of Salem, Mass. standing there breathless. At one point, this company, which helps companies develop Internet brands and business models, sat at $81.13, its 52-week-high. As of press time, it was off $6.56 to $5.25. Yikes!
Market Internals
Internals had a leg up on losers, while volume stayed moderate.
New York Stock Exchange: 1,553 advancers, 1,113 decliners, 620.4 million shares. 37 new 52-week highs, 59 new lows.
Nasdaq Stock Market: 1,938 advancers, 1,677 decliners, 973.5 million shares. 56 new highs, 61 new lows.
Back to top
Most Active Stocks
NYSE Most Actives
Nasdaq Most Actives
Back to top
Sector Watch
Chemical companies in the
S&P Chemical Index
have reacted badly this autumn, taking a 11% hit since Sep. 6, now off fully one third from their high of the year. Today, however, the chemicals were bubbling and brewing another day of solid gains, taking yesterday's rally and extending it another 4.5%.
Paper stocks in the
Philadelphia Stock Exchange Forest & Paper Index
rose 5%.
Tech names were largely higher, except for the chipmakers, that is. They've experienced severe turbulence in the last few months, slipping to 52-week-lows from 52-week-highs. The
Philadelphia Stock Exchange Semiconductor Index
was last off 5.5%, following big hits in
Applied Materials
(AMAT) - Get Applied Materials, Inc. Report
,
Lattice Semiconductor
(LSCC) - Get Lattice Semiconductor Corporation Report
and
Novellus Systems
(NVLS)
.
National Semiconductor
(NSMA)
was helping drive the sector lower after it
warned after the close yesterday that earnings in the second and third quarters may be below first-quarter levels.
Computer peripherals, wireless and telecommunications stocks were having great days. Financials, which include brokers, bankers and insurers, were also doing quite well, with the
American Stock Exchange Broker/Dealer Index
, the
Philadelphia Stock Exchange/KBW Bank Index
and
S&P Insurance Index
, which track various parts of the financial industry, all with gains in excess of 2%.
Back to top
Bonds/Economy
After three days of gains, the bond market has pulled back this morning. Investors are less motivated to move to safe investments since recent unrest in the Middle East seems to be easing.
The benchmark 10-year
Treasury note opened lower at 100 27/32, and was down 13/32 to 100 24/32, pushing its yield higher to 5.648%.
BTM Weekly U.S. Retail Chain Store Sales Index
(
definition |
chart ) fell 0.2% in the week ending October 21 after a 0.5% rise in the previous period.
Back to top
International
European markets were moving steadily higher.
The
FTSE 100
in London was up 122.5 points to 6428.4.
The
CAC 40
in Paris was up 141.4 to 6323.7, while the
Xetra Dax
in Frankfurt was 203.1 higher to 6824.
The
euro was lately trading down to at 0.8367.
The major
Asian equity markets closed higher Tuesday, as technology shares in South Korea and Taiwan jumped, while most Japanese investors remained on the sidelines.
In Tokyo, shares remained under pressure ahead of the release of some big-name earnings. The
Nikkei 225
closed up 50.2, or 0.3%, at 15,148.2.
In Tokyo trading, the dollar slipped 0.62 to 108.33 yen. The greenback was lately trading down to 108.06.
Hong Kong went its own way Tuesday, as the
Hang Seng
index fell 176.4, or 1.2%, to 14,925.9. Internet and telecom company
Pacific Century CyberWorks
(PCW)
tanked 11.5% to HK$5.75 ($0.74) and
China Mobile
(CHL) - Get China Mobile Limited Sponsored ADR Report
fell HK$1.50, or 2.9%, to 50.75.
Back to top