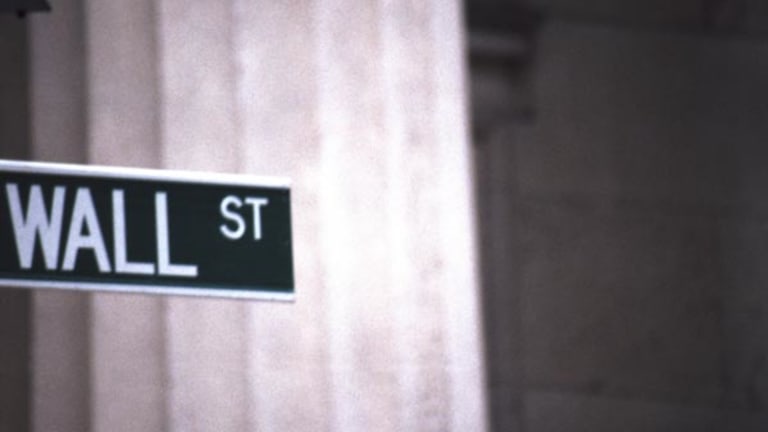 Today's Market: Jobs Report a Friend to Stock Market; Most Major Indices End Higher
<LI>Dow bolstered by H-P, IBM, Wal-Mart.</LI> <LI>Downgrades hit Yahoo!, PepsiCo.</LI>
(
Updated from 4:04 p.m. EDT
)
The market went to work on a rally after a feel-good
employment report
set the tone in the early going. Investors bought up stocks that had been bludgeoned earlier this week by earnings warnings and cautious analyst comments.
The
Nasdaq Composite Index rose 62.65, or 1.6%, to 4023.22, off the session high of 4054.05. Today saw the first move above the
4000 mark since June 22. Meanwhile, blue-chips took the
Dow Jones Industrial Average 154.51, or 1.5%, to 10,635.98.
The
S&P 500 sailed up 22.23, or 1.5%, to 1,478.90, while the
Russell 2000 rose 4.9, or 0.9%, to 528.22.
Today's weaker-than-expected
nonfarm payrolls report can be tagged as the market's saving grace, following a tough week of up-down action. "Investors are giving a positive reception to today's jobs data," said Tony Cecin, manager of Nasdaq trading at
U.S. Bancorp Piper Jaffray
. "It's a good launch for the day after a week where there wasn't a lot of decisive action."
"There had been some growing concerns that the
Fed was scrutinizing the economic data more closely," said Dan Ament, associate vice president and investment executive at
Dain Rauscher
in Minneapolis. "The concern is now diminishing slightly." Though Ament said the tame numbers were not exactly a surprise, they did provide a degree of relief and a feeling that the end of the tightening cycle will come sooner rather than later. "We've also built up some cash on the sidelines. The market would like to move higher," he said in reference to the upside today.
"People are fishing for a reason to do something. Give them an excuse to move up or down and they'll do it," said Adam Wagner, president of
Wagner Hermann & Herbst
in Houston. "All the numbers are exactly what we want," he said of the recent economic data.
To no one's surprise, this morning's numbers had many of the financial stocks faring well. Even the stocks that fared poorly managed to turn it around by the end of the day. The
American Stock Exchange Broker/Dealer Index
flipped around before ending the day mildly higher, up 0.6%.
Merrill Lynch
(MER)
which had weighed heavily on the index for most of the day ended down just 3/4 to 123 1/4.
Goldman Sachs
(GS) - Get Goldman Sachs Group, Inc. Report
did an even better job of reversing its downside, ending up 1 3/4 to 94 15/16.
Merrill said it might
let go some 2,000 employees, or 3% of its total workforce, from the brokerage division.
Banks were up, with the
Philadelphia Stock Exchange/KBW Bank Index
2.6% higher.
Computer makers felt a comeback after taking heat this week due to earnings warnings from software makers such as
Computer Associates
and
BMC Software
(BMCS)
.
The
Philadelphia Stock Exchange Computer Box Maker Index
bounced 4.6%, powered by
IBM
(IBM) - Get International Business Machines Corporation Report
, which rose 3.3%, and
Hewlett-Packard
(HWP)
, up 5.6%.
Cyclicals Not En Fuego
But today's data did little to help out cyclical stocks, which have their earnings tied to the business cycle.
Alcoa
(AA) - Get Alcoa Corporation Report
, which struck an intraday 52-week low of 27 1/4 as investors considered the impact that a slowing economy would have on big industrial names.
International Paper
(IP) - Get International Paper Company Report
turned around and moved up 11/16 to 31 7/16.
"If you're looking at relative earnings growth in a slow economy, they're the ones that get hit the worst," said Brian Gilmartin, portfolio manager at
Trinity Asset Management
.
But the
numbers weren't quite cool enough to convince economists or the market that the Fed is definitely done hiking interest rates, and exuberance remained measured.
The June jobs report detected the smallest gain in total payrolls in years, but that was due in large measure to the disappearance of some 200,000 temporary Census jobs. Private payrolls grew strongly. Even so, the pace of private-sector job growth has slowed, from an average of 202,000 a month last year to an average of 177,000 a month so far this year.
The unemployment rate came out in-line with expectations of 4.0% versus 4.1% in May, while average hourly earnings were also in line at a 0.4% rise versus May's 0.1% rise.
"Wage gains were a little strong and people are concerned about its impact on inflation," said Jim Benning, a trader at
BT Brokerage
.
TheStreet.com Internet Sector
index got hit today after
Deutsche Banc Alex. Brown
downgraded several dot-coms, including bellwether
Yahoo!
(YHOO)
,
Fairmarket
undefined
and
Safeguard Scientifics
(SFE) - Get Safeguard Scientifics, Inc. Report
, citing pullbacks in ad revenue and dot-com spending. Yahoo! was 4.8% quieter, while the DOT lost 18.19, or 2.2%, to 807.11.
E-business company
BroadVision
(BVSN) - Get BroadVision Inc. Report
also tanked, falling 25.4%, after losing a contract with
AMR's
(AMR)
American Airlines
to
Art Technology
(ARTG)
.
Semiconductors continued their upswing, meanwhile, after
Banc of America
initiated coverage on a bunch of semiconductor companies with buy ratings, including
Applied Materials
(AMAT) - Get Applied Materials, Inc. Report
. This is another plus for semiconductors after several brokerages came out in their defense yesterday. Salomon Smith Barney's bearish comments left the sector all beat up Wednesday. The
Philadelphia Stock Exchange Semiconductor Index
climbed 3.7%.
A Miss Is as Good as a Mile
So how long will today's data keep the good times rolling on Wall Street? According to some insiders, it will be all about earnings come Monday. "Right now, we are seeing optimism that the Fed won't be raising rates," said Peter Boockvar, equity strategist at
Miller Tabak
. "But Monday, we'll be turning our attention to earnings."
On the earnings-warning front, contact lens maker
Ocular Sciences
(OCLR) - Get Oclaro, Inc. Report
fell slipped 5/16 to 12 after it warned it sees second-quarter earnings below estimates, saying a takeover battle disrupted operations.
Airborne Freight
(ABF)
also announced expectations of an earnings-estimates miss. The company said its second-quarter earnings would be between 20 cents and 30 cents a share, below the 13-analyst estimate of 44 cents.
Meanwhile,
PepsiCo
(PEP) - Get PepsiCo, Inc. Report
lost 3.3% after
Salomon Smith Barney
downgraded the stock to outperform from buy saying that continued expansion of revenue is unlikely. Salomon did raise its price and earnings estimates for the company, however.
On the bright side, said Adam Wagner, the worst of the warnings should be over by now. "We're pretty much through the earnings warning season. If
my companies are going to warn, they better have done it by now," he said. "I'm expecting good to great news out of them," he said.
Overall, the major proxies enjoyed a solid, if shorter, week. The Dow gained 1.8% in the latest week, while the Nasdaq Composite rose 1.4%. The S&P 500 sailed up 1.7%, while the Russell 2000 tacked on 2.1%. The DOT was a notable exception, sliding 4.1%.
The
American Stock Exchange Composite Index
added 0.1%. the
Dow Jones Transportation Average
popped 5.3% and the
Dow Jones Utility Average
rose 3.7%.
Market Internals
Breadth was positive on decent volume.
New York Stock Exchange: 1,807 advancers, 1,086 decliners, 933 million shares. 78 new 52-week highs, 35 new lows.
Nasdaq Stock Market: 2,085 advancers, 1,831 decliners, 1.44 billion shares. 84 new highs, 70 new lows.
Back to top
Most Active Stocks
NYSE Most Actives
Motorola (MOT) : 15.6 million shares. Compaq (CPQ) : 15.3 million shares. Lucent (LU) : 15 million shares.
Nasdaq Most Actives
Back to top
Sector Watch
Biotechs performed well, with the
Nasdaq Biotechnology Index
up 2.4%.
Sectors were looking better across the board, with insurance gaining some ground. Earlier in the session,
Met Life
(MET) - Get MetLife, Inc. Report
traded up to a 52-week-high of 22 1/16.
The
S&P 500 Insurance Index
rose 2%.
Retailers were snapped up, with
Home Depot
(HD) - Get Home Depot, Inc. Report
and
Wal-Mart
(WMT) - Get Walmart Inc. Report
among the Dow biggest movers. Home Depot added 8.1%, while Wal-Mart rose 7.6%.
"The sector really got whacked in the second quarter," said Gilmartin. "Like all sectors though, the market is differentiating from the winners and losers. Wal-Mart and Home Depot are retailers with continued good fundamentals."
The
S&P 500 Retail Index
climbed 6.2%.
Back to top
Bonds/Economy
Treasury prices are higher across the board, but the shortest-maturity issues are performing best, as traders interpret the June jobs report to mean that the Fed is unlikely to hike interest rates in August.
While most of the weakness in the June employment report was concentrated in the government sector, where some 200,000 temporary Census jobs disappeared, the 12-month average pace of private-sector job growth in June -- 191,000 -- is the lowest in more than four years.
At the
Chicago Board of Trade
, where
fed funds futures are listed, traders lately were discounting 34% odds of a 25-basis-point hike in the
fed funds rate on Aug. 22, down from 54% yesterday.
Accordingly, the shortest-maturity Treasuries, which are most directly influenced by the fed funds rate, are the best performers today. The two- and five-year Treasury yields have moved to their lowest levels since April, while longer-maturity issues are merely making up ground they lost yesterday.
The benchmark 10-year Treasury was up 7/32 to 103 16/32 to yield 6.014%.
Back to top
International
European markets managed to close out the trading session all on the upside.
London's FTSE moved higher to end up 77.90, or 1.2%, to 6497.50. Across the channel, Frankfurt's Xetra Dax finished 74.76 higher, or 1%, to 7025.85, while the Paris CAC closed up 112.00, or 1.7%, to 6565.97.
The euro was lately trading higher at $0.9469.
Following the Nasdaq's action yesterday,
Asian investors bargain hunted for shares of chip makers overnight, erasing most of the losses seen in the previous session. Still, investors in Tokyo remained cautious ahead of the weekend meeting between the
Group of Seven
finance ministers and the upcoming policy board meeting by the
Bank of Japan
on July 17.
The
Nikkei 225
index rose 115.87 points to 17,398.24,
In Tokyo currency trading, many investors were scrambling to cover their short positions and the greenback edged higher against the yen. It closed at 107.52 yen. It was recently trading at 107.83.
Hong Kong's
Hang Seng
index rose 340.37 points, or 2.1%, to 16,829.96 largely on a telecom rally.
Back to top