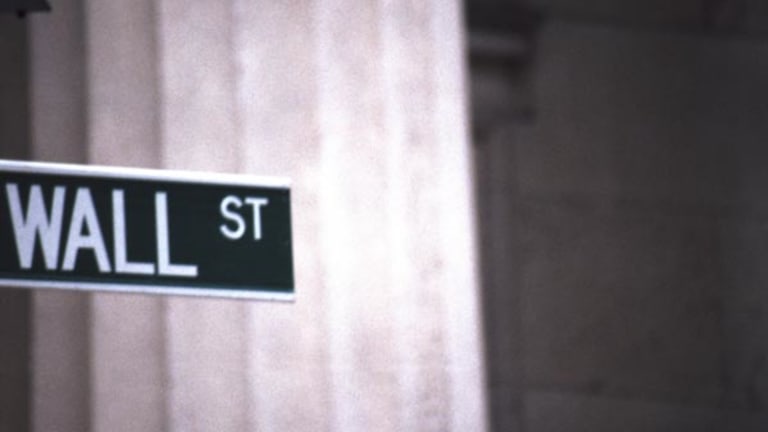 Today's Market: It's an AC/DC Kind of Market -- Highway to Hell!
<LI>Dow nearing 10,000, Nasdaq also way lower.</LI> <LI>Teradyne falling 30% and dragging tech with it.</LI> <LI>Semiconductors sinking.</LI>
Good to okay to bad to worse -- triple play! Everyone is out!
When the roosters were crowing this morning, the market looked calm. Things looked decent, with futures up a little bit before the markets opened and a flood of earnings news hitting the market like free beer in a frat house. And when everything got sorted out a half-hour into trading, the
Dow Jones Industrial Average looked a little sick, while the tech heavy
Nasdaq Composite Index was woozy and trying to find its feet.
The Dow rushed to a session high of 10,293 around 9:40 a.m. EST, ten minutes into the trading day. At the same time, the Nasdaq was already coming off its session peak of 3348. And you just know that the morning isn't going to go too well when the words "session high" and "9:40 a.m." appear in the same sentence. Soon after, both were mired in losses.
The Dow was getting killed by a few retailers and a broker, but the real culprit behind the Dow's move lower is a broad weakness in the blue-chips. Sure
Hewlett-Packard
(HWP)
,
Disney
(DIS) - Get Walt Disney Company Report
,
Home Depot
(HD) - Get Home Depot, Inc. (HD) Report
and
J.P. Morgan
(JPM) - Get JPMorgan Chase & Co. (JPM) Report
added 70 points to the Dow's dark side, but with only seven of the 30 industrials throwing ballast to the positive side, there's a lot of negative vibration out there.
Push B to go to the bottom. The Nasdaq is on the express elevator to hell, opening at session highs and falling steadily after that.
This is a test. Friday's remarkable rise, when it jumped 7.8%, is being severely battered today as a veritable smorgasbord of technology-related sectors have taken a nosedive. The only tech-related sector that's in the green today is biotechnology, and that's been weakening steadily as the lunch hour gets going in New York. The semiconductors have really hurt a wide variety of tech names, all of which need chips to survive. Boxmakers (read that as computer makers) that use chips in personal computers, are down. Computer peripheral makers, wireless plays and telecommunications companies, all of which need chips to make new products, are also lower.
Eddie Laux, head trader at
ABN Amro
, said: "There's more carnage in the tech sector," he said, stating the painfully obvious, answering an easy question before turning to the hard one of which culprit touched off today's wave of negativity. "
Teradyne
(TER) - Get Teradyne, Inc. Report
. That's the call. That's the catalyst for today's move down." Teradyne was lately off 30%.
Today, as
TheStreet.com
reported in a separate story, Teradyne
beat earnings estimates for its third quarter, coming in at 84 cents a share, better than the 83-cent average expected from analysts polled by
First Call/Thomson Financial
. But that wasn't enough for investors, who aren't all that impressed with earnings these days.
And it certainly doesn't help that along with the good news, Teradyne gave a helping of bad, warning about its fourth quarter. The company dropped its guidance for next quarter's expected earnings per share to 66 cents from 90 cents. Also, the company said that sales would come 2% to 4% lower next quarter than previously announced. These notes, coupled with the already rampant fear that growth in the technology sector is slowing, drove technology even lower.
Laux said the earnings disappointment is made even greater when considering the not-too-distant days of earnings blowouts. "These are companies that at one time were absolutely blowing out earnings and are now coming in saying that things are slowing down."
Laux said that the impact of a series of rate hikes by the
Federal Reserve, high oil prices and
euro woes have all crept into the market, slowing things down in older business varieties. This general downturn will continue to test these markets, especially when at the times when it attempts to recover.
"I think more and more people think that the economy is slowing," he said. "The Nasdaq rally on Friday will be tested and new lows will be tested again."
Back to top
Market Internals
Breadth is pretty bad, meaning that the number of stocks declining is far outpacing the number of stocks that are rising today. Note that volume on both was solid, and losers, well, the losers are out in full force, cleanly beating the winners. Here's a quick brush up on how things looked at midday.
New York Stock Exchange: 831 advancers, 1,843 decliners, 576.9 million shares. 30 new 52-week highs, 137 new lows.
Nasdaq Stock Market: 1,118 advancers, 2,560 decliners, 978.1 million shares. 21 new highs, 222 new lows.
Back to top
Most Active Stocks
NYSE Most Actives
Nasdaq Most Actives
Back to top
Sector Watch
It must be nice to be a biotechnology stock, at least in recent days. With the markets largely negative, the biotechs put together a third-straight day of gains. The
American Stock Exchange Biotechnology Index
rose 1%, regaining some of an October slide and making headway towards 811.6, a 52-week high reached on Sept. 25.
Oil service stocks in the
Philadelphia Stock Exchange Oil Service Index
rebounded, gaining 1.4%, after dropping over the past two sessions.
Schlumberger
(SLB) - Get Schlumberger NV Report
was a big leader in the turnaround after announcing
third quarter earnings that beat the street. Schlumberger gained 2.6% to $81.94.
And that's that for the two notable winners at midday. The losers are gaining more attention.
The semiconductors in the
Philadelphia Stock Exchange Semiconductor Index
, known as the SOX, continued to get pummeled, falling 10.1%. This move comes after
Micron Electronics
(MU) - Get Micron Technology, Inc. (MU) Report
was cut by a
trio of analysts,
Applied Materials
'
(AMAT) - Get Applied Materials, Inc. Report
price target
was dropped by
Credit Suisse First Boston
and
Novellus
(NVLS)
said its earnings were in line,
but it did not exceed expectations.
Tech, as a whole, was mired in the red. Telecommunications, big cap tech, computer peripheral makers, wireless and box makers were all much lower. A wide cross section of industries related to semiconductors fell. Telecom stocks were down, while the
Morgan Stanley High-Tech 35
fell 3.5%. The
American Stock Exchange Disk Drive Index
fell 4.7%, while the
Philadelphia Stock Exchange Computer Box Maker Index
fell 3.6%.
One day after rallying, the dot-coms were far lower so far today.
TheStreet.com Internet Sector
fell 5.6%, while
TheStreet.com E-Commerce Sector
fell 5.2% and
TheStreet.com E-Finance Sector
fell 4%.
Back to top
Bonds/Economy
Mideast concerns continue to dominate trading in bond markets.
The bond market has largely ignored the latest U.S.
industrial production
(
definition |
chart |
) data and prices are flat to modestly lower.
Industrial output for September rose 0.2% in September after a revised 0.4% gain in August, generating further evidence that the economy is slowing in line with the "soft-landing" theory. In the third quarter, output rose only at a 2.8% annual rate. In the prior period, the annual rate of growth was a strong 8.2%.
Following the data, the 10-year note was off, but recent stock market woes have sent investors to a safer haven. It was lately up 17/32 at 100 20/32, yielding 5.673%. The 30-year bond was up 24/32 at 106 29/32, yielding 5.761%.
Back to top
International
Major
European markets were lower.
London's
FTSE 100
was lately 82.50 to 6203.20.
The
CAC 40
in Paris was 20.89 lower to 6067.15, while the
Xetra Dax
in Frankfurt was off 63.42 to 6563.83.
The euro continued lower, lately trading down to 0.8505.
The major
Asian equity markets closed lower Tuesday, amid continuing concern over events in the Middle East and a renewed bout of weakness for the region's technology shares.
Tokyo's
Nikkei 225
closed down 172.1, or 1.1%, at 15,340.2.
In Tokyo trading, the dollar was trading higher at 108.15 yen from 107.85 yen Monday. It was lately trading at 108.13 yen.
Elsewhere, South Korea's stock market got hammered as
Hyundai Electronics
plummeted nearly 15%, after reporting third-quarter earnings. The
Kospi
index tanked 37.3, or 6.8%, to 512.9. In Hong Kong, the
Hang Seng
index fell 99.9, or 0.7%, to 14,873.4, as
China Mobile
(CHL) - Get China Mobile Limited Sponsored ADR Report
fell HK$0.50, or 1%, to 50.75 ($6.51).
Back to top