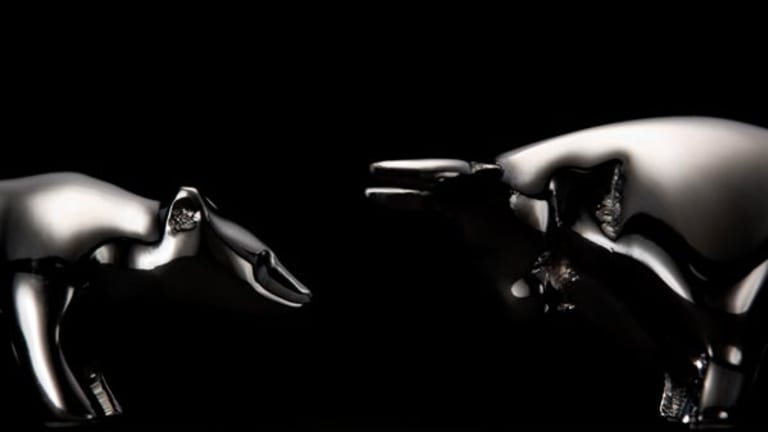 Today's Market: It's a Red-Alert Friday Morning
More warnings lead to selloff so far today. A weak jobs report hasn't helped matters.
(Updated from 10:17 a.m.)
Wall Street aggressively hacked away at the gains racked up by the market yesterday, as investors -- already unconvinced by yesterday's record-breaking rally -- didn't take kindly to this morning's weak
jobs report
. A spate of earnings warnings yesterday following a brief lull in such announcements didn't help sentiment either.
Selling cut deep into the major indices at the open, but initial losses were lately holding steady rather than accelerating. The
Dow was recently off 165.23 to 9752.82, the
Nasdaq Composite Index was falling 59.10 to 1725.90 and the
S&P 500 was off 21.02 to 1130.42. Volume was feather light, and breadth was stinky. Decliners were beating advancers by 19 to 7 on the Nasdaq Composite, and by 17 to 6 on the NYSE, or big board. Gold stocks and utilities were two of the few sectors on the upside, and even then, gains were meager. Chip stocks were the worst-performing sector, again, after
The dreary jobs report didn't keep some Street folks from looking for a silver lining. Indeed,
Merrill Lynch
put out a report this morning saying that the jobs figures would encourage the Federal Reserve to step up its interest-rate cut schedule, even though Fed officials have tipped their hat that intermeeting rate cuts aren't high on the agenda.
In the note, Merrill says, "We believe this report will pressure the Fed to move and increases the likelihood the Fed will ease next week," said the report. "Recent remarks have been they did not want to ease until May . . . . We would look for a 50 (basis point) cut possibly next week."
The
jobs report showed a steep drop off in payrolls in March, with the major drag in the services sector, typically an important source of new jobs. Farm payrolls fell 86,000 in March; they were expected to rise by 58,000. New nonfarm payrolls grew 135,000 in February. Strength in average hourly earnings, which rose 0.4% on the month, is also a negative because it suggests that the economy could slip into "stagflation" -- a nasty combination marked by sluggish growth and rising prices. Unemployment ticked up to 4.3% for the month, however, right in line with expectations.
Last night's earnings disappointments came from optical-networker
Sycamore Networks
(SCMR)
, switchmaker
Extreme Networks
(EXTR)
, and technology services company
Agilent Technologies
(A)
among others.
Sycamore said third-quarter results
would fall below targets, citing weak customer orders. The company also projected a one-time restructuring charge of about $140 million to $150 million due to costs incurred by layoffs of about 140 workers. Extreme also slashed forecasts for its fiscal third quarter, amid "weak economic conditions." It, too, said it would take restructuring charges and make job cuts. Agilent also warned.
Underscoring the uncertainty in this market regarding the economy, earnings and where stocks will bottom, Brian Finnerty, head of trading at
C.E. Unterberg Towbin
said "I'm afraid to buy stocks, and I'm afraid to short."
The trader doesn't think the Dow and Nasdaq will hit new lows today, but he also said there was no way to be certain. "That would break the back of this market. But then again, it could. This market could do that."
Finnerty said a lot of investors were waiting around to buy the dips yesterday, but gave up when there were none. Perhaps those buyers are picking up stocks now, and helping to minimize this morning's losses.
The bulls and the bears are still locked in mortal combat, and the past few weeks have seen some violent swings in stock prices. But catalysts for continued gains are sorely lacking.
With almost a week past since the end of first quarter, yesterday's bulls may have been hoping that all the warnings were done with -- that all the bad news was out. But that is far from clear. The timing of a recovery in earnings and the economy is still uncertain, and the pros say some clarity on a turnaround is what this market needs most.
The depth and breadth of recent selling and the momentum of yesterday's rally indicated to some that it may have been a bear market rally led by short-covering. Short-covering is aggressive buying by investors who
short stocks. Investors short stocks when they think they are going to go down. If those borrowed shares make a sudden move to the upside, the shorts rush in and "cover" their positions, or buy back the shares before they get too expensive and incur major losses.
Still, the bulls say yesterday's bounce is at least an indication that the market may have
successfully retested its lows and is finally beginning to build a bottom. Investors sold stocks furiously during March and the first few days of April, and some think the market can't go any lower. The Nasdaq is now 65% off its highs of last March; the S&P 500 is down 25% and the Dow is down 15%.
The Dow rose 402.62, or 4.2%, Thursday, its second-biggest point gain ever. The
S&P 500 gained 4.4%, and the
Nasdaq Composite soared 8.9%, its third-largest percentage gain ever. The rally was fueled in part by an announcement from PC maker
Dell
(DELL)
, which said it expected to meet lowered first-quarter earnings targets, as well as by a lack of any new earnings warnings from market bellwethers. Unfortunately, Dell's announcement didn't tell investors anything about its earnings picture going forward.
Back to top
Bonds/Economy
The bond market stormed higher this morning following the release of a weak jobs report and on expectations that equities will sell off. The benchmark 10-year
Treasury note lately was up 14/32 to 100 22/32, yielding 4.910%.
Back to top
International
Optimism in Europe over Wall Street's rally on Thursday faded early on with an earnings warnings from software company
Autonomy
undefined
. As midsession approached, the major European indices were posting middling losses. London's
FTSE 100
was off 32.3 to 5589.5. Across the channel, the Paris
CAC 40
was losing 7.8 to 5150.8, and Frankfurt's
Xetra Dax
was 11.5 lower to 5761.8.
The euro was lately trading at $0.8941.
Asian markets had mixed success at sustaining gains. Tokyo closed just above the flatline, marking its fourth-straight up close, while stocks in Hong Kong surged as they played catch-up after a holiday Wednesday. Japan's
Nikkei 225
rose 2.4 to 13,383.8. Hong Kong's
Hang Seng
rose 322.9 to 12,386.6.
The dollar was trading at 124.5 yen.
Back to top