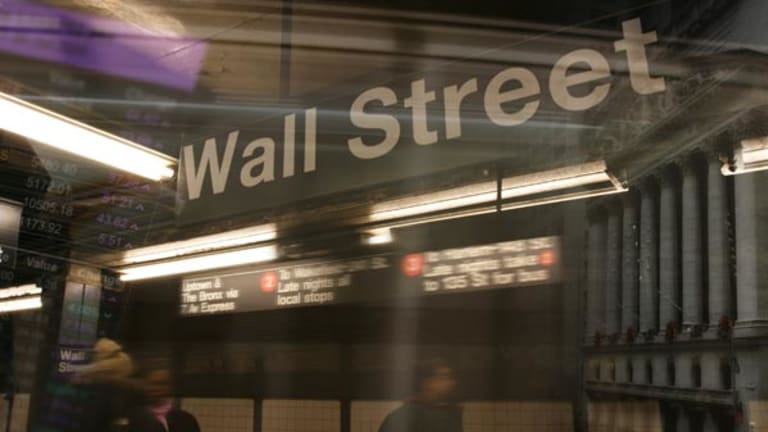 Today's Market: Investors Peel Stocks Off the Mat
<LI>Chip stocks tumble even lower.</LI> <LI>Applegate lowers S&P earnings outlook.</LI> <LI>Lowe's helps propel retailers higher.</LI>
After trading lower on all-too-familiar themes -- a fresh batch of profit warnings and continued evidence of an economic slowdown -- the major stock market averages have sprung back this afternoon.
Market experts are saying, however, that stocks are moving higher simply because the market has been beaten up so badly of late. To be sure, there's little news sparking the optimism. "It's still smarting from last week's selloff and searching for direction longer term," said Peter Coolidge, managing director of trading at
Brean Murray Foster Securities
.
Today's rebound comes just days after the
Nasdaq Composite Index sunk to lows last seen more than two years ago. In recent action, technology gains in Internet, networking, and software sectors were being offset by losses in semiconductor and computer hardware groups. In the
Dow Jones Industrial Average, retail, cyclical, and transport stocks advanced at the expense of drug and financial issues.
Rumors that the
Federal Reserve might reduce interest rates before its next official meeting on March 20 took hold late Friday, helping to break a four-day losing streak on the Nasdaq. Still, most market pros doubt the rate-cut theory and have instead attributed this afternoon's upturn to a bounce back from oversold conditions.
Over the past few weeks, nary a day has gone by without a major profit warning. Today is no exception.
Texas Instruments
(TXN) - Get Texas Instruments Incorporated Report
cut its fiscal first quarter revenue outlook this morning, saying the U.S. economic slowdown was hurting demand. The maker of computer chips for cellular phones said that it expected revenue to fall about 20 percent from the $3.03 billion it posted in its fiscal fourth quarter. This was Texas Instrument's second warning for the first quarter.
This morning, Joseph Kalinowski at earnings tracker
First Call/Thomson Financial
issued a report that says his company has collected 490 total pre-announcements already for the quarter, which is five times the amount First Call collected this time last year. Of those pre-announcements, 321 are negative for the first quarter compared to only 46 collected at this time a year ago.
Lehman Brothers'
Jeffrey Applegate says the market hasn't found the bottom yet. His cautious words support his thesis that "we're in a profits recession at best, a full-blown recession at worst." In a research report today, Applegate reduced his 2001
Standard & Poor's 500 aggregate earnings per share growth forecast to $54. That's a decline of 4% from $58.50, which would have been an increase of 4%. Applegate cut the aggregate 2002 earnings forecast for the S&P 500 components to $61 from $66. The revised figure would represent an increase of 13% from 2001. Applegate is one of the most bullish analysts on technology
Despite its news today, Texas Instruments was down just 0.3%, in large part because the communications chip group has been badly beaten in recent days. On Friday,
Motorola
(MOT)
warned that sales of mobile phones would drop below 500 million this year, down from its previous forecasts of 525 million to 575 million phones. That roiled the tech sector.
Merrill Lynch
this morning cut its 2001 earnings estimates on Texas Instruments to a range of 95 cents to $1 from $1.11. "We are concerned that low end demand could cause a reaccumulation of inventories not just in the first quarter but the second quarter as well," Merrill said in a research note.
Lehman Brothers
slashed its fiscal 2001 earnings estimate on memory chipmaker
Micron Technology
(MU) - Get Micron Technology Inc. Report
to 35 cents per share from $1.25 per share and cut its 2001 estimates on
Cypress Semiconductor
(CY) - Get Cypress Semiconductor Corporation Report
to $1.80 from $2.20, citing a decline in pricing and profit margins.
Micron Technology dropped 4.7%, while Cypress was 1% higher. The
Philadelphia Stock Exchange Semiconductor Index
fell 2.3%.
On a positive note in the world of tech, wireless communications giant
Qualcomm
(QCOM) - Get QUALCOMM Incorporated Report
reaffirmed that fiscal second-quarter demand for its Code Division Multiple Access (known as CDMA) circuits is in line with previous forecasts. Its stock price plunged 19% on Friday amid profit worries. In afternoon action, Qualcomm was down 2%.
Within the broader market, consumer goods maker
Procter & Gamble
(PG) - Get Procter & Gamble Company (The) Report
was off 6% after saying its earnings in the second-half of 2001 would be lower than expected. The culprit? Overseas sales are being impacted by the devaluation of the Turkish lira. The company has been hit in past months by slowing sales and currency problems.
Home-improvement shops were in tip-top shape at the midday mark, after
Lowe's
(LOW) - Get Lowe's Companies Inc. Report
raised it earnings target for 2001 and said that it plans to open more than 100 stores during the year. Lowe's tacked on 8.7%, while its rival
Home Depot
(HD) - Get Home Depot Inc. (The) Report
added 8%. Both companies have warned in previous months that business was being hurt.
But the latest round of economic news could be a disappointment to the home improvement retailers. This morning's
existing home sales report showed that home sales for January dropped 6.6%, to 4.65 million units. Economists had expected sales of 4.98 million.
The
S&P Retail Index
, which tracks the entire retailing sector, was ahead 3%.
Market Internals
Back to top
Most Active Stocks
Back to top
Sector Watch
Hammered on profit concerns last week, mobile-phone makers were back in black today. Shares of
Nokia
(NOK) - Get Nokia Corporation Sponsored American Depositary Shares Report
were up 4.4%, having been downgraded by the likes of
Goldman Sachs
, Lehman and Merrill last week. Nokia was also the most active stock on the
New York Stock Exchange. Competitor
Ericsson
undefined
was ahead 3%. The
Nasdaq Telecommunications Index
was up 1.3%.
Airline stocks were soaring after the U.S. Supreme Court upheld a ruling that a pilots union and two of its officers must pay $45.5 million to
AMR's
(AMR) - Get Alpha Metallurgical Resources Inc. Report
American Airline unit for refusing to cease an illegal sickout in 1999. In recent action, AMR was up 4.7% and the
American Stock Exchange Airline Index
was up 2.1%.
Oil service stocks were trading higher. The
Philadelphia Stock Exchange Oil Service Index
was up 3.6%, with component
Schlumberger
(SLB) - Get Schlumberger N.V. Report
ahead 7%. Last week,
Merrill Lynch
upgraded the stock to intermediate-term buy from accumulate, saying that it expects oil service stocks to perform well in 2001.
Back to top
Bonds/Economy
Treasury prices were up across the yield curve, representing further expectations for additional interest-rate cuts from the
Federal Reserve. There's very little news otherwise, as the market gears up for several pieces of important economic data due later this week.
In recent weeks, Treasuries have been firming in response to weakness to stocks, as investors move their money from riskier assets like stocks to safer assets like Treasury securities.
Lately, the 10-year Treasury note was up 8/32 to 99 13/32, yielding 5.078%.
Today's only economic release was the January
existing home sales data, which showed a 6.6% decrease on a seasonally adjusted annual basis. The pace of existing home sales fell to 4.65 million in January from a revised 4.98 million rate in December.
Tomorrow the market will get two important pieces of data, January
durable goods orders and the
Consumer Confidence Index, published by the
Conference Board
. Thursday brings the release of the
National Association of Purchasing Management's
purchasing managers index for February.
Back to top
International
European markets were mixed. Telecom and tech stocks were rebounding from last week's losses, but financials were dragging on London's
FTSE
. After hitting a 16-month low Friday, the FTSE finished off 27 to 5916.7. Across the channel, markets fared better, with Paris'
CAC-40
ending up 92.3 to 5415.1 and Frankfurt's
Xetra Dax
-- still trading -- up 106.9 to 6182.3.
The euro was lately trading at $0.9096.
Asian markets slugged lower overnight. Weakness in telecom heavyweight
China Mobile
weighed on Hong Kong's
Hang Seng
index, which fell 50.33 points to 15,230. In Tokyo, weakness in tech stocks was partly countered by strength in bank shares, but the
Nikkei 225
still finished lower, off 44.86 points to 13,201.14.
The dollar was trading at 116.53 yen.
Back to top