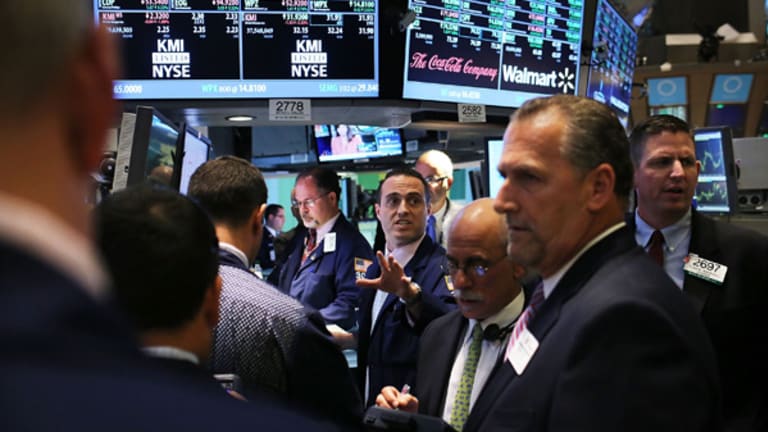 Today's Market: Investors Make Tentative Moves Ahead of Fed Decision
<LI>Network Appliance drops on concerns about slower sales growth.</LI> <LI>Sunbeam defers credit payments, banks feel fallout.</LI>
(Updated from 9:30 a.m. EST)
A day after stocks charged back from their recent selloff, investors were feeling more tentative.
Network Appliance
(NTAP) - Get NetApp, Inc. Report
was an early loser after being downgraded by
Bear Stearns
this morning because it forecast slower sales growth for coming quarters. Bear Stearns lowered its rating on the company to attractive from buy.
The market has a lot of other events to wade through today. The
Federal Open Market Committee meets to decide on the direction of interest rates, and there is
another
key presidential election deadline this afternoon. Also, a highly anticipated earnings report from semiconductor-maker
Applied Materials
(AMAT) - Get Applied Materials, Inc. Report
will be released after the close.
A drag today might be financials, as concerns about bad credit grow. This morning,
Goldman Sachs
cut its earnings per share forecasts for
Bank of America
(BAC) - Get Bank of America Corp Report
. And household consumer-products giant
Sunbeam
(SOC)
said it would be deferring payment on its credit pact from November until April.
First Union
undefined
took a
beating Tuesday on talk it had non-performing loans. One of the suspected non-performers was Sunbeam. Along with
Bank of America
(BAC) - Get Bank of America Corp Report
and
Morgan Stanley Dean Witter
(MWD)
, First Union lent a total of $1.7 billion to Sunbeam in March 1998.
Yesterday, the
Nasdaq Composite Index won back 171.55 points of its four-day 488 point loss and scrambled back above the 3000 mark. The blue-chip
Dow rose 163.81 points to 10,681.06 after losing 435 points over that same period on concerns about the election uncertainty. This morning, the major indices were staying pretty close to unchanged. The Dow was 10 lower to 10,670, while the Nasdaq was essentially unchanged at 3138. The
S&P 500, which tracks the borader market, was down 1 to 1382.
Three-digit rallies without any follow-through seem to have become the norm on Wall Street in the past few months.
Yesterday's rally was a snapback -- part relief over a bit of elections resolution and part optimism about today's Fed meeting. Some positive comments from analysts on equity valuations helped.
Goldman Sachs'
bull of bulls
Abby Joseph Cohen
yesterday said equity valuations are the most attractive they've been all year. And
Merrill Lynch's
Christine Callies raised her recommended equities allocation to 60% from 55%.
But there is no certainty on any of these fronts, and it doesn't seem like anything has
really
changed. Economic data continue to show the pace of economic growth is slowing. Tuesday's retail sales number revealed a less steep consumer slowdown than market observers initially expected, but it was a substantial slowdown nonetheless.
Wall Street is still worried about a falloff in capital spending on telecom and computer equipment.
Hewlett-Packard
(HWP)
, which surprised the Street with an earnings miss two days ahead of schedule Monday, said demand for its products remained strong. But the company partly blamed falling profit margins, which might suggest the company has been forced to slash prices.
And there is really no resolution on the election front just yet. According to results certified last night by Florida's secretary of state, Bush won the state by a difference of 300 votes. But yesterday's court ruling left a window for counties to file supplemental vote recounts after the Tuesday 5 p.m. deadline. An appeals process has already been activated. And those much-touted overseas ballots haven't yet been counted.
Roaring attempts by investors to rally back have been endemic to the market in the past few months. Four of the Nasdaq's 10 biggest one-day percentage gains have happened in the past 30 days -- and none of them were sustainable.
Greenspan
So watch carefully for any words from the
Fed about inflation when it releases a statement today after its meeting. The statement, which gives an indication of how the policy-making body views the economic environment, is usually released at 2:15 p.m.
While no one is expecting the Fed to change interest rates, it is less certain what the committee will say about the risks of inflation going forward. Will it say the threat of inflation remains greater than that of recession? Or will it say that these risks are in balance? Investors are hoping for the latter, since that would be the first sign that Chairman Alan
Greenspan might consider cutting interest rates.
Whither Applied Materials?
Applied Materials, which releases earnings after the market closes today, was moving 3.8% higher this morning. There is some disagreement over whether Applied Materials will provide a positive or negative outlook for future earnings in the conference call after its earnings report. A report on the company from
Lehman Brothers
analyst E. White yesterday called speculation about a negative outlook premature. Official consensus estimates are for the company to earn 76 cents a share, though Lehman expects 77 cents a share.
On the other hand, some say the bad news has already been accounted for in the semiconductors' share prices. Applied Materials rose on Monday and Tuesday ahead of its earnings release, and the rest of the chip sector moved higher with it. The
Philadelphia Stock Exchange Semiconductor Index
has lost some 45% of its value between early September and the end of last week. It's been pressured by fears of slowing demand in the sector, evidenced by reduced spending at computer-makers and telecom companies, as well as by growing inventory at some of the semis.
AMAT, as the company is known in investing circles, recently saw its price target lowered by
Credit Suisse First Boston
for the second time in a month. CSFB cut the company's price target per share to $2.85 from $3.25. The securities firm earlier cut its price target to $3.25 from $3.75.
Back to top
Bonds/Economy
Bond prices were rebounding from yesterday's slide. The benchmark 10-year
Treasury note was recently up 7/32 to 100 2/32, yielding 5.742%.
Back to top
International
European markets were mixed, but having moderate gains around midsession.
The
FTSE 100
was rising 39.3 to 6452.20.
Over on the continent, the
CAC-40
in Paris was 54.15 higher to 6280.13 but the
Xetra Dax
in Frankfurt was down 49.57 to 6917.08.
The beleaguered euro was lately trading higher at $0.8599.
Asian
equity markets ended mixed, but yesterday's surging Nasdaq helped move the region's technology shares higher.
In Tokyo, the
Nikkei 225
closed up 139.1 points, or 1%, at 14,799.1.
In Tokyo currency trading, the dollar rose to 108.18 yen Tuesday. The greenback was lately trading at 108.58 yen.
Elsewhere, Hong Kong's
Hang Seng
index fell 50.1, or 0.3%, to 15,127.
Back to top