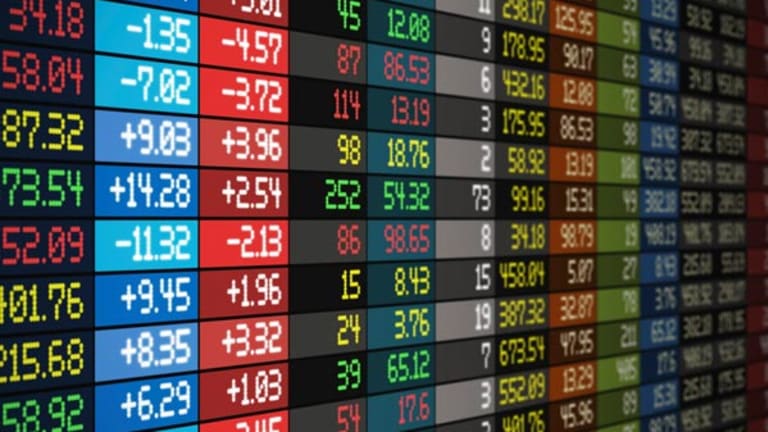 Today's Market: Investors Jump Start Nasdaq Off Latest Lows
<LI>Enron is latest to deny earnings miss rumor.</LI> <LI>Antec hit by AT&T problems.</LI> <LI>Quaker Oats loses another suitor.</LI>
(Updated from 9:04 a.m. EST)
The few investors on Wall Street today are gobbling up stocks at the open -- especially in the tech department. Some of the treats they're feasting on include
Sun Microsystems
(SUNW) - Get Sunworks, Inc. Report
,
Dell
(DELL) - Get Dell Technologies Inc Class C Report
and
Oracle
(ORCL) - Get Oracle Corporation Report
.
Certainly, the
Nasdaq can't help but have this snapback. After all, the tech-laden index hit a new 52-week low on Wednesday, falling 116.2 to 2755.3, and putting it 45% off of its March high. This morning, it was gaining 81 to 2836.
But with much of the country still on an extended holiday, and the trading session ending at 1:00 p.m. EST, volume should be emaciated.
Watch semiconductor maker
Xilinx
(XLNX) - Get Xilinx, Inc. Report
. It opened higher, but
ABN Amro
lowered its price target and earnings views on the company. The securities research firm lowered Xilinx's 12-month price target to $100 from $120 and slashed its first quarter 2001 earnings-per-share view to $1.31 from $1.35.
A bit of bounce on a shortened trading day doesn't mean a whole lot at this point. The Nasdaq is now officially in
bear market territory -- defined as 20% below highs. And all attempts at bounces in the past few months have sputtered miserably.
The
Dow isn't in such great shape either, and the
S&P 500, which tracks the broader market, may close down for the year for the first time in a long time. Both were gaining on the positive vibes following Thanksgiving. The Dow was up 60 to 10,458, while the S&P 500 gained 14 to 1336.
Still, there are two background themes that will continue to have an impact on the market as it struggles to hold on to whatever early gains are made today: There is still no closure about who will be the country's next president. And earnings worries still loom large.
The latter concern will probably stick with this market long after the elections mess is resolved. After last quarter's flurry of earnings disappointments, no one knows how much lower tech stock valuations need to go before investors feel comfortable putting cash back into the market.
Pre-announcement season -- when those companies that fear they won't be able to meet earnings targets let the market know they plan to disappoint -- is just around the corner. And a couple of rumors swirling in the market this week show that investor confidence in companies' ability to meet earnings targets has been sorely shaken. Already, two industrial bellwethers have had to deny rumors that they plan to issue profit warnings.
This morning it was diversified energy titan
Enron
(ENE)
. The country's biggest buyer and seller of electricity and natural gas said it was "very comfortable" with current consensus analyst estimates for the fourth quarter and next year. In a statement, the company said that it was responding to rumors of a potential profit warning. Enron was climbing 4.2%.
That follows the announcement Wednesday morning from diversified industrial mammoth
General Electric
(GE) - Get General Electric Company Report
, which has long been an old economy darling. GE denied rumors that it planned to announce an earnings miss for the coming quarter. Its stock fell 4% that day, anyway. It was up 2% this morning.
Elsewhere on the rumor mill,
Alcatel
(ALA)
was surging 14.3% this morning after denying rumors it plans to buy
CS Thomson
.
But it's hard facts that will hit telecommunications equipment maker
Antec
(ANTC)
today. It was off 33.9% after saying it was told by
AT&T's
broadband division to hold pending orders. ANTEC said the move would have an adverse impact on revenue and earnings.
And it looks like
Quaker Oats
(OAT)
isn't getting hitched any time soon. It was spurned a third time in three weeks yesterday when French yogurt and bottled drinks giant
Danone
ended its talks to buy the hot cereals and packaged foods company.
Pepsi
(PEP) - Get PepsiCo, Inc. Report
ditched a $14.8 billion offer earlier this month, and
Coca Cola's
(KO) - Get Coca-Cola Company Report
board dropped a $15.75 billion stock acquisition of the company earlier this week.
Back to top
Bonds/Economy
Bond prices were edging lower this morning. The benchmark 10-year
Treasury note was off 3/32 at 100 24/32, yielding 5.647%.
Back to top
International
European markets were bounding back from earlier losses by their midsession today.
In London, insurance and bank stocks brought the
FTSE 100
back to life at mid-morning. The blue-chip proxy opened down on weakness in software companies after losing 2.5% Wednesday. But as midday approached, the FTSE was up 40.30 to 6327.60.
Over on the continent, the
CAC-40
in Paris was up 96.70 to 6149.74 and the
Xetra Dax
in Frankfurt was 91.57 higher to 6692.57.
The beleaguered euro was sinking, trading down at $0.8432.
Asian equity markets closed mixed overnight.
In Tokyo, stocks the
Nikkei 225
added 14.04, or 0.10%, to 14,315.35.
The greenback jumped higher to 111.19 yen.
Hong Kong's
Hang Seng
index fell on weakness in telecom stocks, closing down 1.28% to 14,376.90.
Back to top