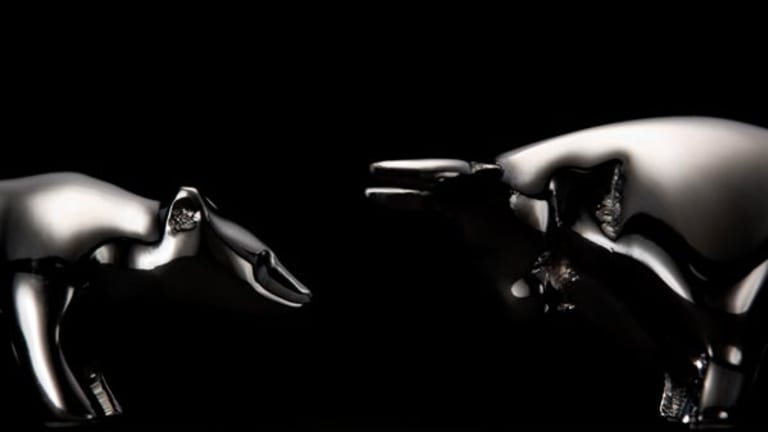 Today's Market: Investors Eat Dow for Lunch
The blue-chip index is stuck in bear territory, but has pared back some morning losses. Some traders suggest today's session could bring capitulation.
The blue-chip index is stuck in bear territory, but has pared back some morning losses. Some traders suggest today's session could bring capitulation.
The bears were munching greedily on the market this morning, having added the blue-chip
Dow to their trough of stock-market fodder.
The Dow was off its lows of the morning, but still down significantly. The
S&P 500 was adding to its recent losses, while the
Nasdaq Composite Index was edging higher. All three major indices are now deep in bear territory -- defined as 20% or more off an index's highs.
With trading volume thick as porridge and volatility spiking, some traders were forecasting a
capitulation -- but that's the second time they've called the bottom in two weeks. Capitulation is a momentous selloff that sends stocks so low they form a bottom and buyers come back in. It is usually marked by high volatility, high volume and intense fear.
More than 900 million shares were trading on the
New York Stock Exchange and 1.3 billion shares moved the Nasdaq. The market's fear gauge, the Chicago Board Options Exchange Volatility Index, or VIX, soared as high as 41.44 today. The VIX measures the implied volatility of certain S&P 100 options. Generally, the VIX rises when put option buying increases on S&P 100 options. That means, essentially, traders are willing to pay more money for OEX
put
options to protect themselves from any further market weakness. The 52-week intraday high for the VIX is 41.53, which it set on April 14, 2000.
"I think we're in the capitulation stage," said Tom Gallagher, head of U.S. equity sales and trading at
CIBC World Markets
, who predicted the market will see a reversal today that could turn into a three-week rally.
"Selling seems to have dried up on the Nasdaq and somewhat in the S&P 500. Tech stocks are the only ones getting anywhere. If they continue the move up, that will give confidence to investors." He was loathe to call a bottom, however, saying, "I haven't a clue and neither does anybody else."
Indeed, chip stocks and PC-makers were racking up gains today, and even a bunch of tech stocks that were hit by bad news were up. Software giant and Dow component
Microsoft
(MSFT) - Get Report
was rising despite a negative note out of
Goldman Sachs
this morning. Most analog and mixed-signal chipmakers were also moving higher even though
Lehman Brothers
issued a
negative outlook on the sector, saying the stocks are at least 50% overvalued.
Some very beaten down tech bellwethers were also getting a lift, including Internet media and advertising company
Yahoo!
(YHOO)
, fiber optics standout
JDS Uniphase
(JDSU)
, mobile phone giant
Motorola
(MOT)
and telecom equipment making leader
Nortel
(NT)
.
Just 10 minutes into the morning's trading, the blue-chip Dow crossed below the 9378 mark and into bear market territory, joining the Nasdaq and S&P 500. It continued the move down for most of the morning, but was attempting to recoup on the back of strength in tech blue-chips. Microsoft,
Intel
(INTC) - Get Report
and
Hewlett-Packard
(HWP)
were giving it around 43 points of upside.
Biotech, drugs, financials and retailers were the absolute pits, however. The
Nasdaq Biotechnology Index
was off 6.6%. And breadth stunk like an old fish sandwich, with decliners beating advancers by 5 to 1 on the
New York Stock Exchange and by 26 to 9 on the Nasdaq.
Based on earnings preannouncements in the PC sector, Goldman analyst
Rick Sherlund said he expects Microsoft to miss fiscal third-quarter consensus revenue estimates of $6.2 billion, but to make its own targets. Sherlund now sees the company coming in with revenue that's down 10% from the previous quarter. Worse, the analyst forecasts flat to down earnings for each of the next four quarters and flat earnings for fiscal 2002. That's bad news for an economy that is still hoping corporate profits will turnaround in the second half of this year.
Sherlund tempered his report by saying, "We believe investors may become more positive on the stock if, indeed, much of the bad news is now out." Investors have knocked the stuffing out of Microsoft over the past 16 months, leaving it $60 lower to around $50 a share. Microsoft was up 4.4% to $52.25.
The Nasdaq is now 64% off its high -- hit last March 10 -- while the S&P 500 is down 27% from its high. The
Federal Reserve's rate-cut disappointment on Tuesday hasn't boosted sentiment much. The market was hoping the Fed would chop rates by 75 basis points, but instead it got a reduction of just half a percentage point. Fed chairman
Greenspan and his team have now dropped interest rates by a full 1.5% since Jan. 3, putting short-term rates at 5%.
After weeks of aggressive selling in the stock market, some market pros began saying early this week that stocks looked oversold and were due for a bounce. All the bad news is finally out, they said. But other say that's too optimistic. There has been little indication of when the economy or the corporate earnings picture will turn around, and until that becomes clear it's hard to know how to value stocks. If earnings forecasts continue to slog lower with the force that they have in the past six months, stocks may take another beating.
Back to top
Market Internals
Back to top
Most Active Stocks
Back to top
International
European markets did a repeat performance of Wednesday with heavy selling into the close and three-digit losses on the major indices. Londons'
FTSE 100
fell 225.9, or 4.1%, to 5314.8. The Paris
CAC 40
was off 198.9, or 4.0%, to 4824.8. And Frankfurt's
Xetra Dax
, which is still trading, was down 214.8, or 3.8%, to 5407.3.
The euro was lately trading at $0.8873.
Tokyo's
Nikkei 225
gave back some of its impressive 7.49% gain from Wednesday. The Nikkei dropped 250.0, or 1.91%, to close at 12854.0. The market had jumped on Wednesday in reaction to the Bank of Japan's efforts to bring the nation's economy back to life, and trader's were not discouraged by the profit-taking. Hong Kong continued a major losing streak, however, ending at a new 17-month low. The key
Hang Seng
index fell another 532.6 points, or 4.05%, to 12621.6 over worries that the U.S. slowdown will infect Asia.
The dollar was much stronger on the yen, lately trading at 123.98 yen.
For more on the world stock markets, check out
TheStreet.com's
global indices information.
Back to top