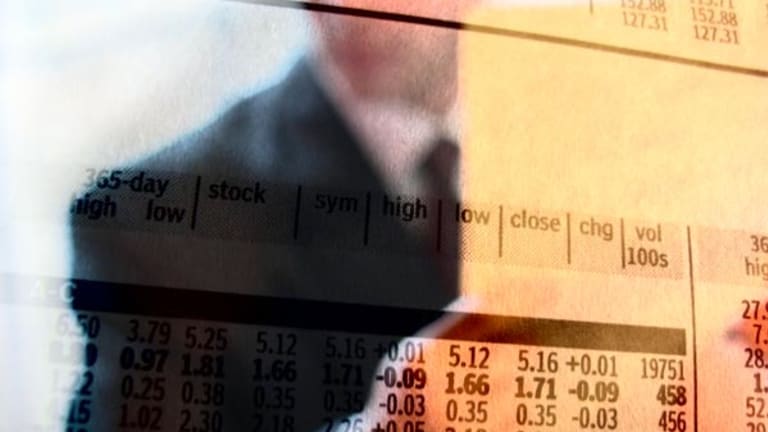 Today's Market: Inflation Concerns Send Dow Lower; Nasdaq Struggles to Stay Afloat
January's consumer price index numbers intensified inflation fears; markets had recovered some from the earlier selloff, but several high-profile stocks were hitting new lows.
Woody Allen's got bupkis on Wall Street today. A heavy dose of neurosis roiled traders, who were dealing with new economic data that leans towards inflation, more bad news from technology names and another analyst salvo at disappointing companies. The
Dow Jones Industrial Average took on a bunch of water (though it was lately off session lows), while the
Nasdaq Composite Index struggled to stay out of the watery depths.
The biggest news was that January's
came in above expectations, pointing toward a risk of inflation, just as last week's release of the producer price index did. The CPI came in with growth of 0.6%, much worse than the expected 0.3% growth and December's 0.2% growth. This means that the cost of things that consumers buy, from cat food to coveralls, went up in the month of January.
Now, let's take food and energy costs out of that equation, since, as the gas pump or the produce section can attest, these prices tend to fluctuate. Excluding veggies and fuel, the CPI showed 0.3% growth, above expectations and December's 0.1% growth. So, it appears that inflation may be a risk for the markets. But, it is worth noting that the CPI and PPI figures, released monthly, are considered to be somewhat fluky. The release of next month's data will give markets a better idea of an inflationary trend, if there is one there to be seen.
Really, the major fear is that inflation will combine with a stagnant economy, producing an effect known as stagflation. If stagflation is indeed a reality, then the combination of rising prices, zero growth and falling consumer sentiment would put the kibosh on any Wall Street attempt to rally in the near term.
The Comp was lately up 27 to 2346, but slumped to 2309 at one point during the early morning. Fears abound that the Comp could fall below 2251, its 52-week-low and a very important level, since investors who got burned the last time the Comp was at 2251 will be less likely to buy if it drops below that mark.
If current trading is any indication, market watchers have reason to smile, since it appears that the Comp has met some resistance: It is well off session lows. Could this be yet another bottom, or a harbinger of things to come? Patience, young Jedi -- time shall tell.
Someone cue the Elton John. "Don't let the
Sun Microsystems
(SUNW)
go down on..." Oops, too late. The stock fell 9.3% to $20.25, hitting a 52-week-low for the second-straight day after a
Merrill Lynch
analyst, Tom Kraemer, cut his rating on the stock to neutral from accumulate while scaling back earnings estimates.
Kraemer said that Sun's channel inventories were at a three-year-high and that the situation could get even worse, due in part to equipment returns from failed dot-coms. And to add insult to injury, those companies lucky enough to still be around have already blown their bucks on new servers and aren't likely to go shopping at Sun anytime soon.
Okay, so cue the Frank Sinatra. "But where are the clowns? Send in the clowns. Don't bother. They're here." Sun wasn't alone in that Wall Street gutter. Many of the most widely held companies hit new lows today, as investors shy away from technology names with limited visibility in a tough environment. Today's clowns:
Despite the "dead on arrival" status of many of the large-cap tech companies, there was a pulse in technology. Biotechs were higher, while semiconductors rallied. The
American Stock Exchange Biotechnology Index
gained 4.4%, while the
Philadelphia Stock Exchange Semiconductor Index
gained 6.2%, led higher by
Xilinx
(XLNX)
and
Advanced Micro Devices
(AMD)
.
Meanwhile, the Dow was lately down 6 to 10,724, led lower by
IBM
(IBM)
, profit taking after yesterday's rally in
Home Depot
(HD)
and
Wal-Mart
(WMT)
and stale news from
Coca-Cola
(KO)
.
The pop maker announced it would be taking its juices line, which includes the
Minute Maid
brand, and putting that with
Procter & Gamble's
(PG)
snack line to form
an entirely new company with sales in excess of $4 billion.
Analysts were not impressed with the move.
J.P. Morgan Chase
and
Goldman Sachs
both downgraded the company, questioning the need to spin off its juice line. Morgan cut the company to market outperform, while Goldie took Coke off its U.S. Recommended for Purchase List. Simply put, Coke was
not
it today, falling 6.3% to $54.81.
Market Internals and Most Active Stocks
If you've ever seen the teenagers in the parking lot of a liquor store on a Friday night, then you know losers when you see 'em. And, you also know exactly what market internals looked like -- tons of losers, moderate volume and a sickly air of desperation.
Hmm. The top three stocks on the Big Board all hit 52-week-lows today. The top two names on the Nasdaq Stock Markets did too. Looks like big losers were attracting a ton of attention today as people abort their positions.
Back to top
Sector Watch
Those wild and wooly Linux-related stocks got a bit of a goose last night when industry heavyweight
VA Linux
undefined
reported second-quarter earnings. The company pushed back profit goals by three whole quarters, slashed its workforce and named a new president and CEO. This shakes up one of the few companies willing to go toe-to-toe in the operating systems market with software giant
Microsoft
(MSFT)
and puts more pressure on the rest of the Linux-related companies.
Credit Suisse First Boston
analyst Amit Chopra cut the company's rating to hold from buy.
Lehman Brothers
analyst George Elling lowered his 2001 earnings-per-share estimate while reiterating his market perform rating and keeping the price target at $15.
W.R. Hambrecht
analyst Prakesh K. Patel also kept his rating on the stock, sticking to neutral, and scaled back revenue estimates to $29.4 million.
VA Linux fell 22.4%, pulling a bunch of the Linux names with it.
Red Hat
undefined
, which makes software for Linux, was one of those falling earlier, but it was lately unchanged. Meanwhile,
Corel
undefined
, another Linux waresmaker, fell 1.4%.
Back to top
Bonds/Economy
Treasuries are selling lower as the money market readjusts to some important economic data released this morning. But the overall movement of the notes and bonds should continue to respond to stock prices. Yields are almost the same as yesterday, though they have lately shown volatility at the market's short end.
The benchmark 10-year
Treasury note lately was down 12/32 to 98 27/32, raising its yield to 5.149%.
In economic news, the
(
definition |
chart |
) rose 0.6% for the month, up from a 0.2% growth in December and 0.3% more than economists polled by
Reuters
had anticipated. It is the highest jump since last March, when prices also rose 0.6%, the biggest increase since October 1990. The fears of inflation may be tempered a little because it was mainly a 17.4% increase in the price of natural gas that caused the sharper increase. Still, the core CPI, which excludes food and energy prices, also rose more than expected, by 0.3%; a 0.2% increase had been forecast.
In other news, both
import and export prices
(
definition |
chart |
) fell during December, by 0.7% and 0.8% respectively. The trade deficit, which fell by $32.99 billion, has now shrunk for the third consecutive month. Economists had expected the number at a negative $32.18 billion. However, for the year 2000, the deficit stood at a record $369.7 billion.
Real earnings
(
definition |
chart |
), which measure weekly wages after they have been adjusted for inflation, were unchanged for January after having declined by 0.3% in the previous month. The 12-month average is down by 0.5% after falling by 0.3% in December.
The
BTM-UBSW Weekly Chain Store Sales Index
(
definition |
chart ) rose by 0.9% for the week ended Feb. 17, moving along at a healthy clip after registering 0.8% growth in the previous week. The yearly moving average also rose to 4.1% from 3.4%.
The
Redbook Retail Average
(
definition |
chart ) for February is 2.4% ahead of the number recorded during this month last year. It is 0.5% below January's and 0.4% behind the targeted decline.
The overall message of sales activity is positive, with most retailers having beaten sales objectives. While some of the sales were of winter clearance items, Valentine's Day-related merchandise lured the majority of the shoppers.
Back to top
International
Technology concerns have gone global, evidenced in recent backtracking in London's
FTSE
. At the end of the European trading day, those tech woes were apparent. The FTSE was off 7.7 to 5972.4 as an upswing in drug makers was humbled by another day of losses for telecommunications stocks.
Vodafone
stumbled to near two-year-lows. Germany's
Xetra Dax
(still trading) slid 78.4 to 6373.2, while Paris'
CAC
dropped 74.4 to 5474.4.
The ever-lovin' euro traded at $0.9074, while the yen traded at 116.45.
And please, just don't look directly at the land of the rising sun. You'll burn your eyes.
Japan's
Nikkei
has performed so poorly in the last few months that it makes the Comp look like Robert DeNiro in a Scorsese film. Today, reeling in the wake of yesterday's 4% fall in the Comp, the Nikkei dropped 148.28, or rather 1.1%, 13,100.08, touching a 28-month closing low, turning the clock all the way back to October 15, 1998. Fear and loathing reigned supreme as spooked investors stay away from high technology because of profit warnings, general uncertainty and the terror of getting burned again.
Meanwhile, across the sea, the Hong Kong
Hang Seng
fell 175.85, or 1.1%, to 15,351.51. That's a five-week low for the index, which was still up on the year despite recent sell offs. Telecommunications stocks were the biggest losers, led by
China Mobile
.
Back to top