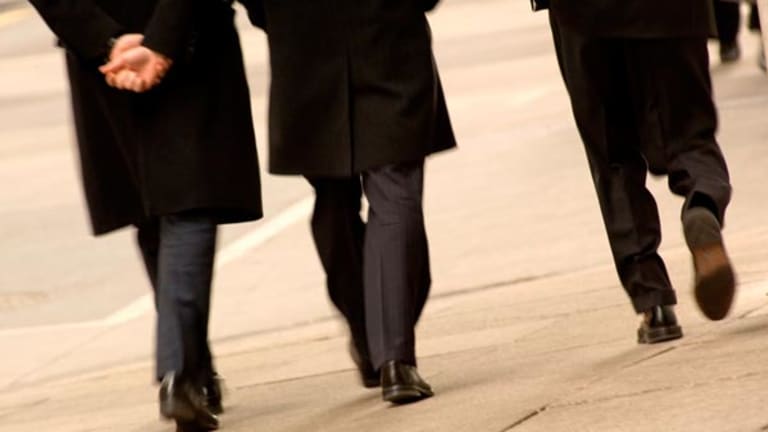 Today's Market: Indices Seek Direction
UBS Warbug's negative note on networkers puts drag on tech. Boosted by transportation, March's durable goods orders rose more than expected.
(Updated from 9:41 a.m. EDT)
After three days of pullback from a rip-roaring April rally, and as first-quarter earnings season progresses with mixed results, investors are uncertain about where to take stocks again today. A negative research note from
UBS Warburg
on several high-tech heavyweights was putting a wee bit of pressure on tech stocks.
The
Nasdaq was edging 7 points lower to 2010. The
Dow was up 44 to 10497, while the broad market
S&P 500 was adding 3 to 1213.
UBS Warburg dropped its ratings on networker
Cisco
(CSCO)
and had troubling things to say about
Juniper Networks
(JNPR)
,
Nortel
( NT) and fiber-optics giant
Ciena
(CIEN)
. Warburg reportedly said capital expenditure problems would be Cisco's biggest hurdle, with these budgets either drastically reduced or already spent on things like gear and software. The brokerage said that points to weakening trends for the rest of the year.
In early trading, Cisco was down 3% to $15.75; Juniper was down 5.7% to $53.62; Nortel was down 1.6% to $15.26; and Ciena was off by almost 5% to $53.91.
The March report on
durable goods
, released this morning, showed that orders for big-ticket items rose 3% in the month, well above the expected 0.6% gain. The jump in orders, however, was mostly due to strength in demand for transportation-related items. Excluding transportation items, orders actually fell 1.8%. Economists had been expecting a drop of only 0.5%. The durable goods orders report measures shipments and orders for manufactured goods like motor vehicles and appliances, or those items intended to last more than three years.
The manufacturing sector has been hit hard by the ongoing slowdown in the U.S. economy, so investors are watching it carefully for any indications of a turnaround. But the report is volatile, so this blip might not wow investors.
At 10 a.m., the market will also get a look at new and existing home sales for March. Housing is usually hit first in a slowdown and recovers last, but it has held up surprisingly well this time around. Economists expect new home sales to fall to 910,00 for the month from 911,000 in February. Existing home sales are expected to slip to 5.13 million from 5.18 million in February.
Wall Street is at a crossroads in deciding which direction it wants to take the market. Stocks flipped and flopped around the flatline for most of the trading day yesterday, only to sell off in late afternoon trading. The market might be just as wishy-washy today. Some market strategists think the major stock market indices have much further to fall, and that they could erase as much as half of gains tacked on in April. But others interviewed recently are encouraged that recent selling has been moderate, and they say the major indices should move up from their current levels.
Since last Thursday's close, the Nasdaq has junked 7.6% of its 33% 10-day surge. The blue-chip Dow has rubbed out 2.2% of its 11% rise, still leaving it above the key 10,000 gauge. And the broad market S&P 500 has deflated 3.5% of its recent 12% rally. Tech stocks have paid most dearly with recent losses, since they rallied hardest.
Last night's earnings lineup was led by several major powerhouses from all over the corporate map, and their news looked at least a little more encouraging than earnings reports released the day before. But these days it's hard to know how investors will react to earnings news. Some days they can brush off ugly numbers and bleak corporate outlooks. Other days, they can't shake the bad news. Often times, investor reaction seems to hinge more on where price to earnings valuations are for certain stocks and how analysts are interpreting the numbers.
Leading Internet retailer
Amazon.com
(AMZN)
posted a narrower first-quarter loss than in the year-ago period, mostly due to a 22% rise in sales. The company said it is on track to meet its targets for the rest of the year. The company lost 21 cents per share, compared with analyst forecasts of a 25 cent loss. But it also
skirted some key figures that analysts were concerned about. It was off about 4%, to $15.06, in early trading.
Lehman Brothers
this morning
came out with comments that it is worried about Amazon's valuation, saying it leaves little room for more upside despite strong earnings numbers. The research firm left its rating and earnings estimates unchanged.
Also out with its numbers was
Applied Micro Circuits
(AMCC)
, which reported
fourth-quarter earnings in-line with the Street's expectations. The company, which makes circuits that ensure the swift flow of voice and data transmissions across fiber-optic networks, said earnings for the quarter were 9 cents a share, up from 8 cents a share in the year-ago period. But it lowered earnings and revenue forecasts for its fiscal first quarter. Applied Micro was losing 6.3% to $22.59.
Internet-software maker
Broadvision
(BVSN)
beat the Street's sharply lowered expectations by a penny -- something investors celebrated in after-hours trading yesterday. It was off 3.7% to $5.02.
Media mammoth
Disney
(DIS)
beat fiscal second quarter earnings expectations, though it reported a loss, mostly due to $1 billion in non-cash restructuring charges. The entertainment and media mouse, err giant, reported a loss of 26 cents per share, versus a profit of 8 cents per share in the year ago period. It was gaining 2.2% to $29.29.
Like several other big-name energy companies that have reported strong results because of rising prices, power giant
Entergy
(ETR)
this morning said it beat analyst estimates for its first quarter earnings and expects to meet 2001 targets. The company reported profits of 69 cents a share, including special items, while consensus estimates among analysts for the quarter were 62 cents per share, according to earnings tracker
Thomson Financial/First Call
. Entergy was adding 1.7% to $39.75.
And several drug companies issued strong results this morning.
Bristol-Myers Squibb
(BMY)
reported profits that were up 11% to 63 cents per share, beating earnings estimates by a penny. Earnings at
American Home Products
(AHP)
rose 16% to 55 cents per share, in-line with estimates. And
Pharmacia's
( PHA) earnings were up 19% to 32 cents a share, also meeting targets. All three companies' shares were rising in early action.
During earnings season,
TheStreet.com
provides a
full roster of companies with earnings announcements.
As the economy slows, we've seen a number of companies pairing up in attempts to cut costs and boost business.
Ford
(F)
became the latest, this morning annoucning a $98 million venture with Chongquing Changan Automobile, the listed unit of China's third-largest carmaker. Ford was off 5.3% to $28.
Back to top
Bonds/Economy
The Treasury market was rallying this morning, with the benchmark 10-year
Treasury note up 10/32 to 98 21/32, yielding 5.178%.
Back to top
International
Telecoms dragged on European stocks this morning following a blow to
Vodafone
(VOD)
from
Merrill Lynch
. Merrill cut its 12-month price target on the company to 300 pence from 400 pence. London and Paris indices were sinking lower as they approached midsession, and Frankfurt's key market index had turned into the red. Earlier it was flat. London's
FTSE 100
was lately off 38.6 to 5801.7 and the Paris
CAC 40
was losing 29.0 to 5395.4. Frankfurt's
Xetra Dax
was off 13.3 to 6111.3.
The euro was lately trading at $0.8965.
Asian markets were mixed overnight. Japanese investors continued to buy stocks on optimism over the reformist candidate's victory in the race for prime minister. Japanese investors are hoping he will be able to lead the economy to health. Tokyo's
Nikkei 225
rose 84.3 to 13,827.5. Stocks in Hong Kong remained weak, though selling had slowed, and the key
Hang Seng
fell 25.1 to 13,249.6.
The dollar was trading at 122.3 yen.
Back to top