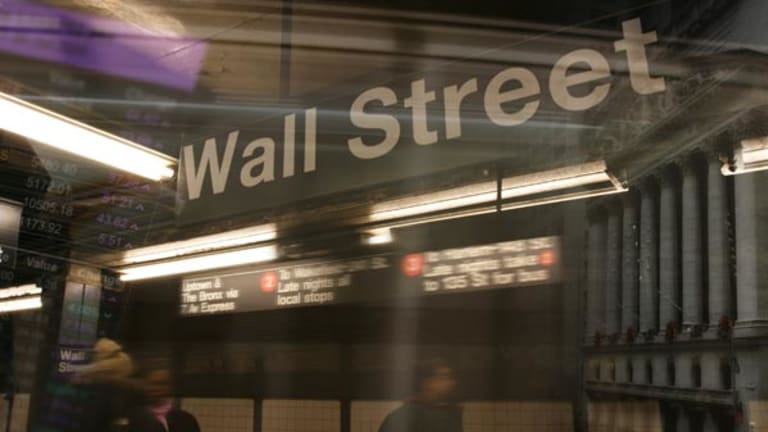 Today's Market: Ick! Stocks End Week Covered With Slime
Both the Dow and the Nasdaq ended the week sinking like a stone.
The market stuck to its trend of starting out in a rally and nosediving into a poorly tended pool. You know the kind -- there's that green stuff floating on top, a dead frog stuck in the filter and the water smells like the
New Jersey Turnpike
.
A somewhat surprising September's jobs report came out this morning, showing some expansion in the labor market (for more on the
employment report check out the separate story by
TheStreet.com/NYTimes.com joint newsroom
). The number scared the Street a bit this morning, but not enough to do the damage the market sustained today -- at least, not by itself.
Nope, it got some help from a couple weeks of earnings warnings smothered with some hard-hitting rumors concerning brokerages.
Let's start with that last part first.
Hardest hit were the brokerages, which took a dive on concerns of margin calls and chatter over rumored losses on junk bond trading desks. They're rumored to be sitting on large amounts of money-losing debt. The concern among investors would be that trading-related losses would hurt revenues of the big brokerages.
TheStreet.com
talked about
one brokerage's denial of the rumors in a separate story.
Bill Schneider, head of U.S. equity block trading at
UBS Warburg
, said, "There were a lot of rumors in brokerage stocks, but they were also ripe for a selloff given all of the recent takeover news."
No matter what the reason, significant losses were witnessed today in shares of
Morgan Stanley Dean Witter
(MWD)
, down 8.4%;
Bear Stearns
(BSC)
, off 8%; and
Lehman Brothers
(LEH)
, 4.9% lower. The
American Stock Exchange Broker/Dealer Index
was off 5.5%. The banks dropped in sympathy; the
Philadelphia Stock Exchange/KBW Bank Index
lost 3.6%.
And although financials are usually leaders in rallies, Schneider said the market will be better off when tech stocks get back into the game.
"Tech stocks are probably more important to the market's psyche," Schneider said. "We need techs to stabilize to have a sustainable rally."
Still, the recent malaise in the technology sector continues, but those concerns are largely macro and related to an apparent reduction in demand for semiconductors and telecommunications equipment. After an earnings warning from
Veeco Instruments
(VECO) - Get Veeco Instruments Inc. Report
, that stock was down $34.97, or 34.1%, to $67.56.
Most tech-heavyweights were down, including
Cisco
(CSCO) - Get Cisco Systems, Inc. Report
,
eBay
,
Oracle
(ORCL) - Get Oracle Corporation Report
and
Sun Microsystems
(SUNW) - Get Sunworks, Inc. Report
.
Dell
(DELL) - Get Dell Technologies Inc Class C Report
, which issued a revenue warning earlier this week, managed to finish on the upside today. It was up 13 cents to $25.31.
Dow component
Intel
(INTC) - Get Intel Corporation (INTC) Report
took away almost 7 points from the index. However,
J.P. Morgan
(JPM) - Get JPMorgan Chase & Co. (JPM) Report
was the Dow's heaviest drag, taking away about 36 points. It was followed by other financials,
American Express
(AXP) - Get American Express Company Report
and
Citigroup
(C) - Get Citigroup Inc. Report
.
Meanwhile, the
S&P Retail Index
fell 2.5% after
Lowe's Companies
(LOW) - Get Lowe's Companies, Inc. (LOW) Report
disclosed that same-store sales for the third quarter would fall short of expectations. The stock was down 3.1%.
Other big retailers got hurt on the news, including Dow component
Home Depot
(HD) - Get Home Depot, Inc. (HD) Report
, off 5%.
Schneider said for next week the only thing that might be able to kick momentum into gear is some good earnings news.
Today's jobs report cannot help the situation. A number of traders expressed the view today that the market, by and large, was expecting some relief from the
Federal Reserve
, in the form of a modification of the committee's policy statement to indicate that they're less worried about rising inflation. They got no such relief from the Fed Tuesday, when the Fed indicated that the economic risks still lean toward higher inflation.
Market Internals
Breadth was horrific on strong volume.
New York Stock Exchange: 857 advancers, 1,975 decliners, 1.15 billion shares. 44 new 52-week highs, 118 new lows.
Nasdaq Stock Market: 1,084 advancers, 2,896 decliners, 1.83 billion shares. 25 new highs, 348 new lows.
Back to top
Most Active Stocks
NYSE Most Actives
AT&T (T) - Get AT&T Inc. Report: 25.3 million shares. Nortel (NT) : 26.3 million shares. America Online (AOL) : 15.4 million shares.
Nasdaq Most Actives
Intel: 68.5 million shares. Cisco: 54 million shares. Dell: 48.2 million shares.
Back to top
Sector Watch
Aside from the aforementioned financial sectors, Internet stocks were among today's hardest hit.
priceline.com
(PCLN)
, which has been massacred in the last few days after announcing it would shutter its on-line grocery business, was down 4.3%.
Yahoo!
(YHOO)
lost 4%, and
TheStreet.com Internet Sector
index was off 5.3%.
TheStreet.com E-Commerce Index
plunged 6.7%.
Digital River
(DRIV) - Get Global X Autonomous & Electric Vehicles ETF Report
,
BroadVision
(BVSN) - Get BroadVision, Inc. Report
and
Ameritrade
(AMTD) - Get TD Ameritrade Holding Corporation Report
were a couple of the components that got socked.
Back to top
Bonds/Economy
Bonds have recovered to post significant gains thanks to the weakness in stocks. Falling stock prices are seen as a leading indicator of economic activity. They also make bonds more appealing as an alternative investment.
Earlier, bond prices fell as investors conclude that the September
employment report
(
definition |
chart |
) makes the
Fed less likely to ease up on interest rates in the near future.
The September jobs report measured a decline in the unemployment rate to 3.9% -- matching the 30-year low it hit in April -- from 4.1% in August. A low unemployment rate is a key indicator of a healthy economy, one that does not require assistance from the Fed in the form of easier monetary policy.
Also indicating that the economy is strong, the employment report counted 252,000 new nonfarm jobs in September. Netting out the loss of 27,000 temporary Census jobs and the return of 75,000 strikers, the underlying increase was 204,000, in line with the recent trend. A shift in monetary policy is unlikely to occur unless there is a pronounced slowdown in the pace of job-creation.
The benchmark 10-year
Treasury note lately was up 8/32 to 99 15/32, yielding 5.821%.
Back to top
International
European stocks were mixed following this morning's U.S. employment report.
In London, the
FTSE 100
ended the day up 9.2 to 6391.2.
Across the channel, the
CAC 40
in Paris was down 76.71 to 6258.41, while the
Xetra Dax
in Frankfurt was off 116.1 to 6776.4.
The euro was squeezing out some slim gains, lately trading at 0.8678.
TheStreet.com
recently looked at what
ails the euro.
Amid a powerful earthquake in Japan and government-supported buying in Taiwan,
Asia's major stock markets closed out the week Friday on a mixed note.
Japan's financial markets largely ignored a strong tremor in the Western part of the country, as trade remained lethargic ahead of a three-day weekend. The
Nikkei 225
closed down 105.0, or 0.7%, to 15,994.2.
In Tokyo currency trading, the dollar was little changed against at 109.40 yen. It was lately trading at 108.79.
Taiwan's
TWSE
index surged 324.0, or 5.4%, to 6353.7, as the government continued to support the market with buying from its $16 billion stabilization fund. The country's equity market has been wracked by political uncertainty in the country this week.
South Korea's
Kospi
index closed up 2.1 points, or 0.3%, to 608.9, and Hong Kong's
Hang Seng
index was closed for a holiday.
Back to top