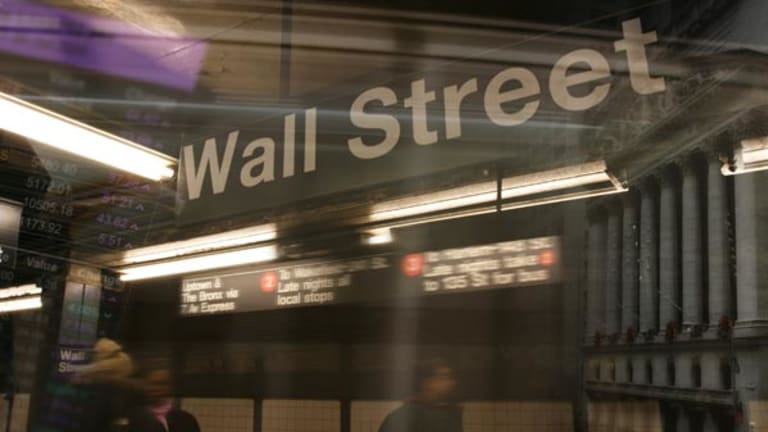 Today's Market: Honeywell, United Technologies Merger Talks Weigh on Dow
<LI>Ericsson cuts earnings forecast, Circuit City warns.</LI> <LI>Analysts raise earnings estimates for eBay, SDL.</LI>
(Updated from 9:45 a.m. EST)
It's not clear if investors will be able to muster the same enthusiasm they had yesterday.
Some market pros think that, following yesterday's gains in an otherwise bruised market, short-term investors might engage in some profit-taking ahead of the weekend.
The
Dow Jones Industrial Average was lately down 23 to 10,120. The
Nasdaq Composite Index was losing 6 to 3413. And the
S&P 500, which tracks the broad market, moved 3 lower to 1386.
"This market has been marked by excesses in both directions. That's a clear sign there's a lot of uncertainty out there," said Peter Coolidge, managing director of trading at
Brean Murray Foster Securities
. "The market is going to look towards more bellwether earnings in the coming week."
On balance, the most recent spate of earnings news (from last night and this morning) has been more good than bad. But this season, investors are concentrating on the bad. Earnings outlooks for coming quarter are the market's major concern now, as investors try to gauge how much a slowing economy will bite into corporate results. Most of the past almost seven weeks of selling has been due to earnings disappointments.
Mobile phone giant Ericsson this morning cut its
sales and profitability forecasts because of losses on mobile phones. Thursday telecom companies rallied following spectacular earnings from
Broadcom
undefined
, which makes communications semiconductors, and from telecom heavy-hitter
Nokia
. Nokia said handset demand remains strong, despite fears of slowing demand in that business. TheStreet.com earlier wrote separate stories on
Broadcom and
Nokia. Ericsson was falling 15.6% in early trading. Nokia was off 2.6% after jumping yesterday. And Broadcom was off 1.7%.
Home electronics retailer
Circuit City
(CC) - Get Chemours Co. Report
also warned of lower-than-expected sales for the third quarter. It was off 31.2%.
Still, a slew of companies reported better-than-expected earnings last night, including data network equipment maker
Emulex
(EMLX)
, E-business software provider
Commerce One
(CMRC)
, optical components maker
SDL
(SDLI)
, Internet auction house
eBay
, telecom networking equipment maker
Flextronics
and Internet music company
MP3.com
(MPPP)
, among others.
A couple of companies even saw their earnings per share (EPS) estimates raised this morning.
Goldman Sachs
raised its EPS estimates for this year and the next on eBay, and
ABN-Amro
raised its EPS estimates for this year and next on SDL.
The problem is, none of these companies are big goliaths like
Microsoft
(MSFT) - Get Microsoft Corporation Report
, which helped propel much of Thursday's rally. It was gaining, up 1.7% in early trading.
Meanwhile, the continuing tensions in the Middle East, its effect on energy prices and continuing weakness in the euro still pose risks for this market.
Big movers in the markets today include
United Technologies
(UTX) - Get n.a. Report
and the company it is looking to acquire:
Honeywell
(HON) - Get Honeywell International Inc. Report
. It would be a deal worth more than $40 billion, according to sources close to the deal.
TheStreet.com
wrote about the discussions last night in a
separate story . The cited $40 billion would represent a 40% premium on the closing price of Honeywell's shares yesterday. Honeywell was up 16% soon after the market opened. Once United Technologies opened, it fell 9.7% and dragged the Dow back into negative territory after it had made some earlier gains.
The combo would mark the first merger between two companies in the Dow since
J. Pierpont Morgan's U.S. Steel
(now
USX-U.S. Steel Group
(X) - Get United States Steel Corporation Report
purchased
Tennessee Coal & Iron
in 1907. The merger would combine two companies with very similar but not overlapping holdings in aerospace and building controls, among others, to create an industrial and services giant.
Today's reporting companies include drug company
Merck
(MRK) - Get Merck & Co., Inc. Report
, which this morning said it beat analyst estimates, and
Eastman Chemical
(EMN) - Get Eastman Chemical Company Report
. Merck was up 2.4%. Eastman Chemical was up 1.8%.
Back to top
Bonds/Economy
The benchmark 10-year
Treasury was down 1/32 at 100 21/32, yielding 5.661%.
Back to top
International
European markets were mixed at midsession, but the major indices had pulled back as telecoms and media stocks lost steam on Ericsson's report and a pullback in Nasdaq futures.
London's
FTSE 100
was up 3.00 to 6221.90.
The
CAC 40
in Paris was up 22.70 to 6089.18, while the
Xetra Dax
in Frankfurt was 60.51 lower to 6558.92.
The beleaguered euro continued to rise after the European Central Bank decided to leave interest rates unchanged yesterday. The euro was lately trading at 0.8452.
The major
Asian equity markets closed out the week Friday on a positive note, surging as technology shares were buoyed by a rallying Nasdaq and healthy third-quarter earnings from Finnish telecom equipment maker Nokia.
Tokyo booked the region's smallest gains as the country's 11th-largest insurer
Kyoei Life Insurance
filed for bankruptcy. But the
Nikkei 225
still finished up 387.7, or 2.6%, at 15,198.7.
In Tokyo trading, the dollar rose 0.3 to 108.20 yen. The greenback was lately trading higher to 108.90.
Elsewhere, resurgent tech shares ruled the day, as Hong Kong's
Hang Seng
index rose 622.0, or 4.3%, to 15,044.5, South Korea's
Kospi
index jumped 30.9 higher, or 6%, to 545.9 and Taiwan's
TAIEX
index surged 323.5, or 6.4%, to 5404.8.
Back to top