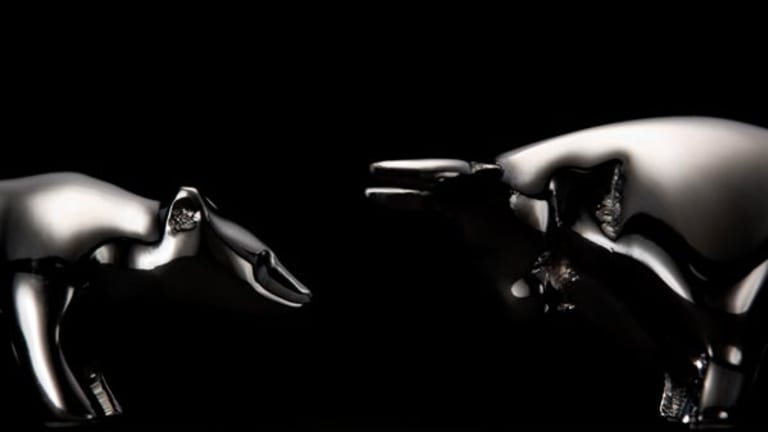 Today's Market: Holiday Smiles Turn Upside Down as Warnings Slam Stocks
<LI>Chip, hardware, software stocks all hit hard.</LI> <LI>Oil stocks hurt on Saudi Arabia oil-output increase.</LI><LI>Banks, drugs, tobacco up.</LI>
(
Updated from 4:18 p.m. EDT
)
Software makers didn't exactly receive an easy penance for their earnings confessions, as investors severely punished the tech sector through a sell off. And it's not only tech's earnings that are in question.
Goldman Sachs'
Abby Joseph Cohen didn't ease earnings fears, warning that positive earnings surprises for capital goods may become less frequent in coming quarters.
But dear Abby wasn't the only pundit to give the market a hit. Semiconductors were crushed after
Salomon Smith Barney
analyst Jonathan Joseph downgraded stocks in the sector.
Nasdaq Composite Index gave up 128.83, or 3.2%, to 3863.10, the
S&P 500 ended down 23.09, or 1.6%, to 1446.23 and the
Dow Jones Industrial Average was off 75.84, or 0.7%, to 10483.60.
The 30-stock industrial average dabbled in the green today on intraday strength in financial and retail components. But it couldn't stay in positive territory.
IBM
(IBM) - Get International Business Machines Corporation Report
suffered the worst loss, off 5 1/2, or 5%, to 104. That's up from its session low of 101 1/8 but still sapped 33.23 points from the Dow.
Salomon Smith Barney's downgrade of chipmakers triggered a 9.3% drop in the
Philadelphia Stock Exchange Semiconductor Index
. Especially hard-hit was
Advanced Micro Devices
(AMD) - Get Advanced Micro Devices, Inc. Report
, struggling to a 11.5% loss. Dow component
Intel
(INTC) - Get Intel Corporation Report
was also hammered, down 3.8%.
Salomon, in its comment, said the sector is "likely to see peak capital spending growth rates this year, which has closely correlated with cyclical shipment peaks in the past." The report also cites expectations of slower growth in cell phones, rising inventories and a decline in unit growth.
The software makers were particularly hard-hit, as earnings warnings by
BMC Software
(BMCS)
and
Computer Associates
killed the sector.
BMC Software sank 39.9% after announcing a shortfall in fiscal first-quarter revenue. Computer Associates was down 42.5% to 29 3/8, up from an intraday 52-week low of 28 1/2, after a similar announcement late -- very late -- Monday.
Entrust
(ENTU)
, which also issued a warning, closed down 52.5% to 36 5/8.
Other software and service companies, such as
Unisys
(UIS) - Get Unisys Corporation Report
and
Oracle
(ORCL) - Get Oracle Corporation Report
, spent the day lower.
J.P. Morgan
downgraded Oracle's stock this morning.
"The nervousness in techs will always be there," said Roseanne Lang, vice president of program trading at
Cantor Fitzgerald
. But she didn't expect it would last long because investors still have a positive view of economic fundamentals and of technology growth in coming quarters. "One man's caution is another's buying opportunity," she said, specifically referring to the selloff in IBM today.
Upside Earnings Surprises Seen Scarcer
Peter Cardillo, chief strategist at
Westfalia Investments
, said he's not worried about the warnings because the market hasn't been apprised of what future revenue and prospects for these companies will be. "That's yet to be seen," he said.
But the earnings warnings dovetailed all too well with this morning's comment from Goldman's Cohen, who said this morning: "Positive earnings surprises are expected to become less frequent."
"More than half of the companies in the sector reported earnings above consensus estimates in the first quarter, and this encouraged upward estimate revisions for the remainder of 2000," the strategist wrote. "These higher estimates, in combination with more challenging year-on-year comparisons, will make it more difficult to positively surprise investors."
Cohen was specifically referring to the capital goods industries, rather than technology. Those companies, which count among them
United Technologies
(UTX) - Get United Technologies Corporation Report
, actually fared reasonably during the session. United Technologies lately bounced 3.6%, and the
Morgan Stanley Cyclical Index
tacked on 0.5%.
The
Russell 2000 was off 5.79, or 1.1%, to 518.25 and
TheStreet.com Internet Sector
index ended lower by 29.82, or 3.5%, to 817.20.
Some Brightness in the Gloom
But amid all of the downticks, there were some upsiders. The
American Stock Exchange Airline Index
lifted 3.4%, with
Delta
(DAL) - Get Delta Air Lines, Inc. Report
and
Southwest
(LUV) - Get Southwest Airlines Co. Report
gaining ground. Saudi Arabia's announcement that it would increase its oil output by 500,000 barrels a day has sparked hope that other
OPEC
members will follow, which would lower oil prices. A decrease in oil prices would mean lower fuel costs for airlines.
The
Dow Jones Transportation Average
mounted 2.4%.
The lack of a follow-through on Monday's rally seemed to indicate that investors are through celebrating economic data that point to a slowdown. It looked like investors would celebrate Monday's friendly June
Purchasing Managers' Index
today.
The NAPM came in much cooler than expected at 51.8 Monday, its lowest level since January 1999 and far below
Reuters
consensus estimates of 54. The NAPM is a measure of manufacturing activity, with a number over 50 indicating expanding production and a reading under 50 indicating declining activity.
Before, slowing growth was a relief to the market because it gave the market hope the
Federal Reserve wouldn't hike interest rates aggressively. Now, the reality that slowing growth equals slowing earnings is sinking in, and rallies on soft economic numbers are becoming fewer as more investors view the Fed as out of the picture.
But some Wall Street insiders feel that this up-one-session-down-the-next trading activity indicates a lack of conviction in the market. "Last Friday's
Commitment of Traders
report, which details the S&P 500 futures contracts, showed that commercial contract holders, professional institutions who hedge for a particular purpose, hit a their largest net short position ever," said Ronny Kraft, hedge fund manager at
Merchant Intercapital
. "Speculators', who profit from short-term price movements, net long position increased for the seventh week in a row. Speculators are rarely long and are rarely right, while commercials are rarely short and rarely wrong."
Among the day's most active stocks was
Qwest
(Q)
, which was added to the S&P 500 at today's close, following the closure of its merger with
U S West
. The company announced the deal's completion late Friday night, and indexers are buying the stock today. The stock traded up 10.6% on 70 million shares.
Market Internals
Breadth was negative, with the Big Board just slipping into the red, on heavy volume.
New York Stock Exchange: 1,492 advancers, 1,445 decliners, 1 billion shares. 64 new 52-week highs, 21 new lows.
Nasdaq Stock Market: 1,618 advancers, 2,446 decliners, 1.3 billion shares. 62 new highs, 71 new lows.
Back to top
Most Active Stocks
NYSE Most Actives
Nasdaq Most Actives
Back to top
Sector Watch
Oil stocks suffered today after Saudi Arabia said it plans to increase output by an additional 500,000 barrels of oil a day. The
American Stock Exchange Oil & Gas Index
ended off 4.6%. The boxmakers also took a hit, with the
Philadelphia Stock Exchange Computer Box Maker Index
down 4.4%.
On the high side, traditional defensive names such as drugs and tobacco were stronger today as technology stocks weakened. The
American Stock Exchange Pharmaceutical Index
finished slightly higher, up 0.3%, while the
American Stock Exchange Tobacco Index
rose 1.5%.
Technology's strongest companies today were the biotech stocks. The
Nasdaq Biotechnology Index
gained 3.9%, while the
American Stock Exchange Biotechnology Index
was up 4%.
Also gaining ground were banks, with the
Philadelphia Stock Exchange/KBW Bank Index
up 1.1%. Brokerages weren't quite so lucky but eked out a gain; the
American Stock Exchange Broker/Dealer Index
crept up 0.1%.
Retailers will be in the spotlight tomorrow, with June
same-store sales reports set to hit the wires. Today, the
S&P Retail Index
finished off 0.1%.
Back to top
Bonds/Economy
A sharp drop in oil prices gave Treasuries a boost today. Oil futures, which weren't traded Monday, were down hard on Monday's news that Saudi Arabia will start pumping an additional half million barrels a day. Lower oil prices are positive for bonds because they lower expectations of inflation.
With no major economic indicators out today and none slated before Friday, when the June
employment report will be released, the benchmark 10-year Treasury note was up xx and yielding xx%.
Back to top
International
European markets lost their footing after earlier gains, and only Frankfurt's
Xetra Dax
managed to finish in positive territory.
London's
FTSE
, shed of its earlier strength, closed down 34.5 to 6382. Across the channel, the Paris
CAC
ended off 32.07 to 6462.7. The Xetra Dax closed up 34.67, or 0.5%, to 6979.03.
The euro was lately trading higher at $0.9531.
Asian markets were mixed overnight, with the Tokyo market closing down, but most other markets in the region were up at the end of the day.
The
Nikkei 225
index lost 34.20 points to 17,435.95, partly on weakness in cyclicals.
In Tokyo currency trading, the greenback fell against the yen to 105.94, but was recently surging, trading at 107.11 yen.
Hong Kong's
Hang Seng
index jumped 238.51 points, or 1.5%, to 16,474.27 as investors took heart from reports that
Hutchison Whampoa
would team up with
NTT DoCoMo
and Dutch company
KPN Mobile
to roll out third generation mobile phone service in Europe. Hutchison rose HK$4.50, or 4.4%, to 107.00 ($13.73).
Taiwan's
TWSE
index managed to rebound and climbed 369.20, or 4.6%, to 8421.74. Traders said the rise today was largely due to buying by government-run mutual funds, but news that the government will not immediately hike taxes also helped sentiment. Korea's
Kospi
index climbed 11.87, or 1.5%, to 830.40.
Back to top