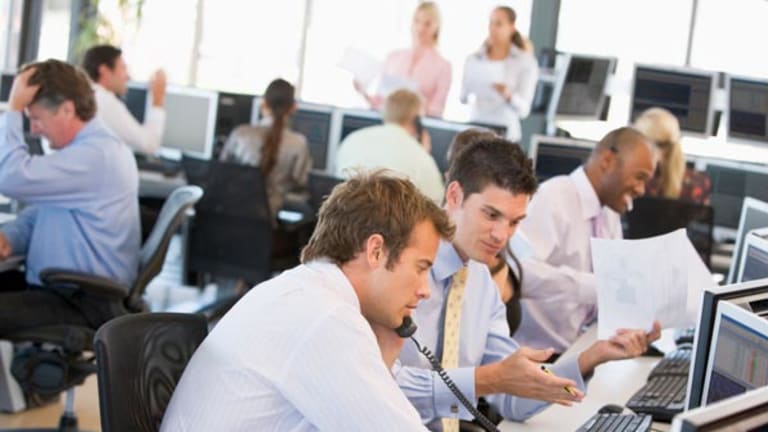 Today's Market: Greenspan's Comments Beef Up Stocks
<LI>Fed chairman highlights economic weakness, but acknowledges improvement during January.</LI> <LI>Chip sector brushes off downgrades.</LI> <LI>Large-cap tech having solid day.</LI>
Wall Street ears liked what they heard as
Federal Reserve chairman Alan Greenspan's spoke to the
Senate Banking Committee
. The market trended higher as his speech began earlier this morning, and the gains were sticking.
The
Dow Jones Industrial Average clung to the upside, while the
Nasdaq Composite Index shook off a slate of bad news and ramped up about more than 1%.
During his twice yearly address to Congress, Greenspan lowered the Fed's forecast for economic growth during 2001 to a range of 2% to 2.5%, a healthy trimming from the monetary policy body's earlier forecast of 3.25% to 3.75% growth. In his remarks, Greenspan focused largely on monetary policy, not taxes-- and the constant stream of tax-related inquiries bristled the Fed chair.
The economy's rip-roaring growth has clearly come in halt and Greenspan emphasized the overall weakness in the American economy -- though he acknowledge that January turned out to be a better month on the economic front than December. The Fed chair was cautious not to be too harsh when describing the economic outlook because he could easily affect consumer confidence levels, which have been on the wane. Still, Greenspan put his foot down firmly on the side of a serious slowdown. "The risks are weighted toward conditions that may generate economic weakness in the foreseeable future," he said.
TheStreet.com's
David Gaffen has been
following the testimony.
But the tech-laden Nasdaq, well off its highs of late because the economic slowdown is knocking the wind out of information technology spending, rallied on the speech. Greenspan's stern words regarding the economy have revived anticipation the Fed will again cut interest rates to make money cheaper and spur economic growth.
The Nasdaq's upswing comes despite the fact that
Credit Suisse First Boston
this morning lowered the boom on three big name tech stocks, downgrading them to hold because of industry-wide
visibility worries.
Broadcom
undefined
,
Texas Instruments
(TXN)
and
Intel
(INTC)
were all snipped by analyst Charles Glavin, just one day after semiconductors rallied in the wake of last week's selloff in the sector.
Glavin lowered price targets on the trio below yesterday's closing prices, which means he feels these guys are overvalued at their current prices. Not a good sign. But then again -- who cares? When the news from analysts gets this bad, some traders feel it can't get any worse and rush in to buy on the lows -- even over the objections of analysts.
Viola! That's what's happening today. The
Philadelphia Stock Exchange Semiconductor Index
, which tracks chip stocks, rallied for the second day in a row, gaining 2.8%, as people whispered about a possible bottom in group. Intel, stung by the downgrade, however, dropped 0.5%. The damage was contained and
Altera
(ALTR)
,
Rambus
(RMBS)
and
Lattice Semiconductor
(LSCC)
all posted close to 4% gains.
Overall, tech was gaining quite strongly, with some of the most battered names, like
Cisco Systems
(CSCO)
, making nice strides deep into the green. Cisco, which was hit in the wake of its disappointing earnings release last week, was lately up 3.4%.
It's not alone in today's run-up of large-cap tech stocks.
Sun Microsystems
(SUNW)
gained 5.2%.
Microsoft
(MSFT)
moved 3.5% higher and
JDS Uniphase
(JDSU)
added 4.3%. The
Morgan Stanley High-Technology 35 Index
, which covers a wide variety of the most widely-help tech names, was up 2.5%.
Yep. The goodwill was everywhere today, even in the Dow. It was firming up as the morning receded into the past. Intel might be a little soft, but with Microsoft a big winner, the Dow had more than enough heft.
3M
(MMM)
was the best blue-chip, gaining 2.2%.
Market Internals and Most Active Stocks
Winners cleanly wrapped up and pinned the losers. Too bad about that volume, huh? It's pretty thin for what seems to be the umpteenth million day in a row. Sigh.
Back to top
Ladies and Gentlemen, the car-wreck known as
Lucent
(LU)
dominated trading on the Big Board. The troubled company slid 9.3% after its credit rating was slashed to near-junk status. Now
that
ain't so good. Over on the New York Stock Exchange, Cisco was the top dog in trading volume. Again.
Back to top
Sector Watch
Peripherals are the junk that goes with the junk you already own. You know, things like bigger hard drives and color printers. And lately, the disk drive sector has been on an absolute tear as slowing PC-demand has highlighted growing consumer interest in expanding the PCs they already own.
The
American Stock Exchange Disk Drive Index
rose 2.9%. Since Jan. 1, the peripherals have ramped up 42%. Today's big sector winners were bellwether
SanDisk
(SNDK)
, up 7.3%,
StorageTek
(STK)
, up 2.1%, and
Western Digital
(WDC)
, up 3.9%.
Forest and paper stocks did okay, with the
Philadelphia Stock Exchange Forest & Paper Products Index
gaining 2%. But healthcare retreated from yesterday's nice day. The
S&P Health Care Index
fell 1.9%.
Back to top
International
At the end of the trading day, European markets were mixed and quite close to their opening numbers. That is, except for those wild and wooly German markets, which were still trading. London's
FTSE
slid 12.9 to 6228.5 as telecommunications stocks plummeted and big-name oil company
BP Amoco
(BP)
got trashed in the wake of a weak earnings release. Those stumbles were offset by a defensive movement into drugmakers, which rallied along with
GlaxoSmithKline
(GSK)
.
Germany's
Xetra Dax
lately rose 25.9 to 6590.8, while Paris
CAC
slipped 4.7 to 5754.8.
The yen, which has been struggling lately along with the Japanese stock market, last traded at 117.3. The euro, well off historical lows, has been stuck in a pattern between 93 cents and 95 cents. It last traded at $0.9207 -- lower than in recent sessions.
And in Asia, the troubled Japanese stock market continued its wayward ways. The benchmark
Nikkei 225
dropped 148.1 to 13,274.7, as investors focused on a glut in supplies instead of the possibility that the
Bank of Japan
would further cut interest rates. As has been the case lately, the Hong Kong
Hang Seng
was in contrarian mode, gaining 149.6 to 15,842.72.
Back to top