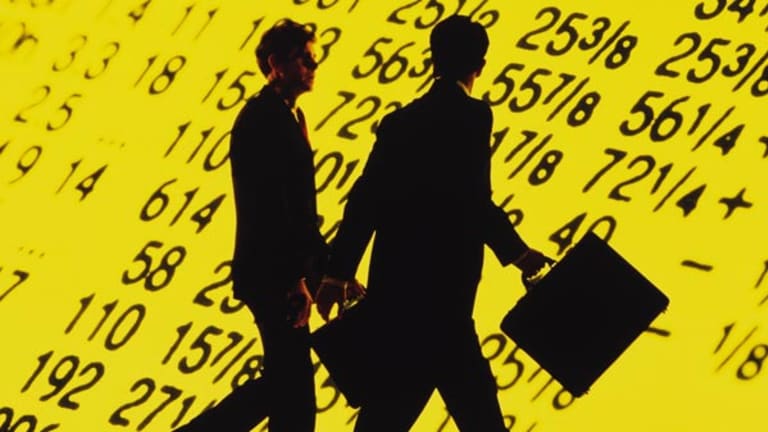 Today's Market: Friendly Jobs Data Gives Stocks Early Boost
<LI>Unemployment at low of 3.9%, but wage growth lower than expected.</LI> <LI>Latest earnings warnings include Razorfish, Imation and Concord Communications.</LI>
(Updated from 9:28 a.m.)
Investors seemed timidly optimistic that this morning's
jobs report might catapult stocks out of their recent gloom and doom. September was an awful month on the stock market, and this first week of October has brought more of the same. This morning, the major indices were moving higher.
Earnings remain the market's biggest concern, and warnings continue to flutter in. Last night, a few more from the tech sector alighted on Wall Street during after-hours trading. The market probably won't resume any uphill stride until the earnings warnings flow dries up, oil prices show a steady drop and companies begin to report solid third-quarter earnings and positive outlooks for coming quarters. (Earnings season will start to pick up next week).
The September jobs report showed unemployment at 3.9%, matching the 30-year low last seen in April, and just below
Reuters
forecasts of 4.1%. The number showed continuing strength in the economy, allaying fears of an excessive slowdown. Meanwhile, average hourly earnings growth was 0.2% vs. expectations of 0.3%, reducing inflation fears. Finally, nonfarm payrolls came in up 252,000 vs. expectations of 232,000. The growth in the number of payrolls is largely attributed to the end to a telecommunications strike at
Verizon
(VZ) - Get Verizon Communications Inc. Report
.
"These numbers have something for everybody here ... there are a lot of pieces. Net-net, it's probably not going to have much effect on the market today," said Peter Boockvar, equity strategist at
Miller Tabak
.
The employment report -- one of the single best measures of the health of the economy -- always looms large for the stock market. But it seemed particularly important for the market following Tuesday's
Federal Open Market Committee
meeting. Largely expected to be a nonevent, the meeting drove the market down after the Fed decided to maintain its tightening bias on the economy rather than loosen to a neutral bias. The decision indicated that inflation remains more of a threat than recession. While the decision was widely expected by economists, investors were desperately hoping for a more neutral stance.
Fed policy-makers said at that meeting that the country's still-strong demand for workers remained a potential threat to inflation. Labor shortages can lead to higher wages -- which can encourage companies to raise prices to offset the rise in labor costs.
Meanwhile, investors seem to be optimistic about what many market pros see as the formation of a bottom, as tech leadership stocks and the opticals finally succumbed to the selling late last week. But the market must still contend with the continued flow of earnings warnings, a weak euro and strong oil prices.
The
Dow Jones Industrial Average gained 24 to 10,747 this morning. The
Nasdaq Composite Index added 20 to 3492. And the
S&P 500 moved up 3 to 1439.
"We're going to need great third quarter earnings and positive outlooks for the fourth quarter to turn this thing around," said Boockvar.
Investors may not be fazed by the warnings at this point, but they still hurt. Last night, the market heard from Web site designer
Razorfish
(RAZF)
, data storage and imaging systems manufacturer
Imation
(IMN)
, Internet-based software firm
Marimba
(MRBA)
and e-commerce software provider
Concord Communications
(CCRD)
.
Imation was really in a
corner. The company plans to cut about 470 jobs and hired
Goldman Sachs
to explore alternatives because of the weakness in third-quarter profit.
Oil prices were clawing their way back up after falling sharply Thursday, not a good thing for a stock market that has seen several big-name companies blame higher energy costs for weaker earnings. U.S. crude prices were up 35 cents to $30.88 this morning. Yesterday, they
fell on news that the government had awarded contracts for all 30 million barrels of stockpiled crude oil offered to the refineries, easing concerns of a winter supply shortage.
Back to top
Bonds/Economy
After the release of the jobs report, the benchmark 10-year Treasury note was lately down 8/32 at 98 30/32, and yielding 5.893%.
Back to top
International
European stocks were mixed following this morning's U.S. employment report.
In London, the
FTSE 100
was lately up 19 to 6401.00.
Across the channel, the
CAC 40
in Paris was down 8.59 to 6326.53, while the
Xetra Dax
in Frankfurt was off 22.51 to 6869.98.
The euro was squeezing out some slim gains, lately up to 0.8707.
TheStreet.com
recently looked at what
ails the euro.
Amid a powerful earthquake in Japan and government-supported buying in Taiwan,
Asia's major stock markets closed out the week Friday on a mixed note.
Japan's financial markets largely ignored a strong tremor in the Western part of the country, as trade remained lethargic ahead of a three-day weekend. The
Nikkei 225
closed down 105.0, or 0.7%, to 15,994.2.
In Tokyo currency trading, the dollar was little changed against at 109.40 yen. It was lately trading at 108.93.
Taiwan's
TWSE
index surged 324.0, or 5.4%, to 6353.7, as the government continued to support the market with buying from its $16 billion stabilization fund. The country's equity market has been wracked by political uncertainty in the country this week.
South Korea's
Kospi
index closed up 2.1 points, or 0.3%, to 608.9, and Hong Kong's
Hang Seng
index was closed for a holiday.
Back to top